Fall came to Seattle this week in a loud whisper. It's not raining out. Not exactly. It's misting, powder fine mist that doesn't warrant an umbrella, just a brightly colored layer of gortex. It's easy to fall in love with Seattle in the summer, when it's all blue skies, comfortably warm sunshine, sparkling water and misty mountains. It takes a certain– perhaps twisted– kind of soul to love days like today, when it's gray and cold and damp. The kind of soul who prefers pie tins to sun tans. The kind of person who is actually a little bit sad when it's too warm to have their morning double short latte served hot. The kind that thinks "oooo, cozy blanket" like Homer says "ooo, doughnuts." I'm kind of that kind of person. Don't get me wrong… I love a warm day. But today, it is baking weather, and I have apples. And that makes me very, very happy.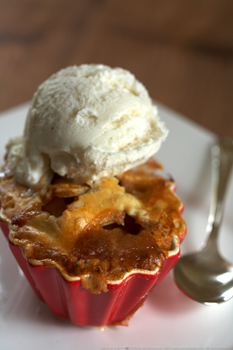 I expect it will make Cam quite happy too. See, often, when I find myself whipping something up in the kitchen, I'm messing around when new taste combinations… flavors that match my own tastes moreso than his. Like adding cinnamon to brownie cups, even though I know he doesn't really like cinnamon used in odd ways. But he's patient with me and I think it's high time that I make a dessert that is just for him. One of his favorites. Apple pie. It is Autumn, afterall, a time to reflect and be thoughtful. A time to get comfortable and thankful. A time for pie.
Cam would say, there are two kinds of apple pie in this world. The kind with millions of layers of thinly sliced apples that look pretty, but are often kind of dry. And, the self-saucing kind with chunky apples. This pie is the later, with plenty of goop in the apple filling. You really don't even need ice cream to eat along with this pie, but of course, it will be served with an enormous scoop of natural vanilla all the same.
Apple Pie
Adapted from the CIA's
Baking at Home

Because I had them laying around the house, I threw a couple of very ripe pears into the apples as well, and I have to say, I highly recommend the addition. The pears add a beautiful creaminess as they cook, and the flavor just slightly rounds out the cinnamon, ginger, brown sugar and apples mixture.

Makes 1 9-inch pie, or a few mini-pies
2 rounds of pie dough, rolled to fit your pie tin
3/4 cup packed brown sugar
1/4 cup all purpose flour
1/2 tsp cinnamon
1/4 tsp ground ginger
a pinch of salt
6 -7 apples, peeled, cored and sliced into thick wedges
2 soft pears, peeled, cored and sliced into thick wedges
2 T lemon juice
2 T butter, cut into little chunks
1 egg yolk whisked with 2 T water (for brushing)
Preheat oven to 425F.
Place one round of pie dough in your pie tin, cover with plastic and refrigerate. Wrap the other rolled out round in plastic and keep flat in the fridge as well.
In a small bowl, combine the brown sugar, flour, cinnamon, ginger and a pinch of salt. Stir with a fork to blend evenly.
Place the apple and pear wedges in a large bowl. Sprinkle with the lemon juice, and stir to coat. Then, top with the sugar mixture and stir to coat. It should get kind of gooey.
Take the pie crusts from the fridge, and pile the apple mixture into the middle of the bottom crust. It should heap towards the center, with the edges being about the same level as the pie tin and the center about an inch or so higher. Dot the apple mixture with the butter. Brush the rim of the bottom crust with a little of the egg wash.
If desired, cut vents into the top crust with a small cookie cutter. I used a small star shaped one that was the center from a linzer cookie cutter. Or, you can keep it simple and just cut vents with a knife after you have placed the crust on top.
Place the top crust over the filling, and carefully crimp the edges, trimming off extra, or if you prefer a thicker edge crust, rolling up the extra into a big round. Either way is fine. Cam likes the crust thick, so I rolled mine. Brush the top crust with the remaining egg wash.
Bake the pie for 15 minutes and then turn the heat down to 350F, and bake for another 30 to 40 minutes, or until the crust is golden brown and the apple mixture is bubbling up through the vents. Rotate the pie occasionally if it looks like it is getting overly brown in a particular spot.
Let the pie cool on a wire rack for about 15 minutes before serving.