Skip to content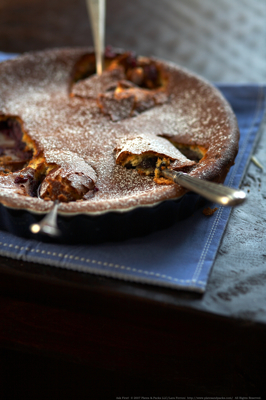 In the last two weeks, it's been hard to avoid huckleberries in Seattle, but I still get excited anytime I see them at the market or on a menu. At this time of year, it's the blue mountain type huckleberries whose subtle sweetness pairs equally well with desserts and savory dishes. Earlier in Seattle, if you are lucky, you might find the red huckleberries, which are far more tart and tangy which are a great seasonal replacement for fresh cranberries in the summer. The blue mountain huckleberries are closer in flavor and juiciness to a blueberry.
I decided to whip mine up into a clafoutis. Now, I'd love to give you the recipe for this clafoutis, but unfortunately, it's super secret. I was lucky enough to discover it over the summer during a shoot I did with a local Seattle pastry chef (who shall remain nameless, unless she tells me otherwise) where she made recipe after recipe of the most beautiful cherry desserts you can imagine. One of those was a cherry clafoutis so light and lovely, I had to find the recipe. But, she has her own blog, so it seems unfair to publish her recipe. However, when the recipe appears out there, I'll be sure to point you to it.
Update: Great news! The piece with the recipe I worked on last summer is now online on Gourmet.com, along with my photo!
In the meantime, there are a few tips I learned along the way I don't mind sharing. First, after making several batches (with various fruits), it's best to use a fruit that isn't too juicy. For this reason, huckleberries are perfect (whereas really ripe peaches make a big, soggy mess). The skins hold in most of the juices so that the batter sets well, but enough of the berries will pop that the whole thing is beautifully flavored.
Also, I tried a few different pans and the clafoutis that always turned out the best was cooked in cast iron. I picked up one of the little 6.5 inch cast iron pans at Crate & Barrel for less than $10. Now, I'm tempted to go back and get three more so I can make individual sized clafoutis for four. How cool would that be?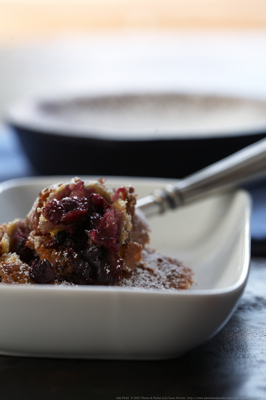 Technorati Tags: bakeware, Dessert, Food, Photography, recipe