When is the last time I posted about a restaurant on this site? It's been ages. Not that I haven't been eating out. On the contrary, I think I've probably started eating out more since the whole food photography thing started taking off this year. But, my eating out these days tends to be at my usual spots, eating my usual dishes. It's comfort food, delicious but not requiring a lot of effort. Nothing wrong with that, right?
However, last week, I got to indulge in an epic meal. One of those meals that don't come along all that often. One that I consider myself stupidly lucky to have been able to enjoy because of some nutty coincidences of time and place, of what I do and an email I happened to answer some 8 months ago. It was about then that I received an email from the PR folks at a little restaurant in Seattle called Rover's. It's one of the finest French restaurants in Seattle, and its chef/owner, Thierry Rautureau aka The Chef in the Hat, is one of the most highly regarded in the city. He has a cookbook (of course), has been featured in countless publications, and has even been invited to the White House. For the life of me, I couldn't figure out why they would be emailing me.
As it turns out, Thierry (and his PR guy), was starting to get interested in blogging and wanted to know more about the blogging community in Seattle. While I don't have the biggest readership or haven't been around as much as some of the other Seattle bloggers, they liked my blog because it was a bit less intimidating, and well, had lots of pretty pictures. I sat and chatted with Nathan, the PR guy, over coffee at Fuel, and talked about blogging from my perspective and some of the trends that I saw going on. It was a fun conversation, and I really appreciated the opportunity I was given… that the folks at Rover's weren't going to just jump into to a reactionary debate over bloggers versus reviewers versus chefs… that they were interested enough to dig in an actually talk to someone. Nathan and I had talked about maybe setting up something to let me (and possibly other bloggers) get some time with Thierry, but time moved on, we both got busy and the idea kind of fell away.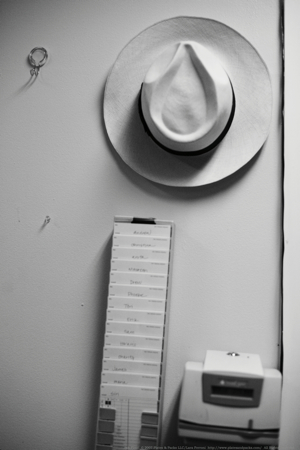 Until about a month ago. I got the call. I was going to the big show… getting a behind the scenes look at Rover's with… get this… dinner included. Not just any dinner, but their Grand Tasting menu, an eight course extravaganza of food. I could bring along the camera, and take shots in the kitchen, shots of the food, shots of the chef. Because I knew if I had a camera, I'd be lame at asking any questions, I brought along Ethan of Urbanspoon who happily chatted away with Thierry about politics, food and his upcoming new baby. And we feasted… course after course of beautifully prepared, seasonal French-inspired Northwest cuisine (or is it, Northwest-inspired French cuisine? I can never get that right).
My meal was created around the new beef menu that is going on through November. Beef is an unusual meat at Rover's. They don't do it. No beef, chicken, or pork as the primary ingredient. Meats at Rover's skew toward the lesser used… oxtail, duck, venison. As Adam Hoffman, Rover's Chef de Cuisine, notes, "You can get a steak anywhere. Rover's isn't that kind of restaurant." So as a rare treat, this month, they are featuring beef.
Rover's beef menu is different. To start with, all the beef used is Oregon-raised Wagyu, free from any antibiotics. And, even after eating 5 course of beef, you don't feel overwhelmingly heavy. Some courses are prepared with a delicate touch, while others are rich and hearty, and unless you knew better, you'd swear that you weren't eating the same meats.
Rather than describing each course, I thought I'd just share some of the photos with you. Mainly because after about the 4th course with the wine pairings, things start to blur a bit, but also because the photos do a much better job than I could at showing how luscious the food is. I will say I'm amazed that the photos by dessert weren't a complete blurry mess! But, before I do that, I do have to call out a few of my favorite things… first, the steak tartare with the little perched quail egg was unbelievably delicious. The scrambled eggs with caviar and lime creme fraiche, beautifully served in back in the shell. The Burgundy truffles on the black cod? Heaven on a plate. The escargot with the bacon that is smoked and cured in Adam's smoker in his backyard… man, that is some good bacon. And, but the most amazing thing on the menu might surprise you… the braised short rib pot au feu with Moroccan sea salt, so tender you could eat it with a spoon.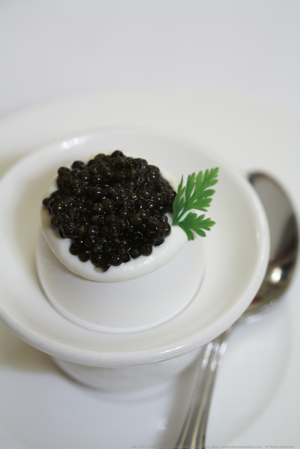 An amuse of Landjager Salami, Gugeres with Beef Sausage and Romano Beef Consome (left) and Scrambled Eggs with Lime Creme Fraiche and White Sturgeon Caviar (right)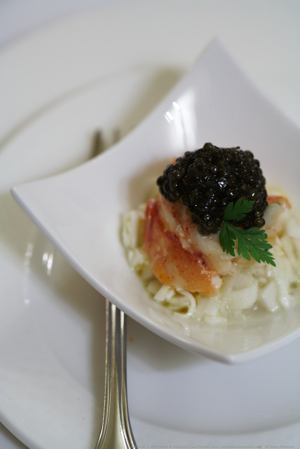 Ethan's Caviar & Lobster (left) and Rover's Charcuterie, including house cured salmon, pickled mackerel among other delicious little nibbles (right)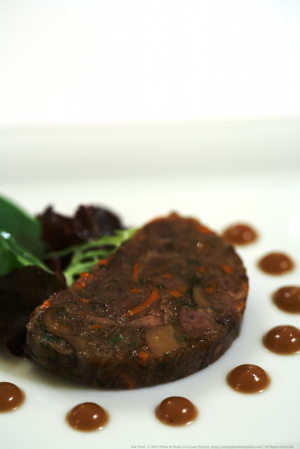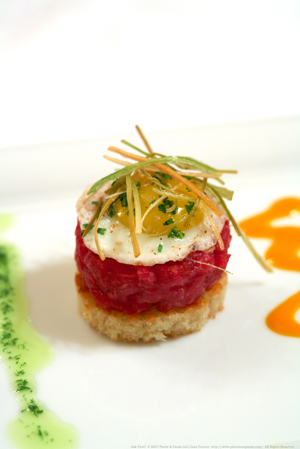 Oxtail Terrine (left) and Beef Tenderloin Tartare (right)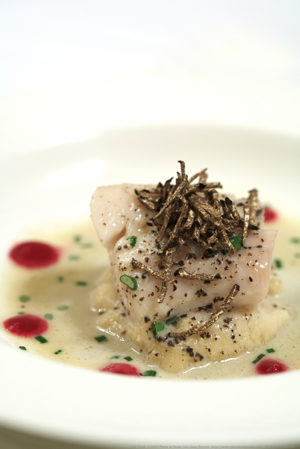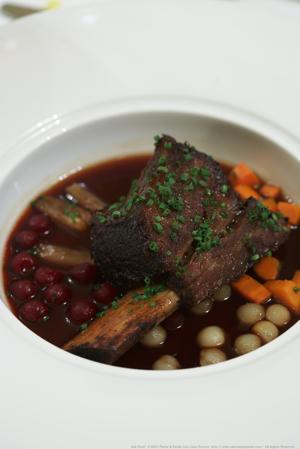 Pacific Black Cod with Celeriac Puree, Burgundy Truffle and Dry Vermouth Sauce (left) and Braised Short Rib Pot au Feu with Fall Vegetables and Moroccan Sea Salt (right)
Did I mention lots of wine?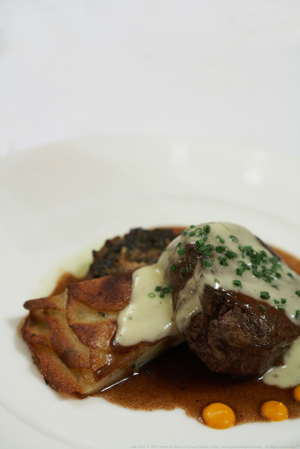 Escargot with Bacon, Artichoke and Spinach in a Citrus Nage (left) and Filet of beef with Chard Gratin and Potato Galette with Béarnaise and Red Wine Peppercorn Sauce (right)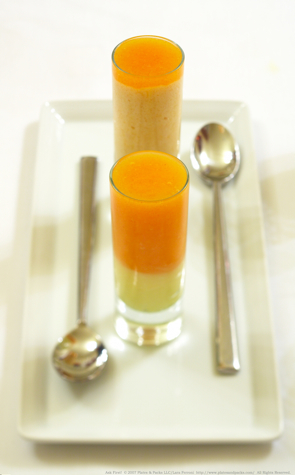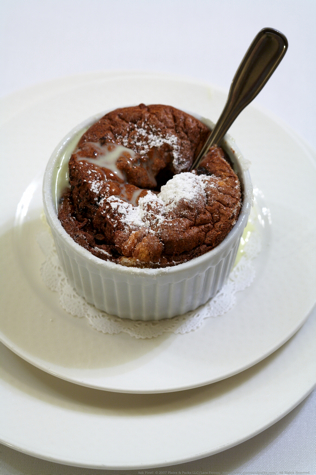 Persimmon Puree with Lemon Curd (left) and Bittersweet Chocolate Soufflé (right)

Start to finish, the meal took us about 5 hours. We oohed and ahhed over each course, knowing that what we were getting was an experience not many people would get. You can certainly get the same food and incredible service at Rover's… I've eaten here before when no one knew who I was and everything was just as luxurious… but you don't usually have the chef sit down with you for two hours over dessert, or get to take a whole private room to yourself (all the better for setting up the tripod).
I'd like to offer a big thanks to Nathan, Adam, Thierry and the Rover's wonderful staff for giving me this amazing evening. I'd also like to thank my understanding husband who had to miss the meal and deal with me babbling about it for two days straight.
PS: For those of you interested in the behind the scenes of the photography for this post, there wasn't really much to it other than a tripod and really long exposures. The lighting was just standard, fairly dim restaurant lighting. I shot at 100 ISO, which I could only do because of my tripod… something hard to do in most restaurant scenarios. The lighting obviously isn't great, with fairly out of control shadows and some less than pleasant color casts. But, the food is so lovely, I think that shines through.
Technorati Tags: Food, Photography, Restaurant, Seattle