Skip to content
Cheesecake intimidates me. The last time I made a cheesecake it turned out fine. Good, even… but the really tasty part was the freshly peeled mandarin orange haphazardly strewn about the top and the golden graham cookie crust. The cake itself was somewhat unmemorable and certainly not something I've been jonesing to try again. Particularly given the finicky nature of baking in a water bath and fiddling around with foil to try to make sure that the springform cake pan wouldn't leak (which it did anyway). And frankly, cheesecake isn't something that I would normally even order if someone else were going through all that pain… not if there were pies, cakes or bread puddings on the menu.
But, post holiday I had a drawer full of fresh cheeses that needed to be eaten and cheesecake just seemed to make sense. Then, I stumbled onto the blueberry cheesecake recipe in Alastair Hendy's Cooking for Friends, and my whole notion of cheesecake changed. This cake requires no water bath. It's insanely light, not to mention can be made very low in calories, almost more of a sweet cheese souffle. Oh yeah, and it's one of the freshest tasting cheesecakes I've ever eaten. Despite making the cake just last week, and being quite tired of desserts after a bit too much holiday indulgence, this is a cake I am craving.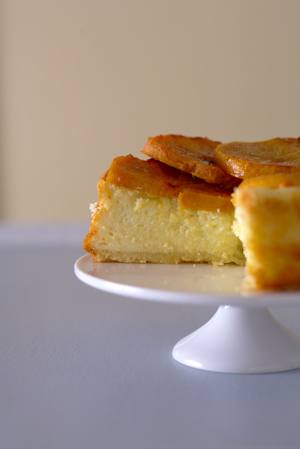 Excuse me while I gush for a moment about the author, Alastair Hendy. Hendy a cook, photographer, food stylist and travel writer. All self-taught. He's what I want to be when I'm all grown up. The first time I saw his work in Australian Vogue Entertaining and Travel (vol 31 number 3), I was taken aback. This is a magazine full of luscious photos, but the Wild Blue Yonder picnic scene both styled and shot by Hendy took my breath away. The first shot, a young girl looks up form a field of purple to a light speckled forest canopy. I just couldn't stop staring at this photo. Rich, deep blues and greens, brilliant without over saturation make up each page of recipes like spit-roast spatchocks with lemon and herbs or just about the freshest looking apple and blueberry tart you can imagine. The food manages to be rustic and elegant all at the same time. The recipes so simple, yet so skillfully executed. I immediately started looking for more work by Hendy… and happily found quite a bit. The books can be a bit hard to track down, but both Cooking for Friends and Mushrooms can be found with just a little bit of looking. Hendy's Fresh seasonal series can be a bit harder to find. But I think you'll be pleased if you find them.
OK… now back to the recipe. I mentioned that I had a cheese drawer to clean out… so I ended up using three different cheeses in the filling rather than just one. Hendy doesn't specify what cheese to use in the recipe, by the way, which I find fantastic because it encourages experimentation. The most basic would be to just go with a nice neufchatel or cream cheese. To that, I added the left over quark I had, as well as some fresh goat cheese (Laura Chanel), all in (almost) equal parts.
One of the other different things about this recipe is the crust… rather than the traditional graham crust, this cake has a micro thin layer of pastry which helps hold the whole thing together but doesn't overwhelm the flavor of the filling.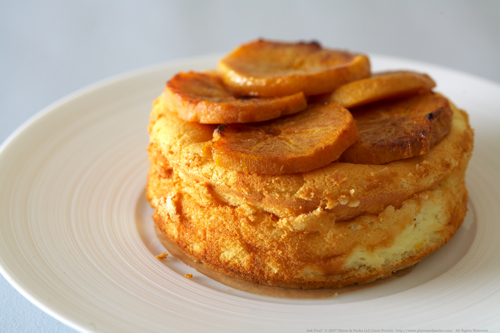 Not being blueberry season, I experimented with a few different toppings… pomegranate seeds on some, roasted quince slices on another. But honestly, I wasn't really happy with any of my attempts, and brushed off the fruit to just indulge in the cake. The pomegranate I had was too watery and flavorless (although I do think a really good pomegranate would be a great topping), and the quince slices were far too thick for the delicate cake. Finally, I peeled a satsuma, which fit the flavors of the filling much better. My next attempt — sometime when I can once again comfortably zip up my pants– will be with a razor thin layer of caramelized blood oranges. I think it will be perfect. Or, maybe it will be blueberry season by then…
Three Cheese Cake

Apapted from Alastair Hendy's Cooking For Friends (p 166)
Serves 6-8
This cheesecake can be made as 1 large cake, or as lots of mini cakes. I tried both, but slightly preferred the single large cake which preserves more of the moist cheesecakey texture.
Pastry Base
5 T sugar
1/2 c unsalted butter
1 egg yolk
1 t orange or lemon zest
1 1/4 cup flour, sifted
Cheesecake Filling
2/3 cup neufchatel
2/3 cup quark, drained
1/3 cup fresh goat cheese
4 eggs, separated
1 t orange or lemon zest
2/3 cup sugar
1 T flour
Butter a spring form pan and line it with a circle of parchment or waxed paper cut to fit just the bottom. It's a bit easier to cut it a bit larger and then set it in place and use a knife to trim off any excess.
Prepare the crust by mixing together the sugar, butter, egg yolk and zest in a bowl until it is a bit creamy. You can do this is a stand mixer, or by hand. Next add the flour and work until you get a smooth dough, dusting with a bit more flour if it seems too sticky. Roll it into a ball, flatten slightly and wrap in plastic wrap. Refrigerate for 20 minutes. Preheat your oven to 300F.
Roll out the dough (you have to pre-bake it) to 1/8 inch. Get it close to the size of the bottom of your tin, and then trim it in place. You just want it on the bottom… it shouldn't come up the sides. Bake for 20 minutes until it is about 1/2 cooked. Remove the crust from the oven and let it cool on a wire rack. Reduce the oven temp to 275F.
Mix the cheese, egg yolk and lemon zest in a bowl until smooth and creamy. In a separate bowl, beat the egg whites until they are stiff, then slowly add the sugar and the flour to the egg whites. Fold half of the egg whites into the cheese mixture to lighten it some. Then, fold the cheese mixture into the egg white mixture. Spoon over the crust until the pan is about 3/4 full. You need a little bit of room, because the cake will puff up during baking. Bake on the middle shelf of the oven for about 1 hour, or until it is firm. Allow to cool. It will sink during this time… that's what the fruit topping is for.
Serve topped with fresh berries, orange slices, etc… anything that is not too heavy as you don't want the cake to compress even more.