Skip to content
I don't really do cookbook reviews on this site. But, when I received a very personal email from the publisher of My Sweet Vegan asking me if I'd take a look, I found I couldn't refuse. While I am nothing close to being a vegan– I even rendered 10 lbs of pork back fat into lard yesterday –I was still intrigued by the story of the author. At 18, and just a senior in high school, blogger Hannah Kaminsky wrote and photographed the cookbook and managed to get herself published. At 20 years her senior, I certainly haven't even come close to such an accomplishment! I definitely wanted to check out the book, so I said send it along.
My first impression of the book, with its cheerful bright cover with colors reminiscent of gummy bears was that this is a book I'm going to like. Two big, chocolate rich dessert photos grace the cover and struck me with their honesty. This is real food made to be eaten, not merely to be looked at. It's not all polish and gloss, but it is plenty welcoming… like the friendly, personal nature of food blogs in book form. The same feel is captured throughout the book with photos that may not be perfect, but look enticing all the same, and little personal tidbits about each recipe.
Flipping through the recipes, I see several I'd like to try… a dried fruit focaccia for one and party mix bars, a clever twist of rice crispy treats and Chex® mix. I skip over the recipes with substitute ingredients like vegan "cream cheese" or soy creamer. I'm sure the recipes are good, but just like the idea of lard creeps some people out, faux dairy is not my thing.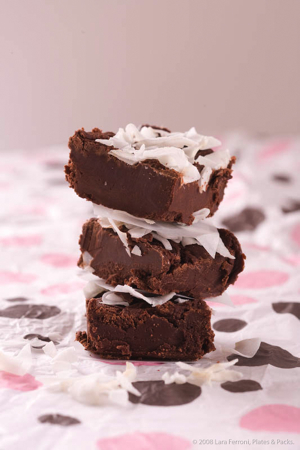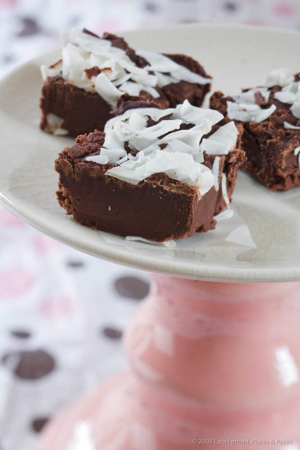 I finally settle on trying the coconut fudge, which smartly substitutes coconut milk for the cream. I made one more substitution, and replaced the margarine with coconut oil… keeping to the vegan intent of the recipe but also avoiding margarine which I'm not much of a fan of. The resulting fudge was exceptionally rich, super sweet, and with just a subtle hint of coconut… if it weren't for the generous topping of flaked coconut on top, it would be hard to put your finger on the flavor.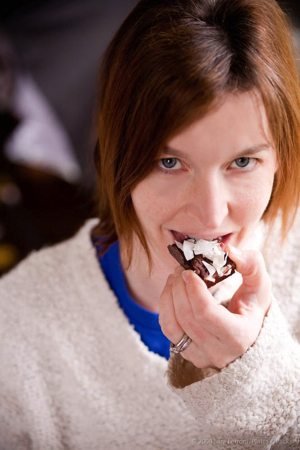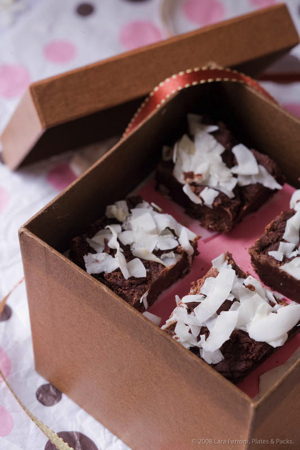 Two of these dense little squares was about all I could handle over the span of a day, so I recommend making a batch and making up some little packages as gifts for your coconut and chocolate loving friends.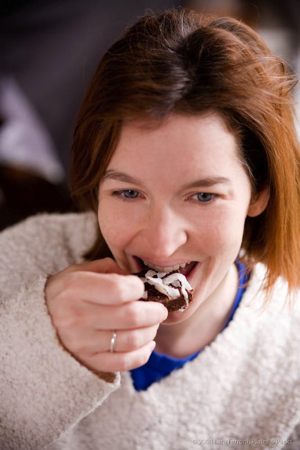 Coconut Fudge
Adapted from Hannah Kaminsky's
My Sweet Vegan

Makes 32 Small Pieces

1 c semi-sweet chocolate, coarsely chopped (or chocolate chips)
3 1/2 c powdered sugar
1/2 c dutch process cocoa powder
2 T coconut oil
1/2 c coconut milk
1/2 t vanilla extract
1 c unsweetened, toasted, flaked coconut
Line a baking pan with at least 1 inch sides with parchment, leaving the parchment to extend a bit up the sides. It might help to put a smear of coconut oil on the bottom of the pan to help the parchment stick.
Mix the chocolate, sugar and cocoa together in a large bowl. Set aside.
Mix the coconut oil and coconut milk together in a small sauce pan over medium heat. Stir and heat until the oil has melted and bubbles just start to form. Remove it from the stove and immediately pour the hot coconut over the chocolate mixture.
Let it sit for about a minute, and then stir well to melt the chocolate completely. If it seems that it has cooled too much, try putting the dish over a bowl of hot water and stirring constantly until you have a nice smooth mixture. Add the vanilla, stir, and then pour the fudgy goodness into the parchment lined baking pan, pressing it into the corners and smoothing out the top. Toss the coconut flakes all over the top and press them into the fudge just a little so they will stay. Let the fudge cool completely before cutting it. I covered mine once it was room temp, and tossed it in the fridge to firm it up even more.
Technorati Tags: chocolate, cookbook, dessert, My Sweet Vegan, recipe