Recently, I was flipping through the The Northwest Best Places Cookbook, and one of the first recipes that caught my eye was for Gingerbread Crepes. I'm not really sure why it got me so excited… I'm not a big gingerbread fan… but the idea stuck in my head, and I knew with a little tweaking, these crepes would be something I would love. To me, these crepes are like a warm blanket on a cool spring morning… comforting, but light and fresh. If you've been intimidated by crepes before, give these a try… they are much easier than you think.
To begin with, I made added Amaranth Flour to the mix. Amaranth flour has a great nutty flavor that you might associate with graham crackers and tends to add crispness to whatever you bake with it, meaning that your crepes are less likely to get soggy while you cook up the whole batch. Amaranth is also much more nutritious than all purpose flour containing a nearly complete protein. Because Amaranth doesn't contain gluten, you will need to mix it with other flours to achieve the desired texture. I'm not gluten free, so I chose regular all purpose flour… but there are other flours you could mix with that could yield beautiful results.
The sweetener for this recipe is malt syrup which is something like a cross between honey and molasses. It's lush and golden and pairs beautifully with the spice combination of ginger, cinnamon and cardamom. A little grated citrus peel (preferably fresh, but dry is okay too) brightens up the whole batter.
For the filling, you can use fresh apple slices but applesauce is delicious and much easier. A bit of Meyer lemon adds a lovely sweet tartness and keeps the apples from being cloying. I love these served with a dusting of powdered sugar and a bit of lemon served on the side which also helps bring out the citrus in both the crepes and the filling.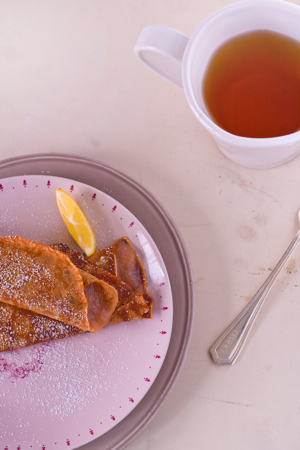 Spice Crepes with Meyer Lemon Applesauce
If you can't find Meyer Lemons, use the juice of half a lemon and half of an orange.

3/4 c all-purpose flour
1/4 c amaranth flour
2 T sugar
1 t powdered ginger
1 t cinnamon
1 t cardamom
1 t grated orange or lemon peel
1 1/3 c milk
2 eggs
1/4 c barley malt syrup
1 T butter, melted
2 c applesauce
1 t cinnamon
1 t nutmeg
1 meyer lemon, juiced
In a large bowl, whisk together the flours, sugar and spices. In a separate bowl, whisk together the milk, eggs, malt syrup and butter. Stir the egg mixture into the dry ingredients until the batter is smooth.
Melt 2 t of butter in a flat, round, non-stick skillet over medium-high heat. Add a scoop of the batter to the pan and give it a tilt to thinly coats the bottom of the pan. When the edges start to brown after 1 to 2 minutes, carefully flip the crepe with a wide spatula, and cook for another minute. Slide the crepe onto a plate, and repeat with another scoop of batter adding a little more butter if needed. Use a bit of parchment between the crepes to prevent them from sticking together. Cover with a towel to keep the crepes from drying out.
Heat the applesauce in a high-sided pot on medium heat. Add the lemon juice, cinnamon and nutmeg. When just warm, you are ready to start filling your crepes.
Take a single crepe, and add the applesauce. I like to do it just off center. Then, I roll, starting from the small side, all the way over. Sprinkle with a bit of powdered sugar, and serve with a slice of Meyer lemon.