I don't know about where you are, but everywhere I turn, someone is getting sick. I, knock on wood, have managed to avoid it so far but my poor not-so-little one has gotten some kind of fever inspiring crud twice now in the last month. I'm still not sure how I've avoided it… it must be all that lard.
Anyway, if you or someone you love is caught up with the aches and pains, you might try making this simple Salmon Noodle Soup for them. Or, even if everyone is feeling just fine, it's a lovely spring kind of soup. Unlike most salmon soups which can be heavy with cream or Asian inspired, this soup is a simpler, lighter broth. Like chicken noodle soup, except a bit fishier. It's super quick to make from scratch, even if you are making starting from the stock.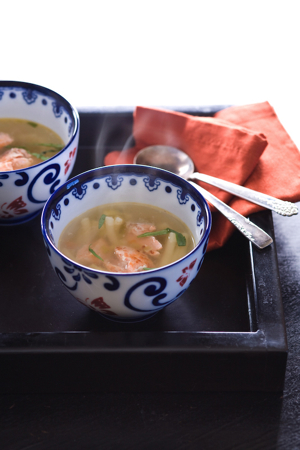 For the stock, see if you can find frozen fish scraps at your local fish shop. If you are in Seattle, head up to Central Market for a great selection of left over fish parts (or chicken, beef or pork for that matter) that are great for soups and will only set you back about a buck fifty. For my stock, I used onion, celery, thyme, garlic, peppercorns and a teensy bit of fresh ginger. I also threw in dried bonito flakes, as you would for dashi, although my fish stock remained very European tasting. You can of course, use any veggie and seasonings you like. Parsnips, fennel, parsley, carrots all make lovely additions. You don't even need to chop them. Just throw them in the pot.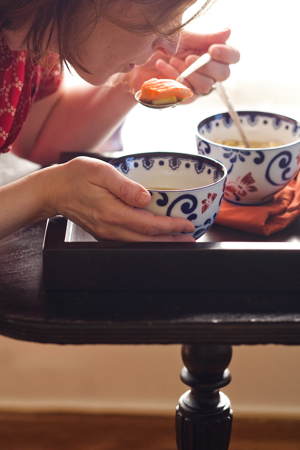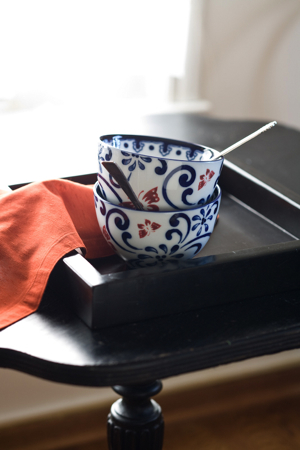 To make the stock, add your defrosted and rinsed fish parts, herbs and veggies to a large stockpot and add a good glug of olive oil and about 1/2 cup white wine. Heat on low for about 5 or 10 minutes until it gets nice and fragrant. Then, cover it all with water and simmer for 30 minutes. I like to strain the resulting broth through a couple of layers of cheese cloth to remove any left over bits, but any fine strainer will do. For this recipe, you'll need about 4 cups of stock. The rest can be refrigerated or frozen for later use.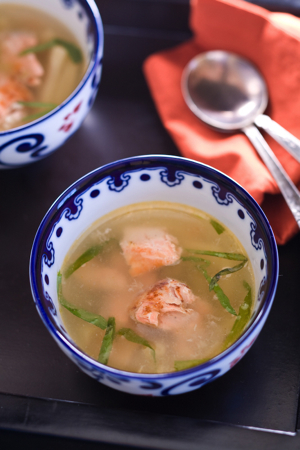 Salmon Noodle Soup
4 cups fish stock
2 carrots, small-dice
1 stalk of celery, small-dice
2-3 new potatoes, small-dice
1-2 fresh salmon fillets
3 scallions, chopped into small rounds
2 cups of pasta, cooked but not sauced
1 tablespoon fresh tarragon, chopped
olive oil
Salt and pepper
Heat the fish stock in a large soup pot.
In a medium skillet on medium-high, heat the olive oil and add the chopped carrots, celery and potatoes. Saute until the vegetables start to soften, about 3 minutes. Add a ladle of stock and cook for another minute as some of the stock is absorbed. Then, dump the whole concoction back into the rest of the broth, and bring to a simmer. Cook for 7-8 minutes.
Meanwhile, wipe out the skillet and heat it up again on medium-high heat. Brush the salmon fillets with a bit of olive oil, and place flat (skin) sides up in the hot skillet. Cook for 2 minutes. Then, flip the fillets over and cook for another 3-4 minutes. Remove the fillets from the pan and remove the skin. Break the salmon into bite sized pieces. It's ok if it's still a bit rare in the middle… it will cook more in the broth.
Add the salmon, scallions, tarragon and pasta to the broth. Add salt and pepper to taste, and simmer for another 5 minutes. Serve up as is, or for a little more indulgence, a small pat of butter.