A few weeks ago, I picked up a little book that I have come to adore, A Handful Of Herbs. It's tiny and really only has a handful of recipes and gardening tips… but the recipes are good, the tips are fun, and the photos, of course, are gorgeous. I have come to love to leaf through its mere 120 some-odd pages. The first recipe that caught my eye was one for something called zhatar. It is a Persian spice mixture that I had never heard of that mixes thyme with sesame seeds and salt to make a dry rub that is often sprinkled on hard boiled eggs. It sounded intriguing, and I made a little note to myself to come back an try it. Imagine my surprise when a project that I am working on for a client (the thing that has kept me so busy, I haven't had a chance to blog) included a recipe that included zhatar!
The recipe for zhatar (sometimes zaatar, sometimes za'atar) seems to vary by region, but usually includes the combination of thyme and sesame with ground sumac. The dish that I was preparing for my client also introduced ground pistachios into the mix. Yum! It may not be traditional, but I highly recommend it. I also like throwing some red chile flakes into the mix for a little kick.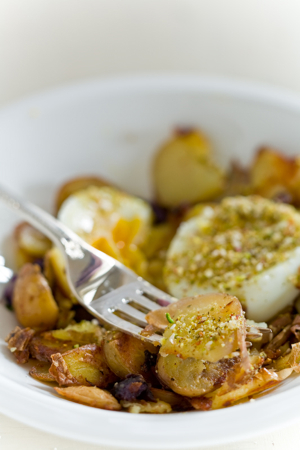 You can use the zhatar on eggs, like I did with these poached eggs over hashed fingerling potatoes. But, it's also fantastic on yogurt with a little lemon and olive oil mixed in, or sprinkled on top of hummus.
By the way, I received a fantastic treat in the mail today! The first issue of Edible Seattle. This is a magazine that I'd be excited about regardless, but it is all the more fun because it is packed with my photos (including the cover shot!) and an article I wrote last fall on Maria Hines of Tilth. The magazine should start showing up on shelves soon!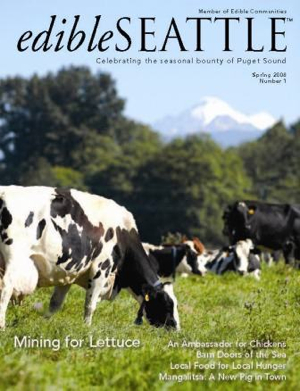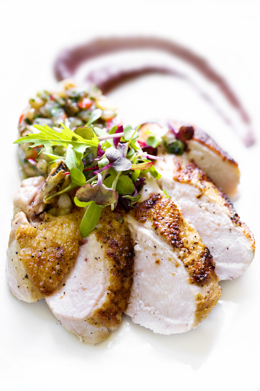 Lara's Zhatar

I'm foregoing spoon measurements here… just add the ingredients in about equal parts.
1 part pistachios
1 part thyme leaves, fresh or dried
1 part turkish oregano (optional)
1 part sesame seeds
1 part red chile flakes (optional)
salt to taste
Grind the pistachios in a spice grinder until you have course crumbs. Mix with the remaining ingredients. Sprinkle on stuff.
This mixture should keep for at least 1 week in a sealed plastic bag.