Sorry for the general lack of posts lately… you probably know I've been traveling a bunch (in fact, I'm about to head out again) and have been swamped for the short time I've been home (all good!). With that in mind, I'm resurrecting a post I wrote sometime earlier this year for the Orbitz travel blog about taking photos when you travel. For some reason, it never actually got pushed live there, so I thought I'd go ahead and share it with you here.

Most people come back from their trips with handfuls of snapshots of friends and family, strategically posed in front of some monument or view of significance. My family, on the other hand, look through the photos that I take on our trips and wonder, how come there are never any pictures of us? My daughter, who jumps at any chance to model, looks at me in dismay when flipping through the shots, all she finds are pictures of slices of pie, signs of restaurants and, if she's lucky, her hands offering up some local seasonal fruit. My work tends to bleed over into my personal life more than a little.
I find that I just want to bring home all the little details of the places that visit. I want a memento to remind me of the silky smoothness of the goat cheese ice cream we had in the century old farmhouse in the Loire Valley or of the bright crisp redness of the sweetheart cherries from a Yakima farm stand. My photos aren't proof of a visit… they are portals that transport me back whenever I need a little escape.
Here are a few tips for making the photos from your next getaway magazine-quality:

Light spilling into a cafe at lunch makes for a great meal and great photos.
Find the local and seasonal stuff. Resort travel has it's benefits, but when I travel, I like to find the little, local places that serve things I can't get at home. It may sound obvious, but tiny little bakeries and cafes, farmer's markets, street food stands, classic roadside diners or local brew pubs all offer great opportunities for memorable photography. I tend to scour magazines like Sunset, Food & Travel (especially those with articles by Melissa), Gourmet Traveller and Australian Vogue Travel & Entertainment (for the dream trips) to find hints of the hidden gems, plus find some great inspiration for photos. Without Sunset magazine, we would never had found the Sparrow Bakery in Bend, Oregon, shown above, which is well off the main tourist strip.
Bring your camera to lunch, not dinner. Getting great shots of food in dimly lit restaurants is nearly impossible without a tripod… so give yourself a break and try to get shots of the food you eat during the day rather than at night. If you really want a shot, and don't have much light, set the ISO on your camera to 1600 and try to steady the camera as much as possible. Don't forget to set it back! Using a dSLR with a fast lens (like a Canon Digital Rebel XSI with a Canon EF 50mm f/1.8) will also give you better results than your average point and shoot camera, although it won't slip into your pocket. You can find out more about what I shoot with here.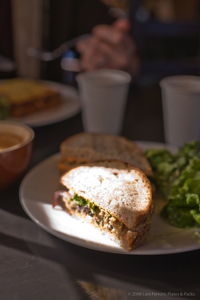 Bright sunlight may feel good on your face, but it is too harsh for food photos.
Pray for a cloudy day. For travelers, a beautiful blue sky day is a blessing. But, for photographers, all that sun can create harsh shadows which can spoil food shots. A bright but cloudy day is much better for food shots, letting you see all the color and texture of the dish. If you can see a shadow from your food, try to move the plate to a shady spot of the table, with the light off to the side.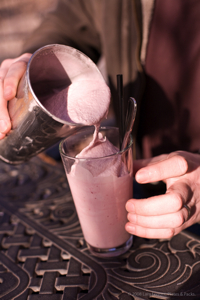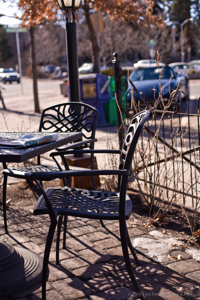 Action and context bring your photos to life.
Food on a plate is kind of boring. Take a few close-up shots of your food, but don't forget to back up and get some of the environment or try to capture people interacting with the food. Photos with context that show some action will bring back more memories. This shake (From McMenamins Pub also in Bend, OR), for example, is a little more interesting glugging from it's tin.
Know when to put the camera away. Some restaurants don't want you taking photos of their food. I don't really understand why anyone would have a problem with it, but since it is their restaurant, it's best to respect their wishes. If you want to take photos of someone working in the restaurant, it's polite to ask first. Most people are more than happy to let you and a shot of your server or bartender, even just their hands serving up your meal, will add a new dimension to your picture.
Watch the light. I said before to bring your camera to lunch, but the best times to take outdoor photos are in the mornings and evening, when the light falls across rather than from overhead. Evening light has a beautiful, golden color that is wonderful in photos.
Know a few things about your camera. Your camera will try to guess the lighting conditions you are in… but you'll get better shots if you tell it. This is called setting the white balance… on most point and shoot cameras, there will be settings for indoor versus outdoor, and cloudy versus sunny days. Check your manual, and get in the habit of setting this, rather than leaving it on Auto for best results.
How about you? Do you have any photo tips for traveling?