Skip to content
I've had the B52's Cosmic Thing running through my head ever since I flipped through the September issue of Martha Stewart Living and spied the honey bun recipe. I'm pretty sure it's been over a month now, and every time it pops into my head, I get the urge to make the gooey, sweet rolls. Which luckily (or, perhaps, unluckily depending on how my waistline is feeling that day) is easy to do because one batch makes a triple recipe of dough, so you have dough tucked away in the freezer for two more panfuls. A single dough ball makes 9 buns which are fantastic when warm, straight from the oven, but don't keep all that well once baked. Next time I make the dough, I might split the extra dough balls into two, yielding just 4 large rolls each.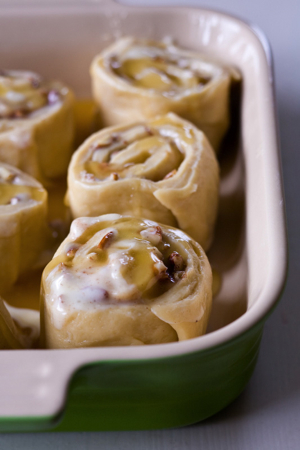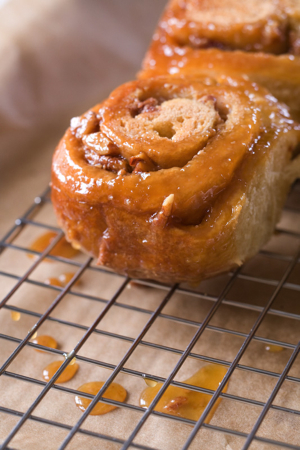 The other benefit of making several small batches is that you can play with different fillings for this dough. The original recipe has a yummy mascarpone and creme fraiche filling, but I ended up substituting sour cream and the results were delicious… just a little tangy to offset the sweetness of the honey. I've also tried a batch with apples tucked into the mascarpone, followed by a drizzle of dulce de leche once baked. Yummmm.
Sour Cream Honey Buns
based on Martha Stewart Living's Honey Bun recipe
Makes 9 buns
1 batch of dough (from this recipe), at room temperature
4 ounces (1 stick) unsalted butter
1/2 cup honey
1/2 cup agave syrup
3/4 cup sour cream
1 t cinnamon
2 T raw sugar
1/2 cup chopped pecans
a bit more honey for drizzling
Melt butter in a saucepan over medium heat. Add the honey and agave syrup and bring to a gentle simmer. Remove from heat and let cool slightly.

Add the sour cream to a small bowl, and stir in about half of the honey mixture until smooth.

In a small bowl, stir together the cinnamon and raw sugar

On a lightly floured surface, roll the dough into a 9 x 12 inch rectangle. Spread the sour cream mixture over the dough, leaving a little border around all of the edges. Sprinkle with the pecans, and then the cinnamon sugar mixture.

Starting on a long side, roll dough into a log and pinch closed along the seam. Cut into nine rounds.

Pour the remaining honey mixture into an 8-inch square baking pan. Place buns, cut sides down, in pan, 3 to a row, and then drizzle with a bit more honey. Gently cover over with plastic wrap. Let buns rise in a warm, draft-free spot until doubled in size, 30 to 40 minutes.

Preheat oven to 375 degrees. Place oven rack in lower third. Bake buns, rotating halfway through, until brown and bubbling, about 1 hour. (If buns darken too quickly, cover with foil.) Set a wire rack on a baking sheet lined with parchment. Immediately invert buns onto rack. Serve warm.