Yay! It's Menu for Hope time again! This is my favorite blogging event of the year. A time to pull together a great gift, bid on a bunch of amazing prizes, and help others, all at the same time. This year, I'm a bit behind in getting the post up on my gift package (UW06), but perhaps it will be a good reminder that Menu for Hope is still going on and get a few more folks over there bidding. I know the economy is putting a pinch on everyone this year. To me, that's all the more reason to do what we can to help those in need, even if it's only $10. With Menu for Hope, that $10 can go a long way.
If you aren't familiar with Menu for Hope, you can find out more on Chez Pim. Then, go check out the list of fantastic prizes
This year, Cook & Eat is offering up a Popcorn Gift Package (UW06) which includes:
16 oz. of premium white popcorn
1 oz. asiago and cracked black pepper seasoning
1.6 oz. tangy dill and garden herb seasoning
1.8 oz. sweet and salty kettle corn seasoning
a small jar of my homemade zhatar mix
4 oz. grapeseed oil sprizter
8.45 oz Urbani White Truffle Oil
One copy of "Popcorn" (Patrick Evans-Hylton) (one of the cookbooks I photographed this year)
One large bright red popcorn bowl
(Shipping in North America only)
Popcorn has been on my brain quite a bit this year. When I found out I was taking photos for a book on cookbook entirely based on popcorn, I was a little stunned. I tried to think of even 10 recipes, and came up short. I also couldn't imagine being able to even think about popcorn again after the shoot was over. But even after shooting over 20 different recipes for the book (which contains over 60 recipes), not only was I not sick of popcorn, I had an entirely new appreciation for the treat that I've always loved. Here are just a few ideas from the book: Popcorn S'mores! Popcorn Bananas foster! Gorgonzola and Green Onion! Popcorn Shrimp with popcorn in the batter!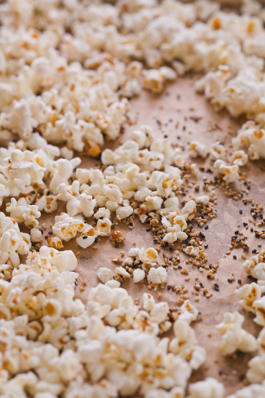 And, today, I tried the Black & White Sesame Popcorn recipe… a nice little savory break from all the Christmas cookies and candies I've been making all week.
But, even if you aren't a big popcorn fan, you may want to bid on this package… the truffle oil alone is worth $30!
To bid, here's what you need to do:
1. Choose a prize or prizes of your choice from our Menu for Hope at http://chezpim.com
2. Go to the donation site at http://www.firstgiving.com/menuforhope5 and make a donation.
3. Each $10 you donate will give you one raffle ticket toward a prize of your choice. Please specify which prize you'd like in the 'Personal Message' section in the donation form when confirming your donation. You must write-in how many tickets per prize, and please use the prize code. For example, a donation of $50 can be 2 tickets for EU01 and 3 tickets for EU02. Please write 2xEU01, 3xEU02
4. If your company matches your charity donation, please check the box and fill in the information so we could claim the corporate match.
5. Please allow us to see your email address so that we could contact you in case you win. Your email address will not be shared with anyone.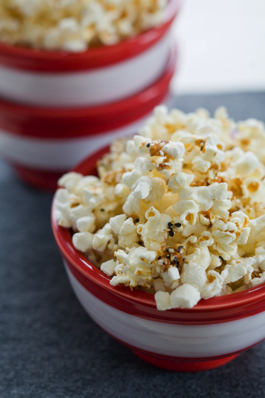 Black & White Sesame Popcorn
From "Popcorn" (Patrick Evans-Hylton)
If you really like the flavor of sesame, try substituting 1 tablespoon of toasted sesame oil for one of the tablespoons of vegetable oil.
4 quarts freshly popped popcorn
1/2 t red pepper flakes
1/4 t freshly ground black pepper
1/4 t ground ginger
1/4 t salt
1 T white sesame seeds
1 T black sesame seeds
3 T vegetable oil
1 T soy sauce
Preheat the oven to 300F. Line a backing sheet with parchment paper.
In a small bowl mix together the red pepper flakes, black pepper, ginger, salt and sesame seeds.
In a separate bowl, whisk together the oil and soy sauce.
Place the popcorn in a large paper bag with room for shaking, or if you don't have one, just place the popcorn in a big bowl with room to stir it.
Drizzle the oil mixture over the popcorn and shake (or stir) to distribute. Then, add the seasonings and stir or shake to evenly distribute.
Pour the popcorn mixture onto the prepared baking sheet, and bake for about 5 minutes to warm and dry out the moistened kernels.