Skip to content
When we went to Italy last summer, I learned what a fanatic my daughter is about Nutella. She would get so excited to see Nutella in all its shapes and sizes. She even brought back little packs of Nutella with cookie dippers. Since we've been back, I've been buying Loacker's hazelnut spread (they don't carry Nutella at Whole Foods), which I think tastes a little less sweet and a little more nutty. But, I've had it in the back of my head that I should try to make my own.
Now, I should mention the fact that I'm not really a Nutella fan. I don't hate it, but I'll generally pass. It's the hazelnuts. Alone, they are just a little too bitter for me (even with all those nasty skins removed), and most chocolate hazelnuts spreads I've had balance that out with way too much sugar.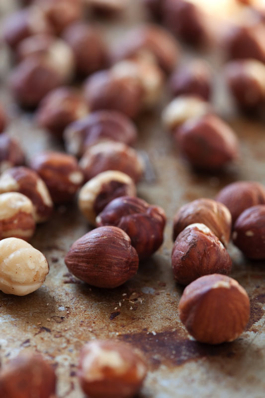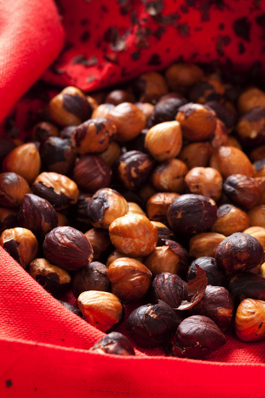 So, why would I want to go about making it at home when I don't even eat it and Cole is crazy for the store bought stuff? Well, guess I'm just the kind of a girl that gets an idea stuck in my head and can only avoid it for so long.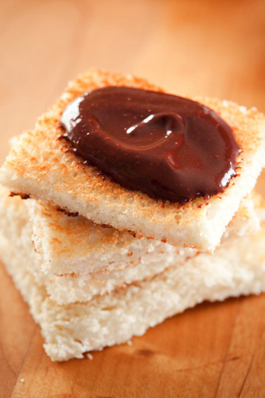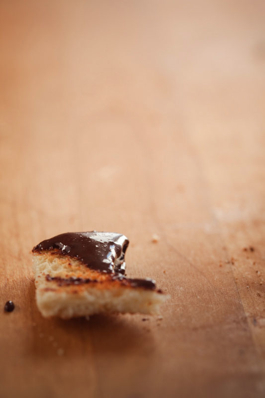 Today, I got busy trying to figure out that right combination of nutty and sweet and chocolatey that Cole would be happy to wake up to each morning. I may, in the process, have made myself a convert. I can't seem to help licking it off my fingers, or the spoon, or the inside or the bowl.
Instead of balancing out the bitterness of the hazelnuts with sugar, I've bumped up the salt. Just a bit. But that bit brings out the sweetness and the nuttiness in that wonderful salty-sweet way. It highlights the hazelnuts instead of masking them. Well, that and I used really yummy dark chocolate.
I think Cole will be in for a nice surprise!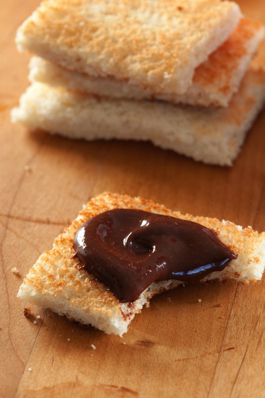 Chocolate Hazelnut Spread

150g raw hazelnuts (about 1 cup)
4 oz dark chocolate, coarsely chopped
2 oz butter, cut into 1/2 inch cubes
1/3 cup cocoa powder
3/4 cup powdered sugar
1/2 t salt
Spread the hazelnuts out on a baking sheet and toast in a hot oven (about 450F) until the skins darken but don't burn. Let them cool for about 5 minutes and then rub them in a dish towel to remove the skins.

Blend the hazelnuts with a food processor until they are basically liquified. This will take some patience. Scrape down the sides of the food processor several times during the process to keep them blending, and eventually they will start giving off oils, and become smooth. It may take about 5 to 10 minutes.

While those are blending, melt the chocolate and butter in the top of a double boiler, stirring until it is smooth. Add the cocoa powder, and mix until there are no lumps. Add the chocolate mixture to the hazelnut paste (still in the food processor bowl), and blend. Then, add 1/4 cup of the powdered sugar and the salt. Blend. Then, taste the mixture, continuing to add the powdered sugar in small amounts until it reaches the desired sweetness (the amount of sugar you need will depend on the sweetness of your chocolate as well as your own personal tastes). If you want a slightly thicker texture, you can add a bit more cocoa powder… but the spread will thicken as it cools and sets.

It's best to store this spread in the refrigerator since it has butter in it. Also, if want a vegan version, substitute a good nut oil (like hazelnut or walnut oil) for the butter. Let it come to room temperature before serving.