Now, I knew that I could do something simple like a puff pastry tart or foccacia studded with the juicy cherries, but I really wanted to make something with a little more zing. I just wasn't in a tarty mood. Or maybe I just realized that there was just no way that a Rainier cherry tart would come close to comparing to the Montmorency cherry tart that Becky made for a party last weekend. That was a damn fine tart.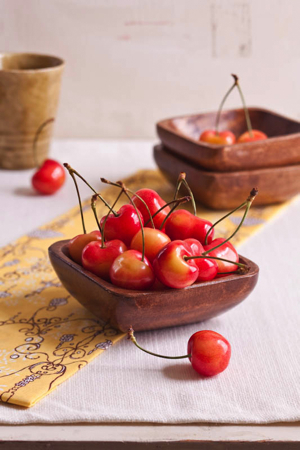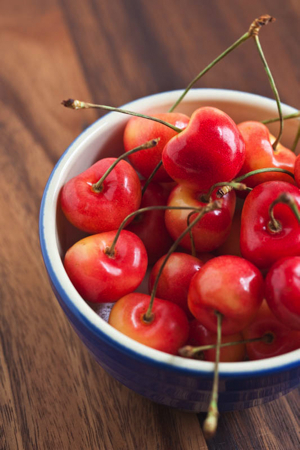 [photos by Nicole Munoz]

So, after a bit of cookbook perusing and web surfing, I settled on a recipe. No, that's really not true. I settled on five recipes which all sounded really great. And, because I had help in the studio that day (my first intern of the summer, Nicole Munoz… some of these photos are hers, as noted), I thought I'd see tackle as many as I could and see just how far we could get.
The first was from Alice Medrich's Pure Dessert (still one of my favorite cookbooks ever), a cherry and kirsch gratin. I know it was the photo that sucked me in. I just couldn't resist the slightly burnt custard with the oozy, messy cherries.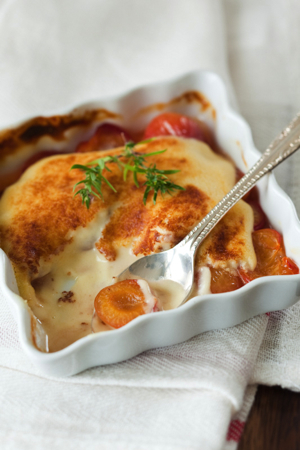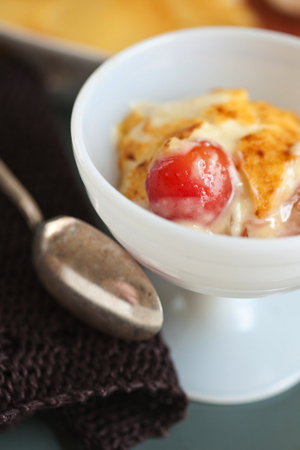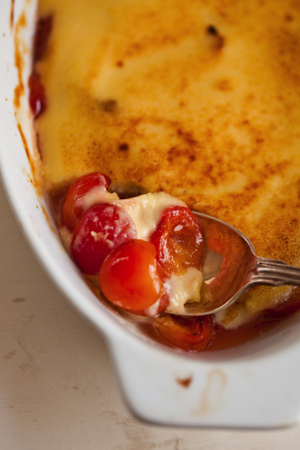 The recipe didn't call for Rainiers, but any sweet cherries, so I thought it was worth a try. There was also no kirsch to be found in the house, but I think that it would have over-powered the light flavor of the Rainiers anyway. So, instead I used an orange-scented Rum that we brought back from Martinique (but any light, citrus liqueur would do… Grand Marnier, Cointreau, etc.). The result was a lusciously boozy, creamy and fruity spoonful.
The next recipe was one from the Northwest Cherry growers website. This site has all kinds of great info if you are curious about cherries (as I was last year researching an article for Edible Seattle) as well as a ton of great recipe. It was pretty clear to me which one I was going to pick… the gratin used up 6 egg yolks, so I had a rather large amount of egg white left over. Meringues it would be.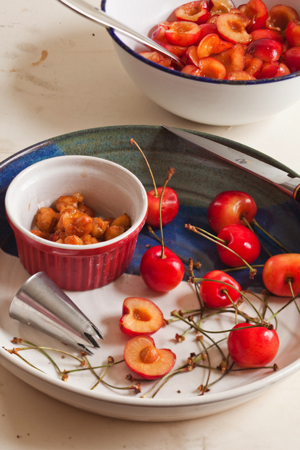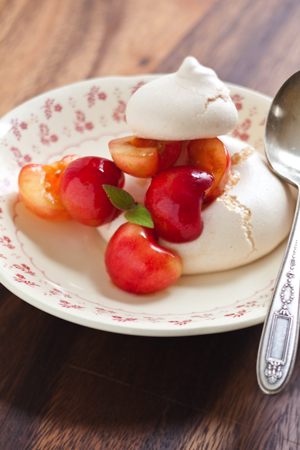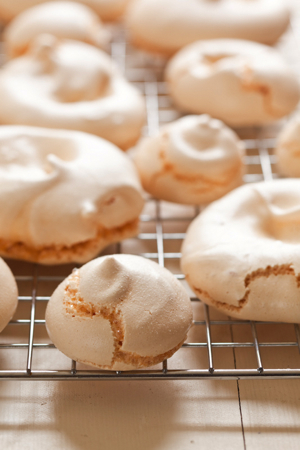 The meringues take a little while to prepare, but they are really easy. Most of the time is spent waiting around, which gives the cherries some time to macerate anyway. What I liked about these meringues is they are spiked with a bit of almond extract, which pairs really well with the cherries. I suppose that you can't really call it cooking with the Rainiers in this case, since they are really just tossed in some sugar to help release the juices. But it's still a step beyond eating them straight from the bag.
The third recipe I fixated on was from "Tartine"… an apricot & cherry dumpling that is more like a cobbler. But, by the time I got around to making it, I was pretty well sated on dessert, so that one will have to keep for another day. But, we still had light & lots of left over cherries, meringues and custard… it seemed a waste not to bring them together in a little parfait.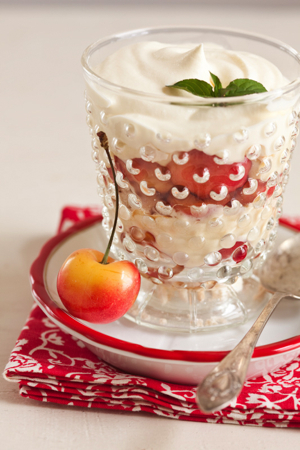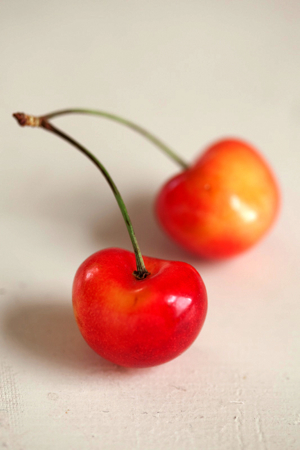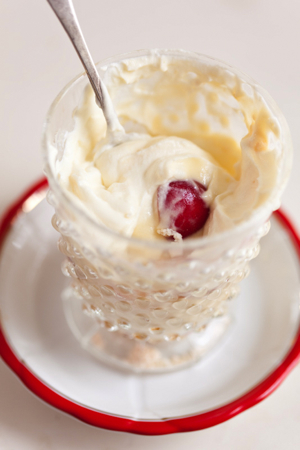 Rainiers are still pretty hard to beat straight from the bag (or even better, the tree), but the definitely hold their own in cooked dishes. Thanks to Twitter, I also have a few more ideas up my sleeves for the short time we have remaining in the season… how does Grilled Walla Walla's with Cherries and Salmon sound (the recipe is in Tom Douglas's Seattle Kitchen… thanks @gogogreengarden)? Or, marinated cherries with olive oil, rosemary, lemon rind with spanish sheeps milk cheese… oh, my.
Boozy Cherry Gratin
Adapted from Pure Dessert's Cherry & Kirsch Gratin

6 large egg yolks
1/4 cup sugar
2 1/2 T flour
2/3 c Rose or white wine
1/3 c orange liqueur
1/2 c plus 3 T heavy cream
3 cups sweet cherries, halved and pitted
3 T orange liqueur
1 T sugar
lemon juice from 1 lemon
Start by making the custard. Combine the egg yolks, sugar and flour in a heavy non-reactive pot over a medium heat, whisking until smooth. Whisk in the wine & liqueur, and continue to cook, stirring, until the mixture thickens. Continue to whisk over the heat for another 2 minutes. The custard should become slightly less thick. Remove from heat and transfer the custard immediately to a bowl. Stir in the 3 T of cream. Cover with parchment paper or plastic wrap pushed lightly against the surface and refrigerate until needed.
Prepare your cherries by pitting & halving them. I like to take a pairing knife and cut around the outside of the cherry 90 degrees from the indentation. I scoop out the pit with a medium sized star piping tip… it works like a charm (but careful not to push your finger through it, or you'll be in a large amount of pain getting it out).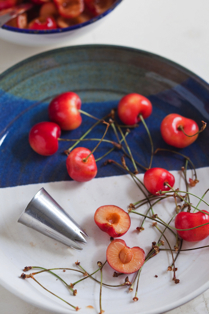 Once pitted, add the sugar, lemon juice and orange liqueur and let them sit for at least 15 minutes to release the fruits juices. You can leave the cherries in the juice for up to 3 hours at room temperature.
Place the macerated cherries in a shallow baking dish, and place under a hot broiler for about 5 minutes, until the juices are bubbling furiously. Do NOT walk away from the broiler, or you'll end up with burnt cherries. You may need to rotate the baking dish once or twice to get an even caramelization of the cherries. Remove from the oven, and let the cherries cool for about 10 minutes.
While the fruit is cooling, whip the remaining 1/2 cup of cream to medium soft peaks. Fold into the custard until fairly even, but don't over mix. Gently spread the custard on top of the cherries, leaving a small gap between the custard and the edge of the baking dish. You may not need to use all of your custard. Place the dish back under the broiler for 1 to 2 minutes to brown the top of the custard. This may happen very quickly, so keep your eye on it. Again, depending on your broiler, you may need to rotate your dish halfway through.
You can serve the gratin straight from the broiler, or let it cool to room temperature. I preferred it warm.
If you have left over custard, you can use it to make the parfait I showed above. Simply layer it with macerated cherries, a few cherries, a little custard, a few cherries, a little custard, and top with a sweetened whip cream. Meringue crumbs or crushed nuts would also be a nice add.