Skip to content
Before I talk much about this book, let me just mention that, as happens from time to time for many bloggers these days, I get review copies of cookbooks from publishing companies and publicists. I receive both of these books from Andrews McMeel Publishing, a company who was on my radar even before they sent along these two book, simply because they publish really beautiful cookbooks. I never make any promises that a review will appear on this site for anything that I receive, and frankly, when times get busy, it takes a pretty special book to get my attention. Falling Cloudberries is one such book, and it's one that I would have purchased even if I hadn't been sent a copy. I had already purchased a copy of one of Tessa Kiros other books, Apples for Jam. I'm sure you can guess, I could not resist the cover with those little red shoes. So, it was sort of like opening up a birthday present when I received Falling Cloudberries in the mail.
Anyway… enough about how I got the book… what I really want to share with you is that feeling you get when you open one of Tessa's book. It's like peaking in through someone's windows and watching them go about their lives, cooking and eating. The photos are like a family album, done all in food. It's all incredibly unpretentious and unstaged. They are snapshots rather than glamor shots, but as if you could take a photo from a memory. They are as full of life as the recipes are as full of family. Tessa's background is diverse, Finnish from her mother's side, Greek/Cypriot on her father's. She was born in London, and her husband is Italian. All of these cultures (and more from her travels) make an appearance in her cookbooks with traditional as well as some more modern recipes, along with Tessa's poetic prose:
"I love the orange trees lining winter Athenian avenues. And the people who open their doors and their hearts to you. I love the Greek markets with baskets of grogeous red just -flowered pistachios, piles of figs, and very wild hilltop greens sitting next to indifferent mountains of underwear. Everywhere, among the pervasive smell of fresh oregano, there is an atmosphere of people doing their own thing, each stepping in tune to their own internal guide."

As I flipped through each page, trying to decide where I wanted to start, I quickly found I needed more fingers to hold onto the pages. The gravlax are a must try. Or, perhaps the Cinnamon Cardamom Buns, the Finnish Mustard, the Cranberry Sorbet or Lingonberry Jam, and oh hell, I haven't even gotten past the Finnish chapter yet!
And yet, somehow, I did finally decide on a dish. Well, that's kind of a lie. I decided on two dishes, both from the Cyprus chapter.
First, I made a little variation on the spanakopita recipe. I love these little filo triangles, but had never made them before. As it turns out, once you get the hang out of folding them, they are quite simple. Any little mistakes you make are no bother… they just add to the charm of the finished "pies." Instead of sticking with the traditional spinach filling, I raided the garden of braising greens and combined kale and beet greens along with the spinach.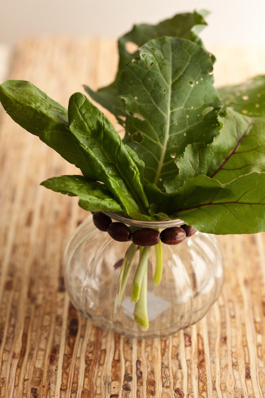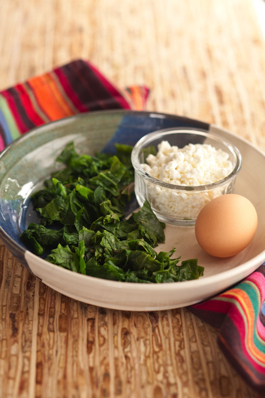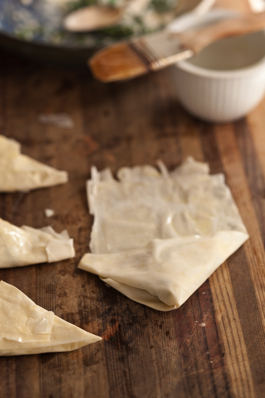 As they bake, they puff up and the layers separate like a croissant. I also found that eating them took just about the same amount of time as folding them.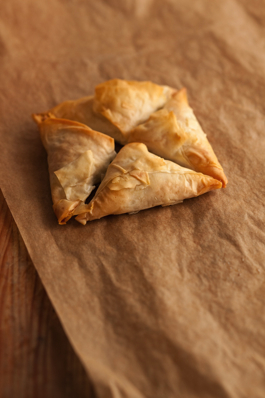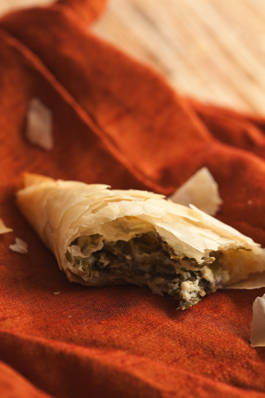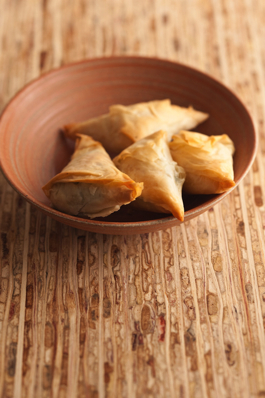 I also could not resist doing a little "research" for the donut book…
Loukoumades
! These little crisp deep fried puffs get topped with a lemon cinnamon syrup that is to die for. (They are vegan if you are looking for that sort of thing.) Maybe not donuts in the modern sense, but definitely in the traditional sense of the word. I've been in search of a good recipe for them, and this one did not disappoint. They also didn't last very long. I only made a 1/4 recipe, but I gobbled them up at a pretty embarrassing rate.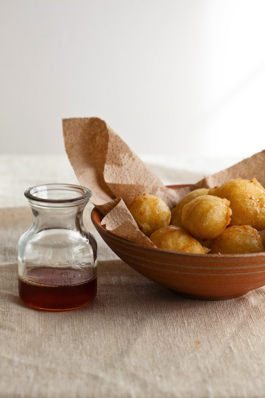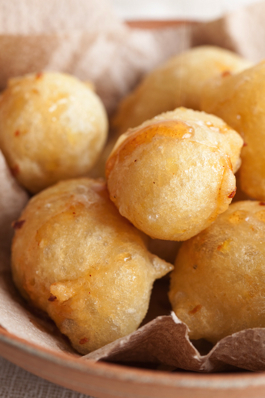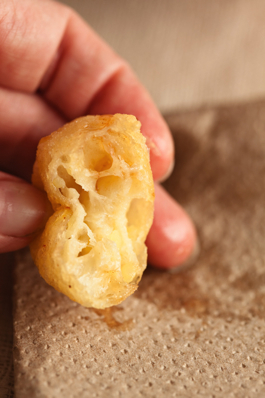 My adaptation of the spanakopita recipe is below. Since I just followed Tessa's instructions on the loukoumades, you'll need to get the book for that one. It is definitely worth it!
Three Green Spanakopita
adapted from Falling Cloudberries by Tessa Kiros

Makes about 8 medium pies or 15 small ones
3 cups fresh spinach leaves, well-cleaned and firmly packed
2 cup fresh braising greens, such as kale, chard or beet, firmly packed
1 cupped feta, crumbled
1 egg, lightly beaten
1 t nutmeg
1/2 t salt
1/2 t pepper
4 sheets of filo dough
olive oil to brush
Remove the thick spines from the braising greens and blanch in salted water. Set aside to drain. Repeat with the spinach. Mix the greens together and allow to cool. Finely chop the greens and squeeze out as much of the water. In a medium bowl, mix together the greens and feta. Stir in the egg and season with the nutmeg, salt and pepper. Set aside.
Preheat the oven to 350F.
Carefully place one piece of the filo dough on a cutting board, taking care to cover the remaining dough. Brush the filo with the olive oil all over. Then, place another sheet of filo on top. Brush it all over with the olive oil. Slice the filo into 4 4 x 9 inch strips. Place about a tablespoon of the spinach mixture in the middle of the first strip, about 1/2 inch from the bottom. Lift one of the bottom corners (I go from left to right), and bring it up and over to the opposite side to form a triangle. Then, lift the bottom point you just created, and bring it over to the opposite side to make a new triangle that has the point facing down. Continue this way until you reach the top. Brush with a bit more olive oil, and place on a parchment lined baking tray. Repeat with the remaining strips, and then, repeat with the remaining sheets of filo. Place each triangle snuggly against it's neighbor. Bake for 15 to 20 minutes or until the pies are golden brown. Serve while hot.