Would it help if I told you that I had strawberry buns to keep me company?
Before my "alone time," I was shooting some new product for Orcas Alchemy, a fantastic little artisan shop that makes these lovely flavored sugars and salts. One of the new sugars is a strawberry sugar that is like a spoonful of summer… a nice thing on a damp fall day where there are more leaves in the gutter than still on the trees. I just kept imagining them sprinkled on all sorts of things. Doughnuts (of course), yogurt, pie crust, or these little crescent buns. This recipe comes from Marcy Goldman's A Passion for Baking a great little cookbook I picked up when I was researching doughnut doughs (there's a good baked French Cruller recipe in there if you are curious). I had gone in search of a cinnamon bun dough that I could do something fruity with when I saw the recipe for Granny-MacIntosh Apple Buns and reading through, realized it would be simple enough to convert to strawberries.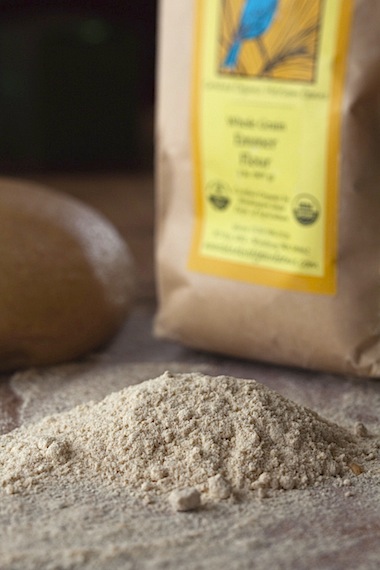 The dough for these buns is really lovely. Especially when made with Bluebird Grain Farms' emmer flour instead of all purpose. Emmer flour is a high protein, low gluten flour that has the nutrition of whole wheat (it contains the germ and the bran), but it is milled very finely so it is perfect for baked goods that you don't want to be too rough but still want to have that rich, complex whole wheat flavor.
The dough recipe make two rounds, so it's easy to please everyone… I made 6 strawberry and 6 apple and cinnamon.
I suppose I didn't please everyone though. Leo didn't get any (although he did manage to find his way into the pint of strawberries I had in my studio, and eat them leaves and all).
PS: New site design! Love it? Hate it? Is it broken? Let me know!
Emmer Flour Strawberry Buns
(based on the Granny-McIntosh Apple Bun recipe from A Passion for Baking)
Makes about 12 to 16 small buns
3/4 cup warm water
1 tablespoon yeast
2 to 3 1/2 cups emmer flour (or all purpose)
1/2 cup granulated sugar
1 teaspoon vanilla
2 large eggs
1/2 teaspoon salt
1/4 cup unsalted butter, softened
12 to 16 strawberries, sliced
2 tablespoons unsalted butter, softened
2 tablespoons granulated sugar
2 teaspoons lemon zest
egg wash
3/4 cup powdered sugar
1 tablespoon lemon juice
1 tablespoons milk
Strawberry sugar (or raw sugar) for garnish
Sprinkle the yeast over the warm water is the bowl of a stand mixer. Let stand a couple of minutes to proof. Add 1/2 cup of flour, and mix to combine with a wooden spoon. Using a dough hook, add the sugar, vanilla, eggs and salt along with another 1/2 cup of flour. Mix until the dough starts to come together and pull away from the sides, adding 1/4 cup of flour at a time once you can't see anymore in the mixture. Add the butter and continue mixing. At this point, stop the mixer, and feel the dough. If it sticks to your fingers, add more flour, and check again. You want the dough to form a ball. It will be moist, but not so moist that it coats your fingers. Once all the flour has been incorporated, knead with the dough hook for another 5 minutes.
Move the dough to a greased bowl, and turn to coat. Cover with a damp towel and let it sit in a warm place for about 1 hour.
Line 2 baking sheets with parchment and set nearby the area where you will roll out the dough.
When the dough is done rising, divide it into two balls. Roll one of the balls out on a well floured surface (it may be a bit sticky) to a round that is little less than a 1/2 inch thick. Gently spread 1 tablespoon of butter over the dough. Sprinkle with 1/2 of the strawberries, concentrating most of the berry slices towards the edge, away from the middle. Sprinkle with 1 teaspoon of the lemon zest. Then, and this is the tricky part, use a sharp knife to divide the round into 6 or 8 wedges. Gently pull a wedge away from the round, and stretch lightly as you roll from the widest part to the middle, tucking in strawberries as they try to escape. Place the bun on the baking sheet, and pull the two ends together slightly to make a crescent. Repeat with the remaining wedges spacing the rolls at least 2 inches apart, and then, the other ball of dough.
Cover loosely with plastic wrap, and set in a warm place for 30 minutes. While the buns are rising, preheat the oven to 350F.
When the buns are ready to bake, carefully remove the plastic, and brush them lightly with the egg wash. Bake for about 30 minutes, or until they are golden brown (if you are using emmer flour, you'll have to look closely since the dough is pretty brown to begin with.) Allow them to cool on a wire rack.
Make a quick glaze with the powdered sugar, by adding the lemon juice, and then the milk just a little at a time, mixing to get a nice smooth consistency. Drizzle over each cooled bun and then immediately garnish with sugar if desired.