Skip to content
Big Sur isn't exactly a big area. The 2000 census counts only 996 people in about 700 homes, so you'd think that two Big Sur cookbooks released within just a few months of each other might bump heads. But the area has a rich bohemian history, and there seems to be plenty of room for both. In fact, the two books compliment each other incredibly well to cover both the area's past and future food culture.
My Nepenthe goes deep into the areas history with author Romney Steele's personal family stories and photos which bewitchingly capture the mid 1900s (reminding me quite a bit of Tessa Kiros'
lovely books). It's a book to curl up on the couch and lose yourself in, taking walks on the beach looking for treasures with Aunt Dorcas or laughing at tales of Uncle Griff's first job as a busboy, spilling wine on a patron and accidentally using her glove to wipe up the mess. In My Nepenthe, you have been invited to family dinner, only this family's anecdotes also includes stories of Henry Miller's ping pong skills and Richard Burton's cigarette preferences as well as time-tested recipes. I can't say that all the recipes grabbed me as much as the stories, but there are plenty that do, starting with a Torta Caprese, a flourless chocolate, almond and orange zest cake or the Honey Wheat Berry Bread. As the recipes progress, in fact, they get more and more appealing, which really says more about my own personal tastes than the quality of the recipes. Those recipes from Cafe Kevah, the restaurant Steele herself managed for many years, are definitely on my list to try. Buttermilk French Toast with Apple Pear Butter, Chicken Tortilla Soup with Tomatillo Salsa, Triple Berry Cake. Sound good, don't they?
The Big Sur Bakery Cookbook chronicles a single year in the life of a cafe, breaking out recipes by month and interweaving small stories of bakers, farmers and other food bohemians. Reading it, I don't feel I've been invited into someone's home, but on the flipside, I haven't found a single recipe in the book that I'm not dying to make. Spring Risotto; Cured Salmon; Grilled Pork Confit with Chuck's Barbecue Sauce; Lemon Verbena, Mulberry and Biscuit Trifle; Fresh Garbanzo Bean Stew; Roasted Apricots. I could go on and on. I curl up with this book on the couch for a completely different reason… it makes me hungry.
I decided on a recipe from each book I wanted to try. Both egg breakfast recipes, eaten for lunch.
From My Nepenthe, I made a late fall variation of the New Potato Hash with Poached Eggs. The original recipe called for a lovely fresh tomato salsa, but I don't exactly have fresh tomatoes right now. I do have a larder of beets though, which came together with a touch of vinegar and herbs to make a terrific topping for this simple hash.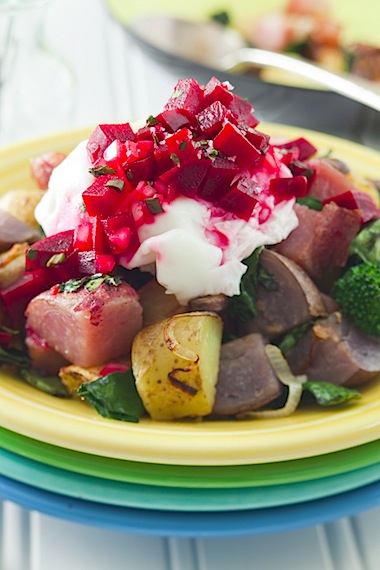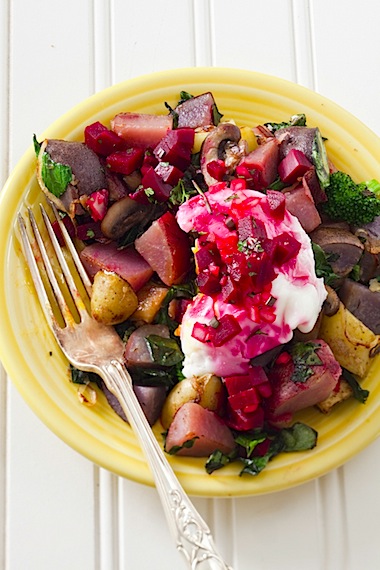 The breakfast pizza in The Big Sur Bakery Cookbook grabbed my attention from the beginning, so it was an easy choice. Bacon and eggs on a flat bread sounds like a pretty perfect food to me. The simple dough recipe can come together quickly, although the book recommends letting it the dough refrigerate at least one night. I split the dough in two, and made one batch the same day (after an hour rise) and made the rest of the dough two days later as a foccacia. Both were delicious. The only other significant change I made to the recipe was the cheese. A cup of mozzarella seemed a bit heavy to me for that early in the day. Instead, I went with just a little parmesan and goat cheese.
Oh, and I also couldn't resist the doughnuts, which were delightful:
You might also check out a few other sites that have covered these two great cookbooks:
101 Cookbooks makes BSB's Hide Bread and Nepenthe's Orange and Oat Scones.
Diane Jacob learns about the making of My Nepenthe.
Keiko makes her own gorgeous version of BSB's Camomile and Honey Ice Cream for a very deserving cause.
Gwyneth Paltrow compares BSB to Canal House Cooking.
Cookbook Junkie makes BSB's roasted spring onions.
Straight from the Oven also makes the BSB's breakfast pizza.
No Special Effects makes the BSB's baked beans.
Big Sur Bakery has a blog.
Romney Steele also has a blog.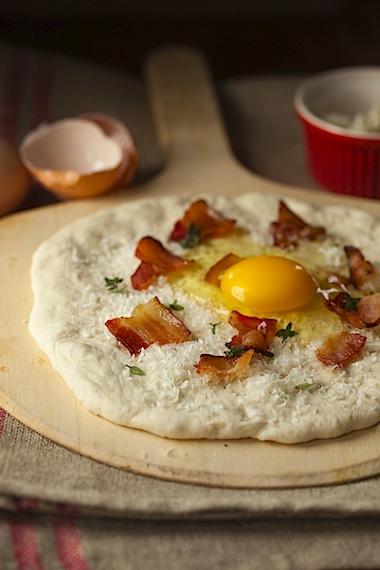 Big Sur Bakery Cookbook's Breakfast Pizza
Makes 4 six inch pizzas
You should use a baking stone for the best results with this recipe. But if you don't have one, skip the pizza peel directions, and dress the pizza dough directly on a metal baking sheet.
1/2 teaspoon active dry yeast
1 1/2 cup plus 2 tablespoons bread flour (I used King Arthur)
1 teaspoon kosher salt
4 pieces of bacon
1/2 cup parmesan
1/2 cup goat cheese
4 eggs
sea salt and black pepper
4 teaspoon fresh thyme leaves
4 teaspoons flat leaf parsley, finely chopped
4 teaspoons chives, finely chopped
1 shallot, minced
Up to 2 days or at least 2 hours ahead of time, make the pizza dough. Place 3/4 cup of lukewarm water in the bowl of a stand mixer, and whisk in the yeast. Let it rest for about 5 minutes. Add the flour and salt to the yeast mixture and mix/knead with a dough hook on low for 2 minutes. Increase the speed to medium for 2 minutes, and then increase the speed again for another 2 minutes. Place the dough on a lightly floured board and divide into quarters. Lightly dust with flour, and place in each dough ball in a plastic bag to refrigerate if making the day before, or if using immediately, leave on the floured board and cover with a clean dish towel. If you do refrigerate your dough, make sure to pull it out at least 1 hour before you need it to come to room temperature.
Preheat the oven, one hour before you want to bake the pizza, to 450F.
Fry the bacon over medium high heat until crisp, and drain on a paper towel. When the bacon has cooled, break it into small pieces and set aside. Crack the eggs into individual ramekins and set aside.
Working with one ball at a time, gently stretch the dough to 5 to 6 inches (or 10 to 12 if you halved the dough). Place the dough round on a pizza peel that has been well dusted with flour. Working quickly, sprinkle the dough with 1/4 of the parmesan, goat cheese, bacon and thyme. Carefully pour 1 egg on top. Sprinkle with salt and pepper.
Ensure the dough is not stuck to the peel by giving it a quick shake. If it does stick, loosen it with a metal spatula and sprinkle more flour underneath. Then, slide the pizza onto baking stone. Bake for about 8 minutes or until the crust is just lightly golden and the egg is cooked to your liking. Remove from the oven and sprinkle with 1/4 of the parsley, chives and shallot. Serve immediately, and repeat with the remaining pizza doughs.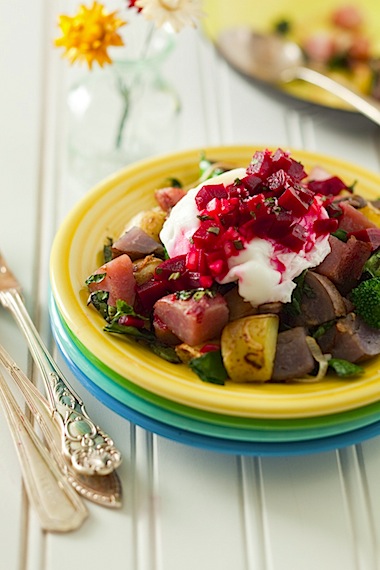 Potato Hash with Poached Eggs and Pickled Beet Salsa
(adapted from My Nepenthe's New Potato Hash with Poached Eggs)
Makes 1 serving
1 small beet
1/4 red onion, finely chopped
1 to 2 chives, finely chopped
1 teaspoon chervil, finely chopped
1 tablespoon champagne vinegar
a pinch of course sea salt
3 small waxy potatoes of mixed variety (Huckleberry, purple, red, etc), scrubbed clean
1 tablespoon butter
1/4 white onion, thinly sliced
3 cremini mushrooms, sliced
1/2 cup broccoli florets
4 kale leaves, rib removed and chopped
1 tablespoon olive oil
1 or 2 eggs
salt and pepper
salt and pepper to taste
Boil the beet for about 20 minutes or until just tender. Rinse in cold water, and scruff off the skin. Chop the beet into 1/4 inch dice. Mix in the red onion, chives, chervil, champagne vinegar and a pinch of sea salt. Cover and set aside to marinate.
Boil the potatoes for 20 minutes or until they just tender. Rinse in cold water and allow to cool. Roughly chop the potatoes into 1/2 to 1 inch dice.
Melt the butter in a large frying pan over medium-low heat. Add the white onions, and cook until just softened.
Meanwhile, start a pot of water with a teaspoon of white vinegar boiling for the eggs. Crack the eggs into individual ramekins to have it ready.
Add the potatoes, mushrooms, broccoli, kale and olive oil to the sweated onions. Season with a bit of salt and pepper. Increase heat to medium high, and cook, stirring only occasionally to lightly brown the potatoes.
Just before the hash is browned, slip an egg into the simmering water. Cook for 2 minutes for a soft yolk. Scoop out the egg with a slotted spoon, and place the spoon on a towel to remove any excess water.
To serve, pile the hash into a shallow bowl, and slide the egg on top. Spoon on the beet salsa and season to taste with salt and pepper.