For this month's photo remake, I want to pay tribute to Gourmet magazine's fantastic cookie issues of the past. You know the ones. Cookies done up to be gorgeous graphic works of art. I have to admit I was really disappointed that Bon Appetit didn't pick up that banner with the demise of Gourmet, so I thought perhaps you all might want to try your hand at it.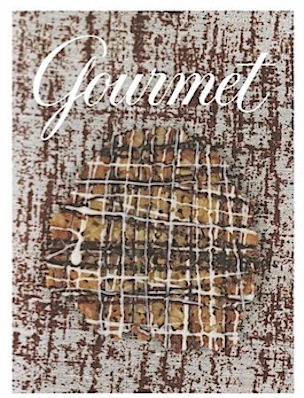 For this challenge, pick one of the Gourmet Magazine covers that features cookies, and remake it. Ideally, you'll use a similar cookie, but if you need to substitute, that's ok. You can use any of the covers I've included here, or take a peak back through your saved issues (or those at your local library) to pick one that you like. Just remember it has to be a Gourmet Magazine cookie cover.
When you do your remake, there's no need to overlay the cover text, although you can if you'd like.
One more note for submitting your work, and I'd like to use this new format for all remakes… make your image a diptych with the original photo on the left and your version on the right. That will help in particular this month since we all may be doing different originals.
If you are new to the monthly photo challenges, head over to the Flickr group for the rules and to introduce yourself.
This challenge will run through the end of December.