Raclette is the perfect melting cheese. Traditionally, it is heated in big rounds by the fire and then scraped off in little avalanches onto your plate. Modern raclette is usually served, like fondue, with some sort of portal stove or grill to keep the raclette softened. Unlike some cheeses that break when heated yielding a greasy mess, raclette just gets more and more velvety. So velvety, you just want to take a fingerful and lick it off (but don't! Hot!). Instead, do as they do in Savoy, and dip in boiled fingerlings followed by a bright, sour cornichon. Or you can get a little crazy and dip in some sausage or thinly sliced serrano ham. A little cheese, a little wine, a little charcuterie and potatoes makes for a stellar evening. And tighter fitting ski pants.
I haven't had raclette since that trip, which was almost 7 years ago now, mostly for a silly reason. It never occurred to me how easy it would be to find raclette closer to home. Not until I got mail one day from the Wisconsin Cheese Board asking if I'd be interested in creating a mac & cheese recipe for an upcoming blogging event that they are having. I usually ignore PR requests like this, but hey, who can say no to mac & cheese*? The only requirement for the recipe is that it feature a cheese that is made in Wisconsin… ie, pretty much any cheese. There were over 30 cheeses to choose from, but it was the raclette that caught my eye.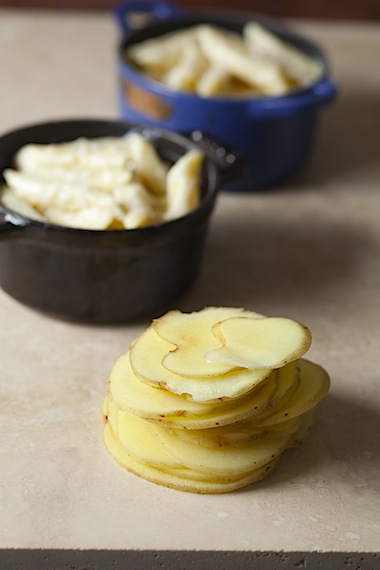 Just think about this for a moment: al dente pasta in a creamy bechamel sauce, topped with paper thin slices of potato and plenty of silky and slightly caramelized raclette and a little gherkin relish sprinkled on for good measure. I promise you, it's worth loosening your belt for.
For other Mac & Cheese recipes, checkout the 30 ways in 30 days site.
*For this recipe, I am receiving a small stipend, just like I do when I write for magazines. On this blog, I don't do pay-for-post advertising.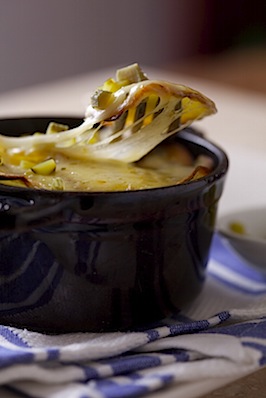 Raclette Mac & Cheese
Makes 4 servings (300 calories per serving)
This recipe may sound a little fancy, but it's actually quite easy to prepare and most of it can be done in advance, so it makes for a great addition to a dinner party. I cooked mine as individual servings in these Staub mini cocottes, but 1 cup ramekins work fine too, or you can make it in a single larger casserole dish. The mini's give you more caramelization on the edges.
As an optional variation, try sticking a paper thin slice of Serrano ham under the potatoes. Yum.
3 new potatoes, sliced 1/8″ thick
1 tablespoon extra virgin olive oil
1 cup whole milk
1/2 cup heavy cream
1 tablespoon unsalted butter
1 tablespoon all-purpose flour
Salt and pepper
A pinch of nutmeg
6 ounces uncooked penne (or pasta of your choice), cooked al dente
4 slices Wisconsin Raclette Cheese, cut to 2″x2″x1/4″
1/2 cup cornichon, coarsely chopped
Directions:
Soak the sliced potatoes in salted water for about 20 minutes. Meanwhile, bring a medium pot of water to a boil. Drain the potato slices and plunge them into the boiling water for about 1 minute. Rinse the slices in cold water and lightly dry. Place the potato slices in a bowl and lightly coat with the olive oil. Set aside.
Preheat the oven to 400°F. To make the béchamel, warm the milk and cream over low heat in a small pan. In another pan, melt the butter over medium-low heat and add the flour and stir until smooth and thick, just until it starts to take on a little color. Add the milk & cream gradually, about 1/4 at a time, stirring between each addition until smooth. The mixture should be velvety and slightly thick. Add salt, pepper and nutmeg to taste.
Place the cooked penne pasta in a mixing bowl and add 3/4 of the béchamel sauce; stir to coat.
Fill each cocotte or ramekin with 3/4 cup of the béchamel coated pasta, and press down with the back of the spoon. Top with a heaping spoonful of the remaining béchamel. Arrange the potato slices on the top of each cocotte, overlapping each slightly.
Bake for 10 minutes or until the potatoes lightly brown on the edges. Place a slice of Raclette on the top of each cocotte and return to the oven for another 10 minutes or until the Raclette is melty and lightly browned. Serve each cocotte, hot, with the cornichon relish on the side.
*300 calories per serving