Skip to content
Farro e Fagioli (with Beets)
I most likely wouldn't have even made this soup in the first place with that kind of waiting period, had I not just by chance put a bowl of beans soaking even though I didn't know what I would do with them yet. My dried bean supply is getting embarrassingly high after a recent binge from Rancho Gordo. Then, one day passed, and then another, and all of a sudden, I needed to have beans for dinner.
But I really had wanted to make this fantastic borscht recipe that Becky taught me a few weeks ago which had a lovely nibble of farro mixed in.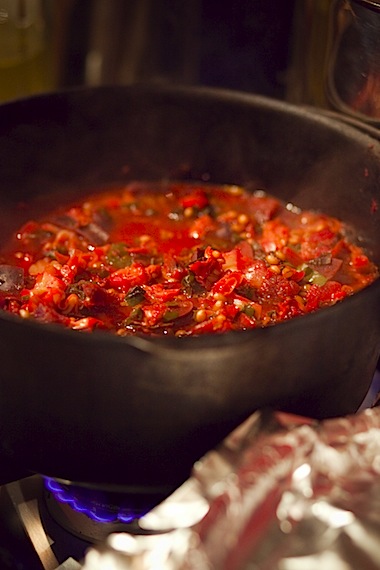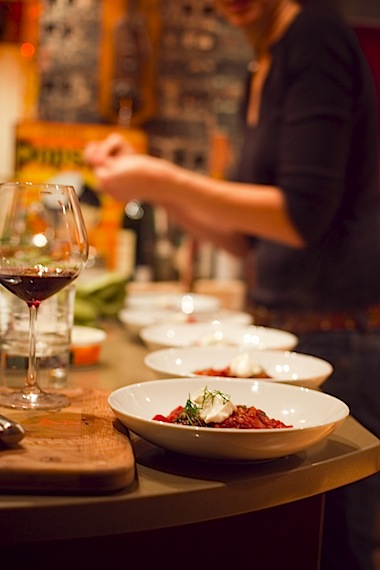 That was some amazing borscht. But, I had these beans to use.
Then, I thought, perhaps pasta e fagioli. When I happened upon the pasta e fagioli recipe in Urban Italian that used farro instead of pasta, I knew I was onto something. All it needed was a bit of beet. And, then, while I was at it, perhaps a bit of leek. And carrot. And kale. And a whole lot more red pepper flakes, because I'm a sucker for a bit of a kick.
Hence, this soup was born. I'm still not really sure what to call it. It's kind of like borscht, if borscht had hearty beans and farro. And it's kind of like pasta e fagioli, if pasta e fagioli had beets and a big dollop of creme fraiche. What I will call it is really, really good. And, unfortunately at the moment all gone. Guess I need to get some more beans soaking.
PS: I'm not the only one who is loving the farro/bean combination… Heidi posted this beautiful stew not long ago!
Bean and Beet Soup with Farro
Makes 2 to 3 servings
1 cup dried white beans (such as Cannellini)
1 cup dried chickpeas
2 T olive oil
1/2 medium onion, diced
3 stalks celery, diced
1/4 to 1 teaspoon red pepper flakes
1 leek, diced
1 beet, diced
1 carrot, diced
1 clove of garlic, finely chopped
4 cups vegetable stock, warmed
2 sprigs rosemary
1 sprig thyme
1 stem Italian parsley
1 bay leaf
salt and pepper to taste
5 or 6 kale leaves, stems removed and coarsely chopped
1/2 cup dried farro
1 sprig sage
1 T olive oil
3 canned plum tomatoes, chopped
1 cup vegetable stock
salt and pepper to taste
Creme fraiche to garnish
Place the dried beans in a bowl and cover with water. Cover and let soak 1 to 2 days, and then drain.
On the day you are making the soup, place the farro in a bowl and cover with boiling water. Let sit until needed, at least 3 hours, and then drain just before using.
Heat the olive oil in a soup pot over medium heat, and add the onion and celery and cook for about 2 minutes until soft. Add the garlic, leek, beet, carrot and garlic. Cook for 2 minutes. Add the red pepper flakes and beans, then pour in the stock. Add the herbs (tie them with butcher twine to make them easier to remove later). Bring to a simmer, and cook until the beans are very soft, between 1 and 2 hours.
When the beans just start to soften, place the farro, sage, olive oil and tomatoes in another pot over medium heat, and cover with the vegetable stock. Bring to a low boil, and then simmer for about 20 minutes until most of the liquid has been absorbed and the farro is soft. Season with salt and pepper to taste.
Once the beans are very tender, season to taste. If you want a bit of a thicker broth, spoon out about 3/4 cup of the vegetables with some broth, puree it, and then add it back to the soup pot. Add the kale and cook for just a minute or two until it brightens.
To serve, ladle the soup into each bowl, add a heaping spoon of farro, and add a dollop of creme fraiche.