It wasn't until St. Patrick's Day Eve (I'm making up new holidays here), when I was thinking about what muffin recipe I would make for the next morning (for a private food styling & photography lesson… a fresh batch of muffins is a great way to start shooting!) that I came across a recipe for a traditional Irish Apple Cake. Oh, the wonders of the web. Who knows if there really is such a thing as a traditional Irish Apple Cake, or if so, if this one is it (although the recipe note certainly makes it sound like it could be, and the author has quite a bit of book cred). I really didn't care, it's the one I found, I had all the ingredients and it looked simple enough. But I still wasn't planning a post around it or anything.
As it turns out though, I love this recipe and really do want to share it. So, post St. Patrick's day or not, here it is.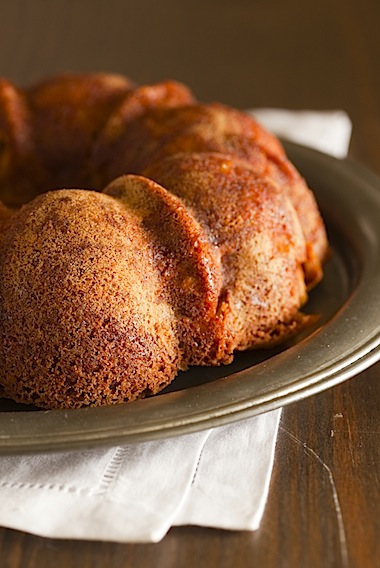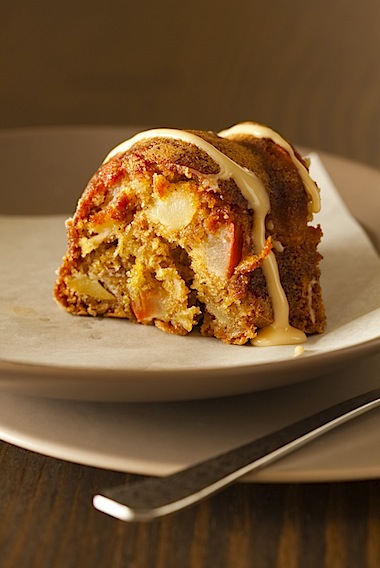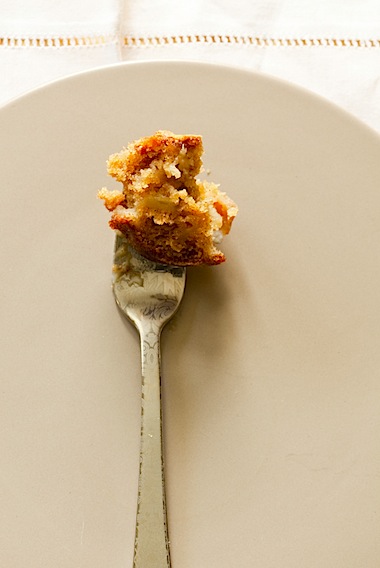 My first batch, I made as muffins. They were all lumpy with apple chunks and with a super moist, fluffy crumb. They were so good, I threw another batch together to take over to a friends house for dessert later that same night, and Cole claimed one to set aside for breakfast the next morning. Smart girl. I wish I had done that too. Instead, I just whipped up another batch, but this time in cake form. With a drizzle of Bailey's Irish Cream glaze (ie, powdered sugar with Bailey's mixed in slowly until it is just the right consistency). So maybe it's too late for the holiday, and perhaps it isn't even that Irish. But, it is undoubtedly delicious, so I do hope you indulge.
Irish Apple Cake
By Margaret Johnson and slightly adjusted here.
4 tablespoons unsalted butter, room temperature
1 cup caster sugar
1 egg, beaten
3 apples, cored, peeled, and diced
1 teaspoon vanilla extract
40 grams whole wheat pastry flour
100 grams of all purpose flour
1/2 teaspoon baking powder
1/2 teaspoon baking soda
1/2 teaspoon ground cinnamon
6 or 7 "grinds" of fresh nutmeg on a microplane
1/2 teaspoon flake sea salt, lightly crushed
Preheat the oven to 350°F. (Don't use convection)
Grease a 6 inch bundt pan and set aside.
In a stand mixer, beat the butter and sugar until well combined and then add the egg. Beat until smooth and very pale. Stir in the apples and vanilla. Sift the flours, baking powder, baking soda and cinnamon over the wet mixture. Grind the nutmeg over the mixture and toss in the salt. Mix well (some of the apples will get a little crushed… this is fine!) Spoon the batter into the prepared pan and bake for about 45 minutes or until a cake skewer comes out clean.
Cool for at least 5 minutes. The cake is delicious both warm or cooled to room temperature.