What better mementos could you bring home from a trip than a handful of new recipes? They don't take up space in your suitcase, and you'll have them for years and years to come.
From South Africa, I came home with more than a couple of recipes, but I've been very eager to share these two with you. Of course, arriving home after two weeks away meant that things got very busy, but this week has pleasantly returned to a more leisurely pace. Time for cooking and shooting and sharing.
First off, when we were in Durban, it was all about the Bunny Chow, a hearty dish of knock-your-socks-off curry that is served in a bread bowl that is a half loaf of bread. Bunny chow doesn't have anything to do with rabbits, but rather the dishes Indian heritage, from a vegetarian immigrant group known as the Bania. The original vegetarian curry was served up in a loaf of bread, which allowed it to easily be transported to eat in the streets, at work or wherever (depending on whose history you believe). Over the years, the curry has changed and is more often a lamb or mutton curry made with a very spicy red curry spice. But it's still eaten without utensils, using the bread to scoop out bites of the curry.
The day after the race, Cam and I stopped in to a cute cafe in Durban, Bean Bag Bohemia, to sample our first bunny chow, although there it was called Durban Stuff. And stuffed it was, with chicken and prawns and one of the spiciest curries I've ever had. Good thing there were also cocktails!
There were really only two challenges to making bunny chow when I got home… first, I really should have bought some Durban curry powder which goes by some great names like Mother-in-Law-Hell-Fire. If you don't happen to be in Durban, try this homemade substitute. Secondly, is finding unsliced sandwich bread! Of course, I could have made my own, but to be true bunny chow, you need the super fluffy light stuff. Not rustic, country loaves. You really want unsliced Wonder bread. But, I was able to find a not-too-rustic white bread loaf at the little bakery just up the hill from me. The rest of the dish was a breeze.
Buttermilk rusks are kind of the opposite of Bunny Chow.
When I tried my first rusk, my first though was why? Imagine scones, without any additional flavorings like fruit or spice, baked until they are hard and crumbly. There's not much flavor and they are very, very dry. Almost rock like. Do people really want to eat these? And then, for no apparent reason, I took another nibble. And another. The subtle sweetness kind of grew on me. A dunk into a cup of sweet tea, and the rusks soften and become oddly addictive. I'm not saying that they are going to replace doughnuts or anything, but they are kind of a neat snack to have around.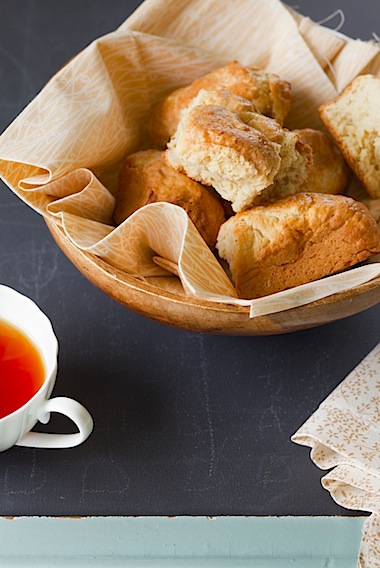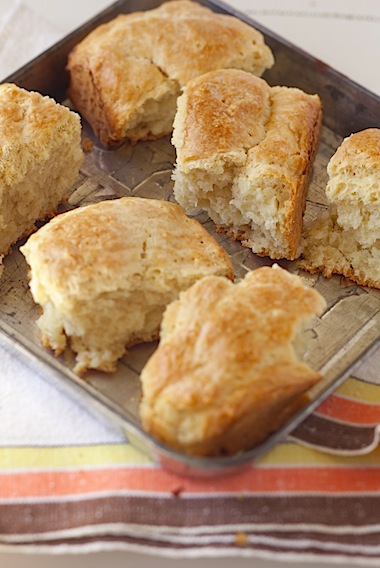 I can't wait till we get to go back to South Africa again, next time to see some of Cape Town with perhaps a wine tour or two.
Bunny Chow
I love this combination of shrimp and chicken with a very spicy curry, but you can make bunny chow with any curry recipe you wish.

Adapted from 2010 Eat In Magazine, page 54
2 tablespoons oil
1 onion, chopped
2 cloves garlic, minced
1 stick cinnamon
1 curry leaf
1 to 2 tablespoons red curry powder*
2 tablespoons curry paste**
2 chicken thighs, diced
8 prawns, peeled and cleaned
2 plum tomatoes, chopped
1 waxy potato (like Yukon Golds)
1 cup stock
1 loaf unsliced bread
cilantro, chutney and sambal for garnish
Heat the oil in a large pan. Add the onions when hot, and reduce heat to a simmer, slowly softening the onion. When the onion is translucent, increase the heat to medium high and add the garlic, cinnamon stick, curry leaf and a pinch of salt and pepper. Cook for about 2 minutes, and then add the curry powder and curry paste. The mixture will thicken. Add the chicken, and stir to coat. Add the prawns, tomatoes and potatoes and simmer for 3 minutes. Add the stock, and and loosen any stuck bits on the bottom of the pan, and taste for seasoning, adjusting as needed (salt, pepper, curry powder, cayenne pepper). Simmer for 20 to 30 minutes, or until the potatoes are tender. If the curry gets too thick, add a bit of water. Now is a good time to remove the cinnamon stick and curry leaf.
Meanwhile, preheat the oven to 350F.
Cut the loaf of bread in half, crosswise, and scoop out the middle of the bread to create a large bowl (keep the interior bread). Then fill each bowl with the curry, making sure to add plenty of the sauce. Top with the pulled out dough, and then wrap each "bowl" in parchment. Bake for about 10 minutes to warm and slightly toast the bread.
Serve with sides of freshly chopped cilantro, chutney and sambal, and eat using the bread to scoop up the curry.
* Ideally you'll have either Durban curry powder or an equally delicious red curry paste. If not, you can use garam masala, but add either cayenne or red chile powder for flavor and heat.
** I used Shiba's curry paste. If you want to make your own, this recipe looks tasty!
Makes 2 very filling bunnies
Buttermilk Rusks
Adapted from 2010 Eat In Magazine, page 59
1 1/4 cup (160g) all purpose flour, plus more for dusting
2 teaspoon baking powder
1 teaspoon salt
1/4 cup (75g) sugar
100g butter, softened
1 cup buttermilk
1 tablespoon vanilla
1 egg
1 tablespoon buttermilk (for glazing)
Preheat your oven to 350F and prepare a baking tin (a large loaf pan or a cake pan with high sides)
Sift the flour and powdered together, and then whisk in the salt and sugar. Cut the butter into small cubes, and rub into the flour mixture with your fingers until you have fine crumbs.
In a small bowl, whisk together the buttermilk, vanilla and egg. Then add to the flour mixture, and stir with a fork until a soft, moist dough comes together. It will be very similar to a scone dough. A little sticky, but workable. If it is too sticky, add a bit more flour. Place the dough on lightly floured work surface and knead lightly to form a fat log. Cut the log into 8 to 10 pieces, form each into small balls, and place in your baking tin so that the edges touch. Brush the tops of each ball with a bit more of the buttermilk.
Bake for 30 minutes and then reduce the heat to 300F. Bake another 30 minutes. Remove the tin from the oven, and carefully pull the buns apart and place them on a parchment lined baking tray, at least 1 inch apart. Reduce the oven temperature to 200F, and bake again for another 3 to 4 hours or until the rusks are dried.
Makes 9 large rusks