Skip to content
Ricotta Drop Doughnuts with a Fresh Cherry Sauce
I think I mentioned in my last post, that after a couple of months hiatus from doughtnuts everyday for the book, I have been a bit doughnut crazy once again. In addition to the vetkoek I posted about over the weekend, I made no fewer than 4 batches of doughnuts on Father's day morning for a doughnut taste-off my friends Dawn and Eric blogged about (my cake doughnuts came in 3rd, beating out quite a few of the big-name doughnut shops in Seattle! Not bad for cooking in the groggy hours of the morning).
I also was excited to be asked by iVillage to share a recipe for the 4th of July. It won't surprise you to find I made doughnuts. This time, Ricotta Drop Doughnuts with a fresh cherry sauce. These fritters are very quick to make and hold up quite well for an hour or two, so you can take them with you to a picnic (if you can resist eating them all while they are still warm).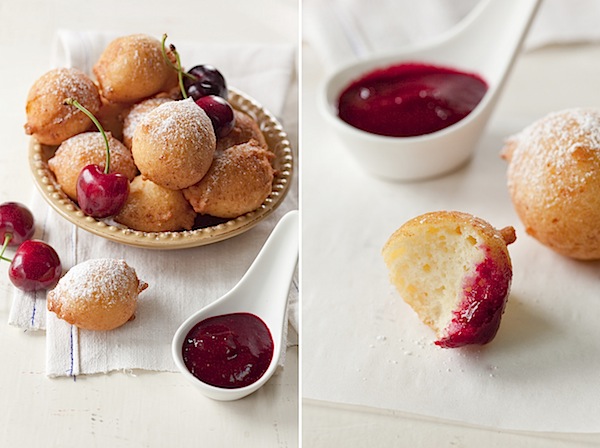 If you are looking for more great recipes for the 4th, make sure you check out the other featured recipes from some of my favorite blogs, including a to-die for looking Smoked Tomato Salsa from Gluten Free Girl and the Chef, a tempting Raspberry, Honey and Black Tea Sorbet from Not Without Salt, and spicy Firecracker Chocolate Pudding from Not Martha!