Skip to content
Baked Chocolate Doughnuts
Holy doughnut hole, folks. Doughnuts: Simple and Delicious Recipes to Make at Home is now available and shipping on Amazon, Powell's Books, and Barnes & Noble. I am kind of speechless… for so long I've been saying it's not out until fall. But suddenly, it's here and it's real. I hope that you all have as much fun making doughnuts as I did making the book!
Before anything else, I want to say a huge thank you to a few folks. My publisher, for turning my idea into something so beautiful. My friends and family for encouraging me along the way. My testers for working with me to really make the recipes shine (testers: expect email from me soon… I thought a had a couple more weeks before the book was ready!) You simply cannot make a book all on your own, and I know I certainly couldn't have done it without all of you.
So, with that, I am celebrating with some doughnuts and I thought it would be fun to share a recipe. How about some Baked Chocolate Cake Doughnuts!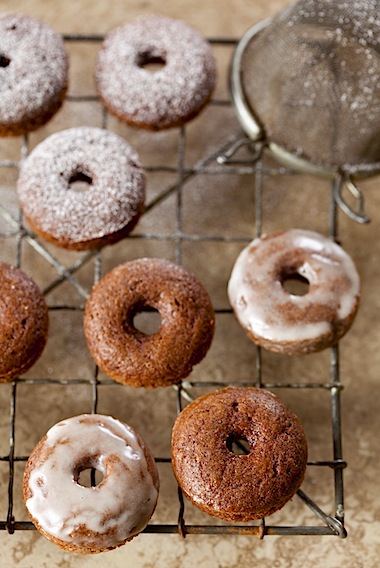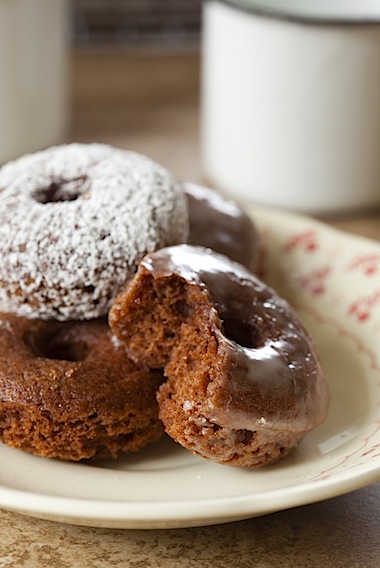 This recipe isn't in the book, but it is just a slight variation of the baked cake doughnut recipe that is. The beauty of the baked cake doughnuts is that they come together in a very short time… it's only about 30 minutes from start to finish, and there's no oil to deal with at the end.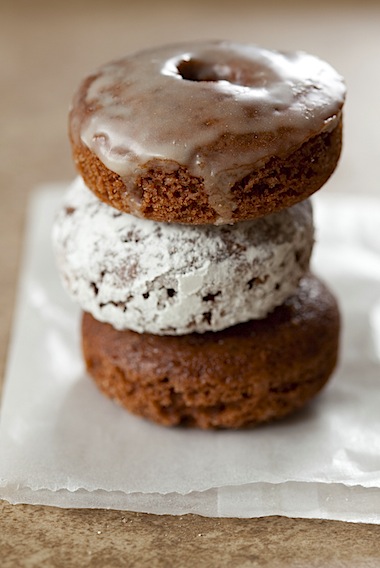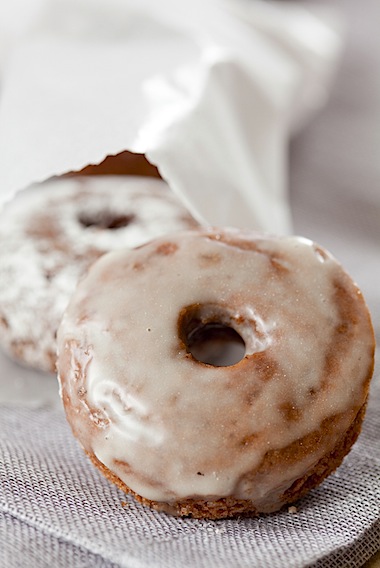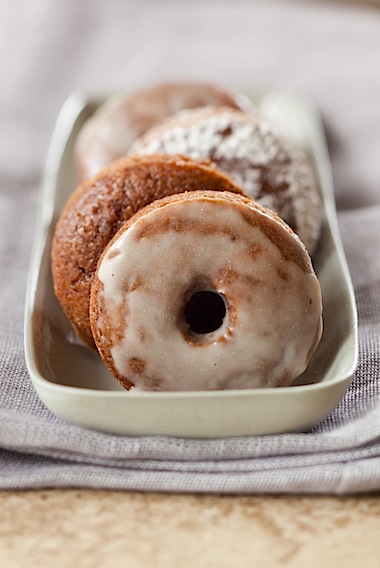 You do need a doughnut pan to get a good doughnut shape. I prefer the mini doughnuts to the larger ones when baking… the smaller size bakes a bit more evenly and stay a bit more tender. If you don't have a doughnut pan though, don't fret. You can still make the batter and cook it up in a muffin tin (again, mini muffin tins work best) for doughnut flavored muffins.
This recipe only makes about 15 mini doughnuts, so chance are you may not have many left at the end of breakfast… but if you do end up with leftovers, come back tomorrow for a fun recipe for using doughnuts that have become a bit stale. It is almost worth making a double batch, just to have the leftovers!
Baked Chocolate Cake Doughnuts
It may seem strange to add nutmeg to a chocolate recipe, but nutmeg is the key to a recognizable doughnut flavor. It's fine to leave it out, but your doughnuts may taste a bit more like chocolate cupcakes.
130 grams (~1 cup) all purpose flour
2 tablespoons natural cocoa powder
1 teaspoon baking powder
1/4 teaspoon baking soda
75 grams sugar
1/2 teaspoon freshly ground nutmeg
1/2 teaspoon fine grain salt
2 tablespoons unsalted butter or coconut oil
1/4 cup buttermilk
1/4 cup yogurt
1 teaspoon vanilla extract
1 large egg
Lightly grease a doughnut (or muffin) tin and preheat the oven to 350F.
Sift the flour, cocoa powder, baking powder and baking soda, and then whisk in the sugar, nutmeg and salt.
Add the butter, and using your fingers, rub it into the dry ingredients until it becomes coarse crumbs.
In a separate bowl, whisk together the buttermilk, yogurt, vanilla and egg. Add to the flour mixture and stir until just combined. Do not overmix, or your doughnuts may be a bit rubbery.
Fill each cup 1/2 to 3/4 full. You can do this with a spoon, but I prefer using a piping bag to fill each cup more evenly and cleanly. It's important not to overfill, or as the doughnuts rise, you'll lose the hole.
Bake for 6 to 10 minutes (depending on the size of your doughnut pan), until the doughnuts spring back when touched. Let cool slightly on a wire rack before glazing. If coating in powdered sugar, let them cool even a bit more.
Makes about 15 mini doughnuts.
Buttermilk Glaze
Doughnut glaze is very simple to make… basically just mixing powdered sugar with some sort of liquid. For these doughnuts, I used a splash of buttermilk, but you can use milk, water, or any liquid. Start with about 1 cup of powdered sugar in a bowl, and add about 1 teaspoon of buttermilk. Start blending with a spoon until you get a thick paste. Add more buttermilk in very small amounts, at about 1/4 teaspoon at a time, and stir it in, using the back of the spoon to break down any clumps. You are aiming for a consistency that is about like a thick cake icing. If you add too much liquid at once, you won't be able to get out the clumps. Once you get a smooth mixture, continue adding liquid at 1/4 teaspoon at a time until you get a slightly thinner glaze that slowly drips from the spoon.