Skip to content
Molly from Remedial Eating asked me a great question on my last doughnut post… do I have any great apple fritter recipes? Apple fritters are one of those pastries that people get very excited about… but what one person means by apple fritter might be completely different than another. Much like crullers, which can be rich, dense cake doughnuts or lighter than air pâte à  choux doughnuts, apple fritters come in all shapes and sizes.
Because I already had a few apple recipes (apple cider doughnuts and fried apple pie doughnuts) in the book, I didn't develop one for apple fritters. So, when Molly asked if I had one I really liked, I had to start looking around. Like Molly, I had a bowl of apples sitting on my table, so what better use could there be than experiment with a few.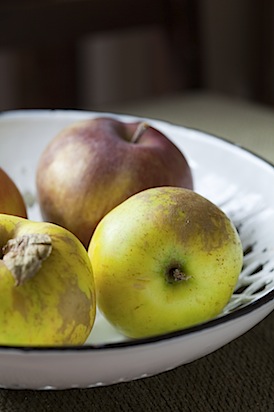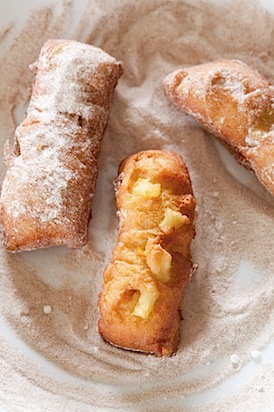 I started by looking around the web where I found that the most common recipes for fritters based is cake doughnut batter. There are also yeast dough fritters which are most likely what you find in doughnut shops (at least if your doughnut shop happens to be Tim Hortons). And then, there are the fruit fritters which are more like tempura batter… I had made some of these for Epicurious a while back and they are super yummy. They could easily be made with apples (although it's also the perfect time to be making pear fritters!)
Finally I decided to stick with the more common home version… a baking powder raised cake dough. After a couple of attempts, I hit fritter gold. These might be a bit different than the heavily caramelized fritters you find in many doughnut shops which are often more glaze than fritter. Instead, they are light and fluffy with a slightly crisp crust, and subtly sweet (which can be adjusted with whatever coating you choose). The apple flavor, enhanced by the touch of apple cider vinegar, really punches through. They are also super quick and simple to make… you don't even need a special doughnut cutter!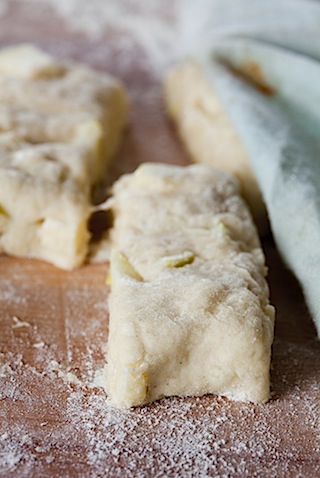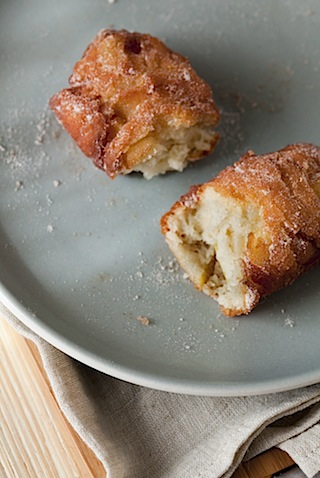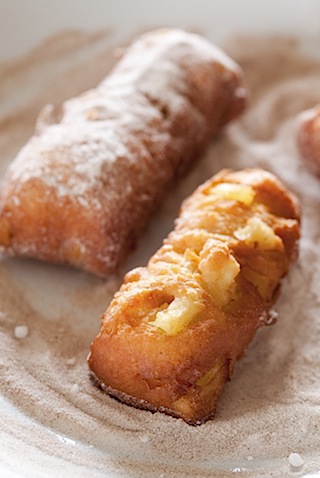 Apple Fritters
A quick note about the salt in this recipe. I almost never have fine salt on hand, and use coarse salt in most of my baking. For cake doughnuts like this recipe, coarse salt doesn't seem to have quite enough time to break down, so you end up with little bites of saltiness every once in a while. I happen to love this… but most people find a bite of salt in the middle of sweet a little off putting, so you might prefer using very fine salt instead.

Update: Another great idea… stir in some chopped pecans and/or raisins when you add the apples!
280 grams all purpose flour
2 teaspoons baking powder
75 grams superfine sugar
1/4 teaspoon salt
1/2 teaspoon ground cinnamon
1/2 teaspoon ground cardamom
1/2 teaspoon ground nutmeg
2 tablespoons butter, room temperature
2 medium apples, diced
1 egg
2 tablespoons yogurt
1/4 cup milk
1 teaspoon apple cider vinegar
High-heat vegetable oil (canola, safflower or peanut) for frying
cinnamon sugar, powdered sugar or doughnut glaze as desired
Sift the flour and baking powder together and then whisk in the sugar, salt and spices. Add the butter to the flour mixture and work in with your fingers to break up the big pieces. Add the apple dice, and stir to coat.
Whisk the egg, yogurt, milk and vinegar together, and add all at once to the flour mixture. Mix until just combined (by hand is best). You should have a dough that resembles scone dough… so it'll will hold together but likely be a little sticky.
On a well floured surface, with well floured hands, press 1/2 of the dough out into a long, flat log about 8″ x 4″ x 1/2″. Make another with the remaining dough. Cover, and let the dough rest while you bring the oil (2″ deep in a pot) up to 350F.
When the oil is hot, cut the logs into 1 1/2″ bars (~6 or 7 per log). Fry for 1 minute on one side, flip and fry for a minute on the other, and then repeat for a total of around 4 minutes per fritter. They should be a medium golden brown. You can fry more than one at a time, but be careful not to overcrowd the pot. Check the oil temperature between each batch. Also – the apples release water as they fry, which means the oil will pop more so than with other doughnuts. So be careful!
Drain the fritters on a rack above a paper towel, until cool to the touch. Then dust in cinnamon or powdered sugar or glaze with your favorite doughnut glaze. Enjoy while still a little warm!