Happy Halloween everyone!
Today's little treat was inspired by Voodoo Doughnuts, which is the perfect place to get your doughnut fix this weekend, where you can get dirt doughnuts, little voodoo doughnut dolls, or plenty of doughnuts complete with candy. Of course, that's if you live in Portland, OR. The rest of us have to make our own, like these little "Dirty Snow" doughnuts.
The Voodoo dirty snowball coats a fried chocolate cake doughnut in pink marshmallow icing and coconut (for the snow) and then swirls on a little peanut butter icing dog poo for good measure. I took the same basic premise, but simplified using baked chocolate cake doughnuts, powdered sugar and a chocolate ganache poo. Trick or treat indeed.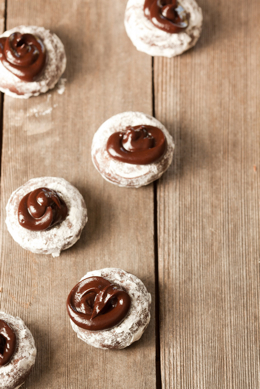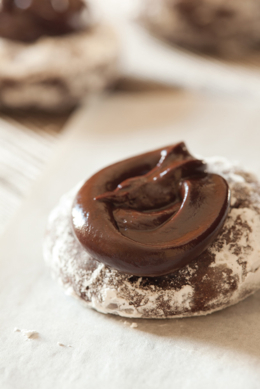 On a side note, these particular doughnuts were made from the King Arthur doughnut mix & baked in a Blinq doughnut maker (which is basically like this one). The good thing about the doughnut maker is that it cooks both the tops and bottoms of the doughnuts (like a waffle iron), so they get a great doughnut shape and are equally done on the tops and bottoms. It only makes 6 doughnuts at a time though, and it gets really hot, so although it seems like a good thing to do with kids, they'd need a lot of supervision. It's also quite hard to tell when the doughnuts are done (I just guessed, and was pretty close most of the time). For the chocolate doughnuts, it's really better to err on the side of undercooked.
As for the King Arthur chocolate doughnut mix (all biases aside!), it is very simple and makes delicious and tender chocolate treats. But they are really more like chocolate cupcakes baked into a doughnut shape than doughnuts both flavor and texture wise. And really, the only thing it saves you is a little bit of measuring of a few dry ingredients. I'm pretty sure it's not really worth the $8(+shipping!), although as part of a gift, it might be fun. But I think it would be more personal (and more tasty) to make your own gift mix! Stay tuned for a few ideas on that in the coming couple of weeks.
Finally, I want to say a HUGE thank you to the bloggers who contributed to the Doughnuts virtual blog tour! It makes me so happy to see folks having fun with the book, and wow, there were some amazing creations! If you didn't get a chance to stop by, here are the posts:
CakeSpy's adorable doughut drawing
Wasabi Prime's Baked Maple Buns
The Sophisticated Gourmet's Raised Glazed
Use Real Butter's Apple Cider Doughnuts for High Altitude Baking!
Cannelle et Vanille's Gluten Free Maple Glazed
Cream Puffs in Venice's Birthday Creme Brulee and Maple Glazed Raised
You guys are awesome!!
And, so are these lovely folks who weren't officially on the blog tour, but have been blogging all about their amazing doughnuts! Check them out:
Joy the Baker's Baked Chocolate Doughnut Muffins
Ria's DB doughnuts with my Chocolate Glaze recipe
Family Friendly Food's Ricotta Drops
It's My Darlin's Baked French Crullers
City Arts Magazine's Maple Bacon Bars
Healthy Chef's S'More Doughnuts
Kitchen Klatch's Old Fashioned Sour Creams
My Tartlette's S'more and (!) Gluten Free Candy Filled Doughnuts
And finally, if you haven't seen them, the Daring Bakers have been busy cranking out the doughnuts for October… they (mostly) weren't using my recipes (timing didn't quite work), but I'd eat their doughnuts anyday! Check out FoodGawker to tempt yourself.
Have you blogged about doughnuts you've made from the book? If so, let me know!