Skip to content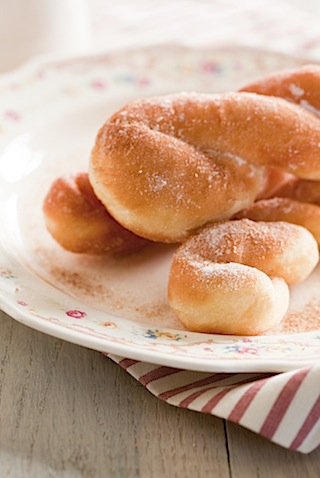 It seems that I can never quite be done with a recipe. A recent reader comment prompted me to dig deeper into why homemade doughnuts go stale so quickly, when the commercial variety can hang out at least for a day, if not more without becoming tough. My immediate thought: chemicals. Who knows what sorts of preservatives you can find going into the doughnuts of the big chain stores. Who knows? Well, in fact, you can know quite easily. It only took about 20 seconds for me to get the full list of ingredients in a Dunkin Donuts plain glazed. (I think it's great that they do this, btw):
Enriched Unbleached Wheat Flour (Wheat Flour, Malted Barley Flour, Niacin, Iron as Ferrous Sulfate, Thiamin Mononitrate, Enzyme, Riboflavin, Folic Acid), Palm Oil, Water, Dextrose, Soybean Oil, Whey (a milk derivative), Skim Milk, Yeast, Contains less than 2% of the following: Salt, Leavening (Sodium Acid Pyrophosphate, Baking Soda), Defatted Soy Flour, Wheat Starch, Mono and Diglycerides, Sodium Stearoyl Lactylate, Cellulose Gum, Soy Lecithin, Guar Gum, Xanthan Gum, Artificial Flavor, Sodium Caseinate (a milk derivative), Enzyme, Colored with (Turmeric and Annatto Extracts, Beta Carotene), Eggs;
Yep, there they are. Those gums and preservatives. How can a home cook compete with that in terms of staying power? And yet, who wants to eat that?
Well, look a bit closer, and you'll see another sneaky ingredient in there: soy flour. When I was researching gluten free varieties of doughnuts, I did a small amount of reading on soy flour in doughnuts. I was focused more on recreating the doughnuts without any wheat, so it hadn't occurred to me that a bit of soy flour might in fact improve a traditional doughnut. Now, as I started looking more into what commercial producers use, I find that they almost all use some soy flour! Soy flour, it seems, reduces the oil absorption when frying and helps maintain moisture in the finished pastry. It also adds protein, which increases the nutritional value of the doughnuts. (still not exactly health food). If it does these things for the industrial doughnut, why not try it for the home one?
To try this, add 5 to 8 grams (a little less than 2 tablespoons) of soy flour (I used Bob's Red Mill) along with the 300-400g of bread flour in the recipe*. It's best to sift it in with the bread flour to break up any lumps and distribute it evenly, then proceed as normal. Once all the ingredients were in, I gave it a little taste test. The raw dough tasted beany to me. I happen to have a bit of a fear of bean flours of any variety. That beany taste just ruins most things for me. I don't want it anywhere near my doughnuts. I was quite convinced I had completely ruined the batch. But, I kept with it, hoping that somehow, magically, it would vanish in the final product. The dough worked as it usually does… a soft, moist dough that handles better when chilled. It puffed beautifully during proofing, and fried up to gorgeous rings and holes. They looked perfect. In fact, they might have even looked a bit better than perfect. And, the oil? I didn't measure, but I would swear there was more left in the pot than normal.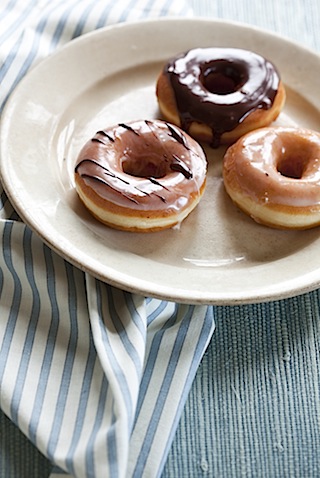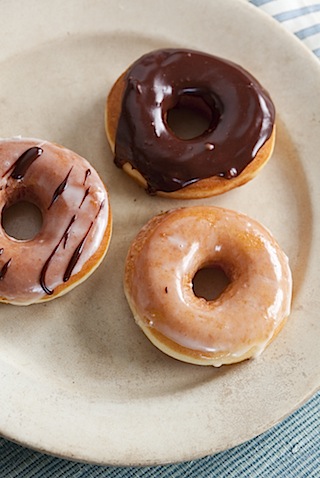 The big test was ahead: Did I just make icky bean flavored doughnuts? Or would they pass my taste test.
Oh, my. No bean to be found. The doughnuts are light and fluffy, with just the right spring. It's been an hour so far, and they are still unbelievably good. Definitely less oily, which seems to be keeping the glaze that perfect set. Of course, they have to last another few hours for the true test. I'll report back!
Update: An hour later – and the pastry is still soft. I covered them, lightly, with foil… and that seemed to perhaps trap in a bit too much moisture, so the basic glaze softened. The chocolate glaze, however, still looks great. Uncovering to see how they hold up that way.
Update: For last night's late night snack, Cam and I munched down a couple. They weren't the ethereal bites they were for the first hour, but they were still quite soft. The couple I had very gingerly wrapped in foil were slightly more moist. All still very edible. I left the remaining doughnuts laying on a baking tray with a light foil cover. This morning, they were pretty stale… not rocks, and definitely a bit softer than they have been in the past, but definitely had that day old feel.
Final Thoughts: Adding the soy made a small difference in the overall staying quality of the dough, but it isn't a magic bullet. The bigger win probably comes from the doughnuts absorbing less oil when frying, which makes for a nicer overall pastry. While I still need to do some experimenting with the best way to store the doughnuts, particularly overnight, this is a trick worth trying!
*I used the original Basic Raised recipe from my book… but you can also try with my Raised Variation 2.0.