A few weeks ago, I shot a St. Patrick's Day feature for Kitchen Daily. Have you seen this site? I'm pleased as punch to be shooting seasonal recipes for them now and then, particularly if the recipes are as good as the Irish ones I recently shot. And, even more, if they continue to contain recipes like this luscious chocolate Guinness cake with a boozey whiskey caramel sauce. Oh yum.
For the shoot, I made a regular square cake, but in the back of my brain, I got stuck on this idea of baking up the cakes as little pints with a whipped cream "head."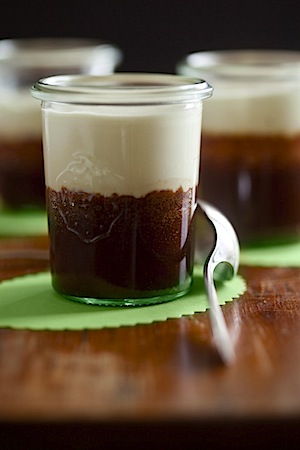 To do this, I had to find jars that would resemble pint glasses that could also be baked. This wasn't exactly the easiest thing to do, but I finally decided on the Weck #760s and #900s. The problem was that the Weck site doesn't say whether they are oven safe. I mailed Autumn Martin, queen of baking in jars, but she hadn't baked in them either. But, she encouraged me to give it a go. The worst that could happen would be a bit of shattered glass and gooey chocolate all over my oven! Now, that's the baking spirit. Of course, I gave it a go.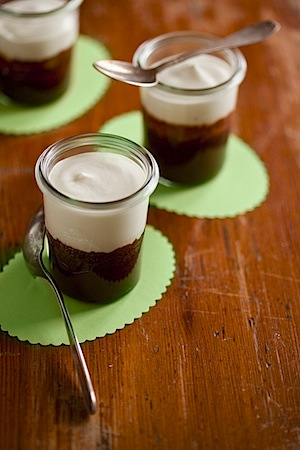 As it turns out, they seemed to bake fine. No exploding glass, or even any cracks. I caution you to use your best judgment with your own jars if you choose to give it a try, of course. And, bake them on a baking sheet with a rim, just in case.
To make your own, make the batter as directed (I made a 1/2 batch for 6 jars), and fill each jar half way. Bake at 325F until they are set, about 15 minutes. Be careful not to overbake or the cake will be dry. Baking times will vary based on the size of your jars. Let the baked cakes cool on a rack while you make the caramel sauce. Allow the caramel to cool slightly before topping each cake, and then dollop on whipped cream. You can serve them immediately, still a bit warm or let them cool and the flavors meld.
For more St. Patrick's Day recipes (or really any day recipes), I also recommend the other recipes from my recent shoots:
Irish Soda Bread neatly flavored with caraway and raisins. This bread comes together in a jiffy, and tastes great, even as it ages. It's strangely addictive. I made another batch, after I devoured the first loaf, later the same week. And another batch will soon be in the making.
Corned Beef and Cabbage with Root Veggies. I thought I hated turnips until I had them roasted in corned beef jus. How silly of me.
Can't get enough chocolate and Guinness combinations? This Chocolate Guinness Pudding I shot for Epicurious is terrific, and maybe even better churned up with a bit more cream into a heavenly semi freddo.