Skip to content
I get weekly produce delivery from Full Circle Farm here in Seattle. Each week, I get a box full of mostly local produce. This time of year, the mostly local is not necessarily all that local, which isn't surprising since that would mean pretty much surviving on miner's lettuce and sorrel. Neither of which I need coming in my weekly produce box, because I have plenty of that in my garden already.
Mostly, at this time of year, the box includes some sort of salad greens and braising greens. Local apples that tend to store well. Onions are always a big part of the box. And then, there are the California fruits: oranges, a mango and kiwi. The oranges are always nice to have; the mango, just one, is perfect for a smoothie each week; and then there are the kiwis. Each week, 4 kiwis. This has been going on now for quite some time, and I'm telling you, I'm getting a bit behind on my kiwi usage. I do like kiwi fruit, but seriously, other than the occasional juicing or chopping for a salad, what are you supposed to do with them?*
Enter kiwi jelly. I'm not saying this is going to be the new lime curd. When you cook a kiwi, the bright green fades to a more olive tone; the delicate berry flavor gets a little crushed. But kiwi jelly is still a nice way to go if the kiwi fruit has started to take over your kitchen. Toss in some chopped rhubarb from the garden (especially if you have the kind that stubbornly comes up green even though it is supposed to be the bright red kind!) for some tang and to help thicken the jelly. Some juice from a lemon and a teaspoon of apple cider vinegar to brighten the flavor. A pinch of salt and a few cardamom pods add just a little something special. And, suddenly you have a lovely little jelly that goes terrifically with hard cheeses, nuts and crackers. It is reminiscent of pepper jelly, without the heat.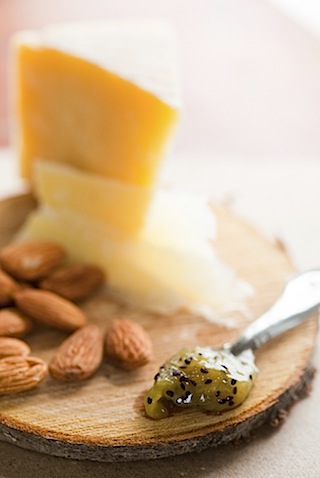 Kiwi Rhubarb Jelly
Makes a little more than a pint
5 or 6 kiwi fruit, peeled and chopped
2 stalks of rhubarb (green variety for color), chopped
Juice of one lemon
1 teaspoon apple cider vinegar
a pinch of salt
1/3 cup sugar
3 cardamom pods (optional)
Add the kiwi fruit, rhubarb, lemon juice, vinegar and salt to a heavy bottomed pot. Stir in about 1/2 of the sugar, and begin to simmer over medium-low heat. Add the remaining sugar to taste, along with the cardamom pods (if using). Simmer for about 20 minutes, stirring frequently, until the mixture reduces some and thickens. Place in a jar and chill before using.
*One of the best things about Full Circle's weekly delivery is that they have a delivery exceptions list, so you can take off foods you don't want to get. Since I like kiwi fruit, I haven't bothered to add them to the list. Another benefit of Full Circle is that you can add additional things to your order… high quality grocery items like milk and yogurt from local farms, additional produce, nice olive oil and even some locally grown meats and fish.