Skip to content
Doughnut Tea Cake with Rhubarb Orange Compote
What happens when you bake up my basic cake doughnut dough in little loaf pans? Amazingness.
You get the texture of a tea cake and the flavor of a doughnut. Drizzle with doughnut glaze and slather on some rhubarb orange compote. The perfect weekend treat.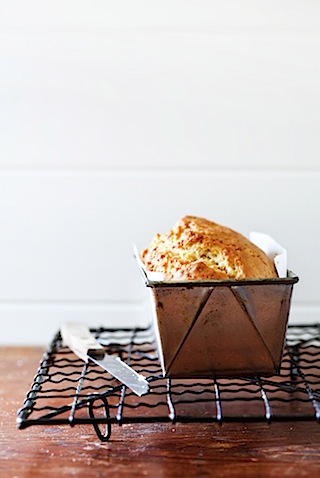 Rhubarb Orange Compote
I had some oranges that needed to be used, and rhubarb coming from the garden quicker than I know what to do with it… while I hadn't ever heard of orange and rhubarb together, it seemed like a fun idea. Wow… these are two flavors that completely belong together. If you have some rhubarb to use, I highly recommend giving this compote/jam/spread stuff a try.
Juice of 3 oranges
1 orange, with the peel still on, very thinly sliced into rounds
Zest of 1 orange
4 or 5 stalks of rhubarb, cut into 1 inch lengths
1/4 to 1/2 cup sugar (depending on your sweet preferences)
A pinch of salt
Put everything in a pot. Stir, over medium heat, until everything gets nice and soft and thick. Done.

If you want to make the tea cakes, just follow the basic cake doughnut recipe, using a tiny bit more milk than normal, and bake in a small, parchment lined, loaf pan for about 30 minutes at 350F, until golden on top.