It's been a fun couple of weeks shooting recipes for a couple of different cookbooks, plus a whole Christmas dinner, not to mention testing a lot of new egg recipes! So much fun that I've nearly forgotten that my new cookbook, Real Snacks: Make Your Favorite Childhood Treats Without All the Junk, comes out soon. Really soon. Like next Tuesday soon! I'm so excited! I can't wait to share it with you.
So, as a little sneak peak, I thought I'd share my Cheddar Goldfish recipe with you from the book. I love these fun little crackers… and they are delicious with Cheddar or any other firm cheese… try them with Jack or Gouda or any cheese you love. The better the cheese, the better the cracker!
Before I get to the cracker recipe, I have an announcement… the winner of Aran Goyoaga's delightful book, Small Plates and Sweet Treats, is Jess O'Toole! (I'll be in touch soon Jess!) Thanks everyone for your lovely Fall Favorite comments! They've put me completely in the fall mood, which is good since Portland seemed to skip the normal summer to fall transition and entered it full force last week. Welcome to rain and knit caps.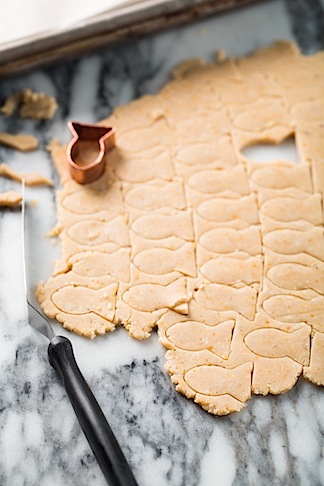 So, about those crackers. I made this particular batch of fishes with King Arthur's gluten free all purpose flour mix, and it worked great. I've also tried them with Bob's Red Mill, and they were also delicious… in fact, while for some recipes I prefer bean-free flour mixes, I like the flavor that a bit of garbanzo and fava bean bring to crackers. My favorite though is to make my own GF flour mix, when I need to. I like a mix of 100 grams sorghum or oat flour, 100 grams ground millet flour, 100 grams sweet rice starch, 100 grams tapioca starch, and 100 grams potato starch. If you make up a big batch, keep it in the freezer to keep it fresh, and just bring to room temperature before you bake with it. Many of these flours can go off if stored in the pantry.
Although I'm not gluten-free, I do have a lot of friends that are, or are vegan, so for Real Snacks, it was important to me to offer gluten free and vegan variations to the recipes.
Gluten Free Cheddar Goldfish
1/2 cup (60 grams) gluten free all purpose mix
1⁄4 cup (30 grams) corn flour
1⁄4 cup (30 grams) oat flour
a pinch of turmeric (optional, for color)
1⁄2 teaspoon salt
1 cup (2 ounces) grated loosely packed mild cheddar cheese
2 tablespoons coconut oil or unsalted butter
2 to 3 tablespoons hot water, divided
Preheat the oven to 350°F. Line 2 baking sheets with parchment and set aside.
Combine the flours, turmeric and salt in the bowl of a food processor fitted with the dough blade and pulse to combine. Add the cheese and coconut oil, and pulse to incorporate. Scape down the sides of the food processor to free any trapped flour. With the food processor running, drizzle in the hot water, a little at a time, just until the mixture begins to pull together. You may not use all of the water.
Form the dough into a ball, and gently flatten. Place the dough between two pieces of parchment paper, and roll very thin, to about 1⁄8 inch thick.
Using a very small fish-shaped cutter, or the cutter of your choice, cut out the crackers and carefully place them on the prepared baking sheets. Bake, keeping a close eye on them, until golden around the edges, about 10 to 12 minutes, and cool before serving.