I was sitting in Cusco, Peru when I happened upon a mail from my friend Anita asking if I'd be interested in helping out with a promotion she was running for one of her clients by doing a blog post on what makes the moment for me at the holidays. I was sitting in Cusco because in a moment of spontaneity (and perhaps a few cocktails) last March, Cameron and I had booked ourselves on an Inca Trail hike to Machu Picchu. It seemed like a good idea at the time… something to motivate us to get out and exercise over the summer, and a nice little break before the big push that always happens for Cam around the holidays at The Clymb. A couple of months later, I studied the itinerary, had a mild panic attack at the size of the climbs, and started getting serious about training.
I told Anita I'd be happy to contribute. It was good to have a little push to get me to blog again… it has been too long. But, as I was sitting there, reading Anita's mail, the holidays weren't really on my mind. What was on my mind was how the heck I was going to make it up the terrifying "Day 2" of our itinerary: 10 miles of trekking, hiking over two passes that reached almost 14,000 feet. Especially because within hours of landing in Cusco at it's 11,000+ feet above sea level, I was stuck in the bathroom losing what little lunch I was able to eat. Sorry for the TMI. High altitude and I no longer seem to get along. Thoughts raced through my mind of how I was going to not ruin Cam's trip. The first Diamox tablet didn't stay down. I curled up in bed, and Cam brought me chicken soup and toast. I looked at it and ran back to the bathroom.
The second Diamox managed to stay put, and a few hours later, my stomach began to settle. My second day in Cusco, I managed to go outside and read my book while sitting in the sun for a few hours. I even managed eat a few bites at dinner. The third day, we took a tour of the Sacred Valley, and I hiked up a few Inca steps. With more hope than confidence, I boarded the bus the next day to being the trek. It was certainly not what I had planned or been training all summer for.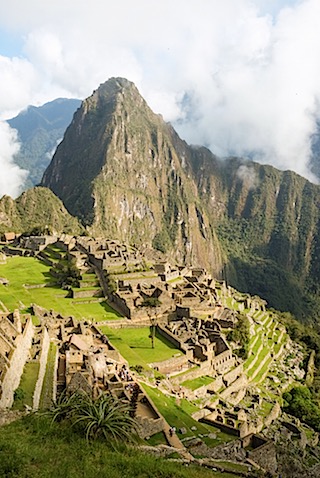 Four days later, I looked down at Machu Picchu drenched in gorgeous light. I might been the slowest hiker on our trek (go Team Tortuga!), but each step was totally worth it. It certainly wasn't the trip I had planned, but the struggle made the summits all the sweeter. And I realized exactly what makes a memorable moment for me at the holidays, or really, anytime. It's the story that comes from the unexpected: When things don't necessarily go as planned; when I push myself to do things I'm not sure I can do; when I take a risk to see what happens.
Most of my best holiday memories were entirely unanticipated. An impromptu shopping spree resulting in my favorite boots when our luggage didn't arrive. A turkey in a tent while trekking up Kilimanjaro. Skiing down our street during a rare Seattle snowpocalypse that delayed most of our holiday festivities. I love a happy accident.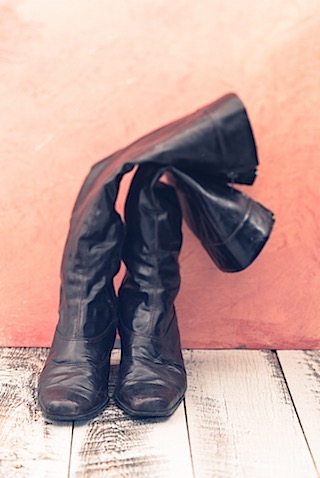 To celebrate, how about a cocktail that is the epitome of unexpected. I'm kind of crazy about this orange, fennel and olive cocktail. You've probably had the flavor
combination
before
in a
salad
(if not, then definitely give it a try!). It's even more amazing as a cocktail. It's fresh and bright from the citrus and fennel, and buttery from the olives; it's sweet but not cloying. Flaky salt brings the whole thing together.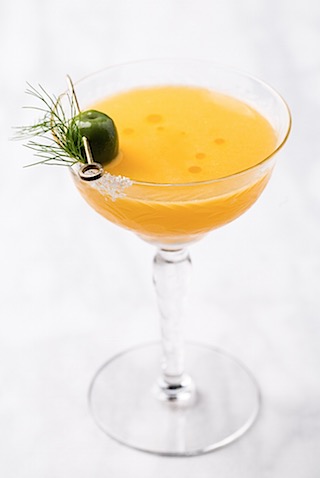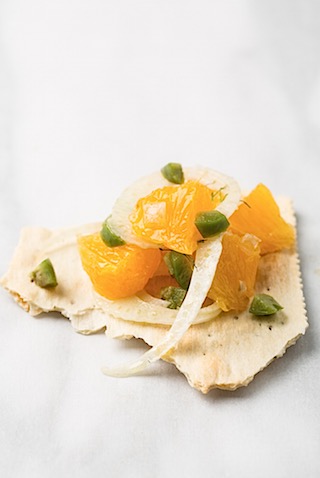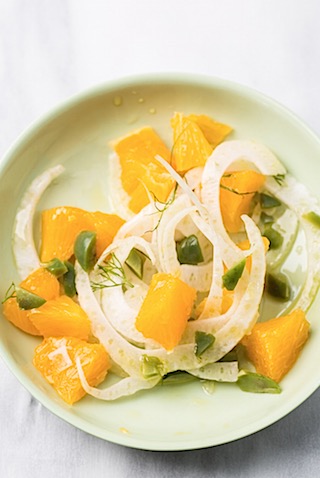 Thanks Anita for including me in this promo!
Want a chance to win prizes by sharing what makes your moments special? Just tag your moment tweet or Instagram with the #LindsayMoment hashtag from now until 12/22. See the Lindsay Olive page for more details.
This post is part of the Lindsay Olive Flavor Makes the Moment fall/holiday promotion.
"OOF" Cocktail
The flavor of the olives you use for this cocktail are critical to it working. Be sure that you like the flavor before you use them. I recommend fruity/buttery green olives such as California Green Olives or Correggiolas.
Flakey salt for garnish
1 1/2 ounce vodka
the juice from 2 oranges (3 ounces)
1 teaspoon fennel syrup (see below)
1 teaspoon high quality, fruity olive oil, plus a little more for garnish
1 fruity/buttery green olive, for garnish
1 small fennel frond for garnish
Brush a small section of the rim of a cocktail glass with a bit of orange juice, and dip into flake salt.
Shake the vodka, orange juice, fennel syrup, 1 teaspoon of olive oil over ice, and strain into a cocktail glass. Dot a few drops of olive oil.
Garnish with an olive and a small piece of fennel frond.
Fennel Syrup
1 tablespoon fennel seeds
1 teaspoon coriander seeds
3/4 cup sugar
1 cup water
a large pinch of salt
Use a mortar and pestle to lightly crush the seeds, and add them to a pot with the water, sugar and salt. Bring to a boil, then remove from the heat and let sit for 30 minutes. Strain the seeds from the syrup and store the syrup in an airtight container for up to one month.