Skip to content
I know you know already how much we love our neighborhood. So much so that when we moved, we just moved 5 houses down the street. Part of the reason is that the street is tucked away in one of Seattle's most convenient neighborhoods, accessible to downtown and Eastside, but still quiet. But, the main reason we love our block is not surprisingly, the people. It's a rare week that we aren't dining at someone else's house, or at least sharing a bottle of wine or a beer with our neighbors, our friends.
It's quite a diverse group politically, and the debate tends to ramp up this time of year. On one hand, you have a family who have given their son the middle name of Reagan… on the other, there are those who have dedicated themselves to a whole rainbow of liberal causes. There are also lots of folks who fall somewhere in the middle. I like to think of the whole lot of us as somewhat of a Progressive party, so what better way to celebrate than to open up a few houses, and share a tipple and nibble in each.
After much discussion on the party approach, we settled on an Iron Chef theme (narrowly averting a flatware-free Viking Diner theme) in which, the day of the party, we'd all find out what the secret ingredient would be, and then scramble to make tapa-sized dishes around that ingredient. Our friends Sean & Stef, instigators of the whole idea in the first place, got to choose the ingredient as well as be the first house on the tour. Luckily, they went easy on us… from a list of things like Pomegranate, chocolate, squash and mushrooms… the choice was goat cheese.
Our first stop gave us delicate crepes stuffed with winter squash with a swirl of goat cheese sauce, paired up with Kir & Prosecco cocktails. Crepes for 4 people is hard enough to do… but we had 15 adults along with a few younger gourmets running around, making Stef's success all the more impressive.
My house was up next. I had a big bout of indecision earlier in the day, and couldn't pick just one recipe… so I made three… bacon-wrapped smoked peppers stuffed with goat raclette, bite-sized goat cheese and Chantrelle and potato tarts, and goat cheese stuffed fried risotto balls. The risotto balls, based on a combination of recipes… Jamie Oliver's risotto blac recipe and Donna Hay's risotto cakes were a huge hit and were quickly gobbled up, as was the mulled wine that Cam made. Trying to stay on schedule, we wrapped up at our place and moved on down to the next house.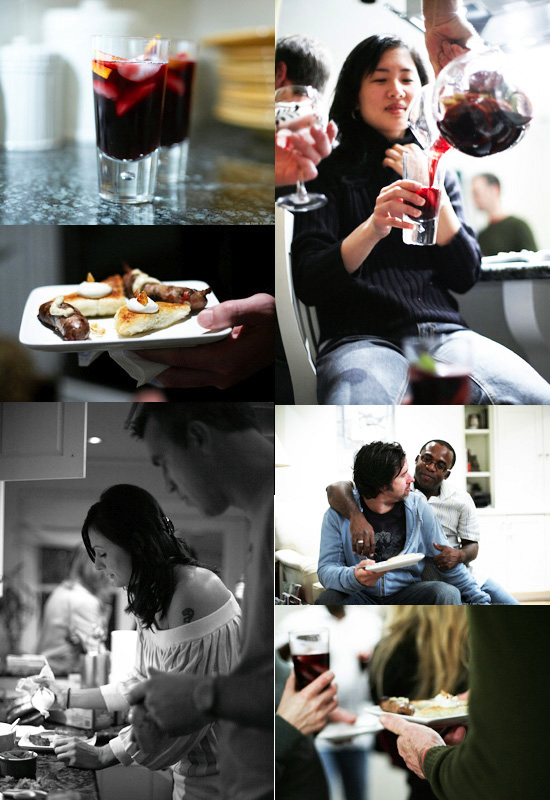 At Jamie & Randy's house, we had home-made goat cheese & pork sausages and light and flaky walnut stuffed phyllo with goat cheese and big glasses of sangria. Did you catch that home-made sausage part? Yes, Jamie spent the morning stuffing her own sausages.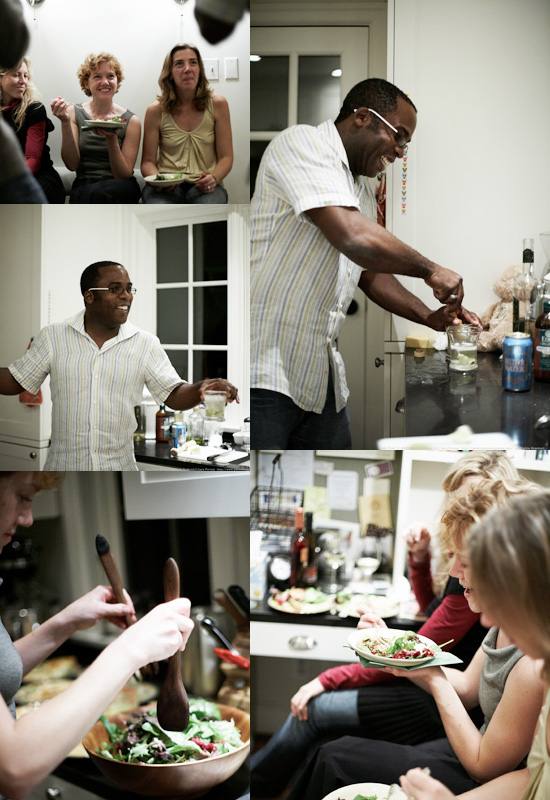 Finally, on to our last house for the evening, Steve & Caroline hosted with two luscious goat cheese quiches and fresh greens, while Kirt muddled limes for some knock your socks off Caprihinas.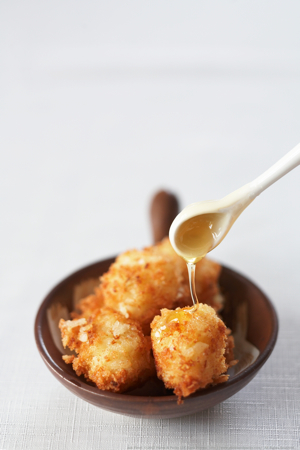 Once the party was done, we all headed home to clean up our respective houses… the only real problem with the whole progressive party thing is that you muss up 4 houses instead of just one. Still craving risotto balls, I found myself cranking out a few more with the rest of the risotto the next day and hording them all to myself.
Crispy Risotto Cheese Balls

This recipe assumes that you have leftover risotto already. You can use just about any risotto recipe, as long as it has good and sticky and has sufficiently cooled. I found the recipe in Jamie's Italy to work beautifully. It's rich with butter and parm, but can still handle being stuffed with a light goat cheese.
For the cheese, you want something that will melt well but is still easy to handle during stuffing, so avoid any fresh or runny goat cheese.
You can fry up the balls without the panko that I used, but you won't get the same texture without them.
Left-over, cooked risotto
panko crumbs
firm goat cheese, cut into 1/4 inch cubes
high-heat frying oil, such as sunflower oil
Line a baking sheet with a layer of parchment. Place the panko in a wide bowl.
Take a good sized square of plastic wrap, and use it to pull about 1 T of the cooled, cooked risotto and form into a little ball. Then, create a little hole in the ball with your finger and stick in 1 piece of the goat cheese. Reform the ball of ristotto in the plastic wrap. Then, roll the ball in the panko. Set on the parchment and repeat with the remaining balls.
Heat about 1-2 inches of the oil in a deep frying pan or wok. Test the oil by dropping a bit of risotto into the oil… you want it to bubble fiercely. Line a plate with paper towels, and then begin frying up the risotto balls, adding in only about 3 at a time, carefully with tongs. It's a good idea to use a screen to keep the oil from popping everywhere as you add each ball. Let the balls cook on one side till golden brown, and then roll them over carefully in the oil to brown on all sides. Remove the balls with tongs and place on the paper towel lined plate to drain. Repeat with the remaining balls. Sprinkle with a bit of flake sea salt.
You can keep these warm in the oven for a little while, but it's best to serve them immediately. I like them plain, or with a tiny drizzle of truffle honey.