I have problems with pomegranates. I love them, the way they look, the way they taste. I just never exactly know what to do with them once I bring them home from the market. There are only so many pomtinis or pomeritas a girl can drink after all! Last year, I was quite pleased with the pomegranate-infused truffles that I made, but making my own chocolates isn't something I'm likely to do on a regular basis. And, while the little seeds are fantastic sprinkled here and there in salads, there must be more to be done with the jewel-filled fruits sitting in my fruit basket.
Recently, I saw a recipe for a chicken cooked in pomegranate molasses and the little wheels in my hamster cage of a brain started turning. Pomegranate molasses sounded rich and dark, earthy and sweet, and the cravings started kicking in. I could just picture the thick rich syrup dripping onto creamy desserts or gamey meats.
A quick web search turned up Elise's great recipe for the molasses which is made from the juice. I began with that, and then made a few little twists. First, I used the whole fruits instead of the juice, so that created a bit more messy work. It went quickly enough, and I was happy to have seeds to garnish with, but it's also fine to skip straight to the juice in a bottle. If you do, make sure you add the sugar slowly so you don't end up over sweetening your syrup.
Secondly, I decided to infuse the syrup with some sort of spice. A quick look in the pantry and I saw what I was looking for. Juniper berries, purchased on a whim, and rarely used. If I didn't use them soon, I was going to have to throw them out, so into the juice they went.
The juniper infusion turns the molasses into something else entirely, bringing the scent and essence of evergreens to the sweet ruby liquid, almost as if someone had distilled a Christmas tree decked with fruity garland into syrup. Swirled into plain yogurt and topped with some fresh seeds (for texture), it's like little spoonfuls of the holidays.
I haven't tried the molasses as a glaze yet, but I think it would be idea for duck or slow-cooked venison or elk.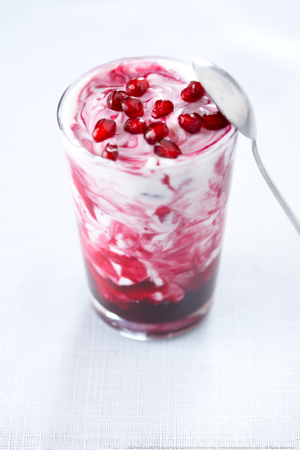 Juniper Infused Pomegranate Molasses
Makes about 1/4-1/2 cup molasses
2 pomegranates
1/4 cup sugar
1/4 cup lemon juice
6 -10 juniper berries
Start by seeding the pomegranate. I like to cut off the crown first, and then use my fingers to pull apart the fruit… this damages less of the seeds. Once it's pulled into about 4 pieces, pick out as much of the white pith as you can, and place the seeds in a heavy bottomed pot, saving a few for garnish if you'd like.
Add the sugar and lemon juice, and heat on medium-high until the fruit starts to simmer. Then, reduce the heat to a low simmer. Use a spoon or a masher to squeeze the juice from the seeds. Taste the juice occasionally and adjust the sugar as needed. When you have the basic flavor you want, add the juniper berries. Simmer for 5 to 10 minutes. Then remove from the heat, and strain out all the seed leftovers and juniper berries.
Return the liquid to the heat, and bring to a high simmer again. Then reduce the heat to maintain a low simmer. Continue to stir and cook until you get a nice, thick syrup. This might take as much as an hour to produce.
Transfer the syrup to a jar, and let it cool at room temperature. Then, refrigerate.
Use chilled on yogurt or ice cream, or in place of a glaze for savory game.