I've been having one of those weeks where I want to bake, but my ideals are getting in the way. I want to make just the right thing… so I randomly flip through page after page of cookbooks, hoping I'll stumble across "it". Eventually, hours have passed, I've run out of time, and all I have time for is to squeeze in a few games of TextTwist. I end up mentally exhausted, but having nothing to show for it. Harrumph.
Times like these, its is important to get into the kitchen and cook something… anything… just to get the sparks going again. So today I picked an ingredient and decided I'd make the first recipe I found with it. The ingredient was polenta and the book I picked up was Jamie's Italy. I was seriously tempted by the polenta frita… but my goal was baking, and there happened to be a recipe for a Bolognese polenta and apple cake that did, in fact, look perfect. The cake, bustrengo, is kind of like a clafoutis meets bread pudding meets fruit cake. Dense and a bit eggy, the creaminess is broken up with loads of little chunks of fruit.
I, of course, made substitutions. Instead of apple, I used tiny cubes of quince and cranberries in place of raisins. I would have loved to have added some fig as the recipe called for, or maybe some dates, but I was out so just left them out of the recipe entirely. However, I did add in a heaping handful of crushed hazelnuts for a hint of texture and flavor. Pine nuts, I decided after I was done, would have also been a welcome addition.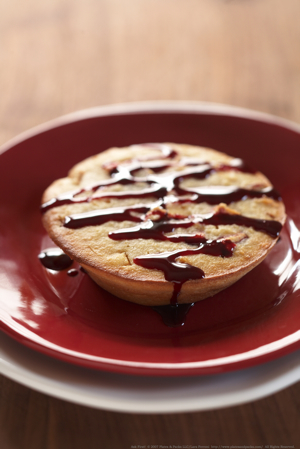 To serve, I dolloped on some lightly whipped cream… soft enough to ooze all over. I also tried, and loved, drizzling the little cakes with the pomegranate molasses I had left over.
Ah, sweet success. Now, I can get back to my TextTwist game….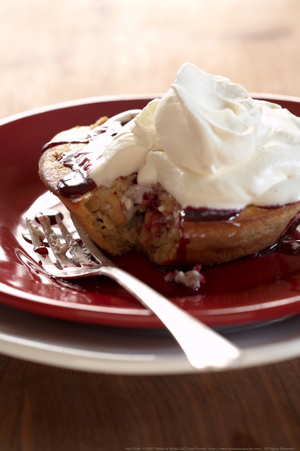 Quince & Cranberry Bustrengo
adapted from Jamie's Italy page 282
The original recipe uses an 11-inch thin tart pan, but I found that I had far more batter that would fit. Maybe I added more fruit, or maybe my pan was a bit on the thinner side. Whatever, I just poured the additional batter into little pie tins and made a few individual cakes as well, and I quite liked them cooked up this way too.
butter (for greasing your pan)
1 c polenta
1 3/4 c all-purpose flour
2 cups course bread crumbs
1/3 cup sugar
2 1/4 cup milk
3 eggs
3 T honey
1/4 cup olive oil
1/2 cup dried cranberries
2 large quinces, peeled, cored and cubed
1/4 cup roasted hazelnuts
1/2 t cinnamon
1 t orange zest
1 t lemon zest
1 t salt
Preheat oven to 350F.
Prepare your pan(s) by generously greasing them with butter. This is important or you'll never get your tart out of the pan. Make sure you get in the corners and sides well.
Combine the polenta, flour, bread crumbs and sugar in a large bowl. For bread crumbs, I used panko. But you can use any plain bread crumbs, including just small chunks of dried bread. Just don't use seasoned bread crumbs.
In a medium bowl, lightly beat the eggs. Then add the honey, olive oil and milk. Stir until combined and add to the dry ingredients. Mix well until you get a consistent texture through out. It will be kind of chunky, but get rid of any puddles of liquid.
Prepare the hazelnuts by smashing them with the side of a knife to crush them. Add them, and the remaining ingredients and stir to combine.
Pour into the prepared pan(s) and bake for 30-45 minutes or until they top gets a nice brown, being careful not to overcook it or it will lose its luscious moistness.
Serve warm with whipped or ice cream. Or drizzle with a pomegranate syrup.