How can you not love a recipe that starts with this dough is magical? And, in fact it is. This rugelach dough that I found in Kate Zukerman's The Sweet Life will fool you into thinking that you spent hours bookfolding dough to achieve it's tender puffy layers… only you will know differently. It's almost ridiculously easy. The toughest part is having to wait several hours for the dough to chill. But, then it's just a quick roll and a bake to little pinwheels of soft, tangy goodness.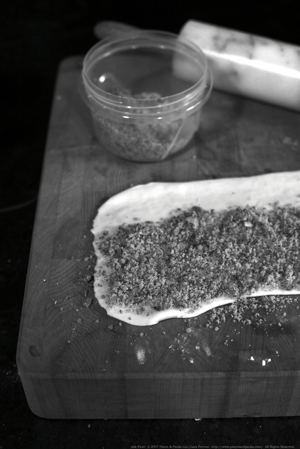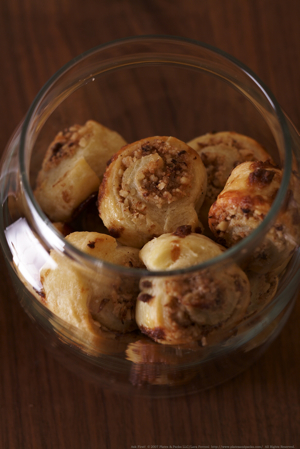 The first time I tried this dough, I stuck with just a slight variation to Zukerman's original Walnut and Cinnamon Rugelach recipe, only substituting orange zest in place of the currents in the sweet filling. I'd make these again in a heart beat… but what I also found was that the dough was so light and mild, it would work equally well with savory fillings. So, I reworked a batch, with 1/2 the sugar, and rolled up one log with salmon and cream cheese and another with a simple pesto. It worked brilliantly, perfect for little party appetizers. You can play endlessly with combinations to use with this "magical" dough.

Cheater's Puff Pastry Pinwheels
The original recipe for this dough used cream cheese, but I substituted in quark, which has even more of a pleasantly sour flavor. If you do use quark, pour off any standing liquid first. If you are filling the pastry with sweet stuff, increase the sugar to 1 t.
4 oz butter, at room temperature
4 oz cream cheese or quark, at room temperature
1 cup flour
1/4 t salt
1/2 t sugar
Sift together the flour, salt and sugar. Set aside.
Cream the butter and soft cheese together on medium until it is light and fluffy. Reduce the speed to low and slowly add the dry ingredients, beating until well combined. Increase the speed to medium, and beat for about 15 seconds.
Scrape the dough onto plastic wrap and press into a flat disk. Then, double rap the dough and refrigerate overnight.
To use, roll out the dough on a lightly floured surface into a large rectangle about 12 x 16 inches. Then, cut into two 6 x 16 pieces. Fill as desired with the long side facing you, and roll up. Wrap the dough in wrap again and chill for 30 minutes. Or, if you want, you can freeze the log to use later in the week.
To cook, slice the log into 1-inch cross sections, and place each little round about 1 inch apart on a parchment lined baking sheet. Bake at 350F for about 15 minutes, or until the dough is a light golden brown. Allow the pinwheels to cool for about 15 minutes before serving. They will keep up to 4 days, depending on your filling.