Skip to content
These are muffins that don't want to be blogged about. I've made them now six or seven times, each batch very much destined for the blog. But this or that got in the way… I'd run out of time before scooping them up into a bag and heading out of town, or they'd simply all disappear by the time I got around to snapping a few shots. Finally, I managed to get some nice photos of the last batch I made a few weeks ago… only to draw a blank when I sat down to write about them. I was quite tempted to simply post the recipe and the photos and say nothing, I was getting so frustrated, but then I ate one of the little fruity buggers and got my revenge.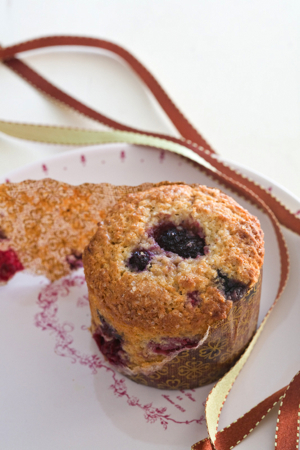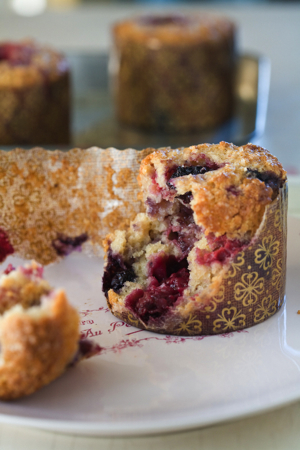 The thing is, it's hardly fair to call these mixed berry muffins "muffins". They are really more fruit than crumb, which is just the glue to hold all the juicy berry goodness together. I think they really should be called muffin mixed berries. And they were the first recipe I made from Seasonal Kitchen by Michele Cranston, a book I've really grown to adore. The beauty is that they are even seasonal in winter (in fact, that's the section they appear in the book) because they use frozen berries. I've started keeping a huge bag of mixed frozen berries in the freezer, and whenever I need a quick idea for breakfast or a road trip, these muffins have become the answer. The only thing I don't love about the recipe is the oil… it calls for vegetable oil and I think that's just missing an opportunity for adding flavor. Instead, I've started using coconut oil which adds just the teaniest tiniest hint of coconut… not enough that coconut-haters will notice, but enough to give them a little something-something.
Now, quickly, before something comes up again and I don't finish this post, here is the recipe: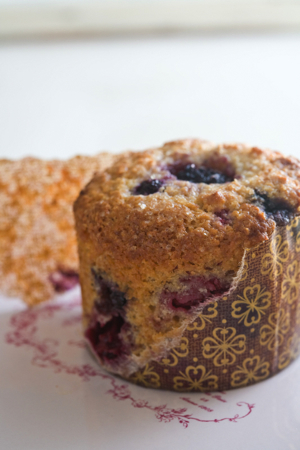 Mixed Berry Muffins
adapted from Michele Cranston's Seasonal Kitchen
Makes 12 muffins
1 cup (250g) plain yogurt
3.5 fl oz (100 ml) coconut oil
2 eggs
2 t vanilla extract
2 1/4 c (280g) all purpose flour
2 t baking powder
3/4 c brown sugar
1 3/4 c (250g) frozen mixed berries
raw sugar for sprinkling
Preheat the oven to 350F. If you keep your coconut oil cold, then you'll want to melt it before you begin, and let it cool to room temperature. Line a muffin tin with paper, or grease it and set aside.
Whisk the yogurt, oil and eggs until smooth, then mix in the vanilla.
In a separate, large bowl, sift together the flour and baking powder. Stir in the brown sugar. Then, get your berries. First, pick out 12 of the larger berries to stick on the top of each muffin, and set those aside. Next, if you have really big strawberries in your mix, you might want to cut them in half. Sometimes I do this, and sometimes I don't… but they will shrink away from the batter when cooking and create strawberry flavored holes. Now, stir the berries into the flour sugar mixture until each berry is well coated.
Fold in the yogurt mixture, and stir until there are no significant bits of dry flour. The batter will be quite dry, more like scone mixture.
Spoon the batter into the muffin tin, dividing evenly between each hole. You can fill these all the way to the top… they will rise some, but not excessively. Top each with one of the berries you picked out, and then sprinkle with the raw sugar if you want to.
Bake for 25 to 35 minutes or until the tops are nicely golden and a skewer inserted comes out clean.