Skip to content
If I could only have one type of dessert for the rest of my life, it would probably be bread pudding. Of course, just saying that implies all sorts of dessert loop holes. There are a million different ways to make a bread pudding resulting in practically a new flavor and texture combination that would do me fine the rest of my days. You can change out the bread type, making your pudding pillowy soft or densely grainy. You can make single servings or a deep dish to alter your crusty to creamy ratio. And, of course, you can play around with almost any fruit or spice combination… which is what I decided to do with my sadly stale, leftover loaf of Macrina Bakery Brioche.
Last weekend, I trekked up to Swanson's nursery for a little spring gardening fix. Since we moved, I no longer have a yard with fresh raspberries, strawberries and rhubarb shooting up… I really should have done something about that last fall, but never quite got around to it. Now, that is remedied with a couple of blueberry bushes thrown in the mix for good measure, along with a new garden star that I have never thought of before: Sweet Bay. Apparently, bay leaf is quite easily grown around here (I think it is pretty easy to grow it almost anywhere), so I'm quite excited to see how my little shrub grows. It's already pretty bushy with bright green, shiny leaves which seem worlds away from their dried cousins that I've always used in the past. Since the flavor of bay is quite strong, I went ahead and plucked off a few leaves to see how it compared to the dried variety.
My initial thought was for some bay infused ice cream. I remember a few posts that had me intrigued in blogs over the years. However, that loaf of Brioche was staring at me, telling me a pudding was in order. It didn't take me along to decide that if bay was wonderful in ice cream, it would be equally delicious in a custardy bread pudding, adding a hint of slightly green, earthy spiciness.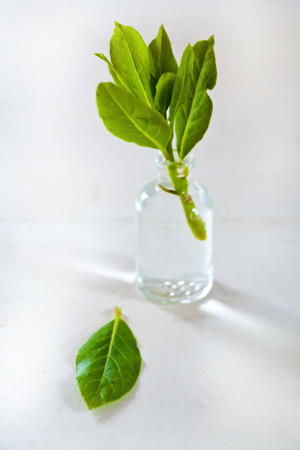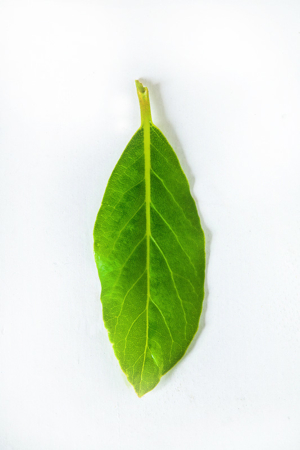 For a starter recipe, I found a lovely, simple brioche pudding on Food & Wine, and altered it slightly to add in the bay and skip the healthy dose of berries that would have overwhelmed the bay essence. Of course, me resisting berries is like a cat resisting a mouse… so I ended up drizzling on a quickly made strawberry syrup in the end.
This pudding is a lovely thick and moist, subtly sweet treat… and great for either breakfast or dessert. The bay came through, although it was quite subtle. However, after preparing the dish, I realized that it's best to use more mature, leathery bay leaves rather than the softer new leaves, so patience with my bay bush is definitely going to be called for.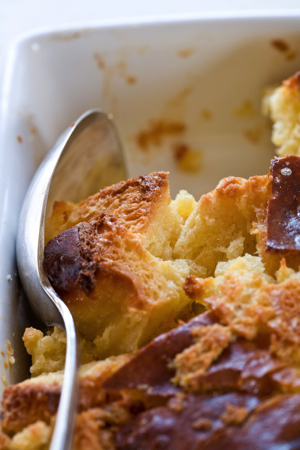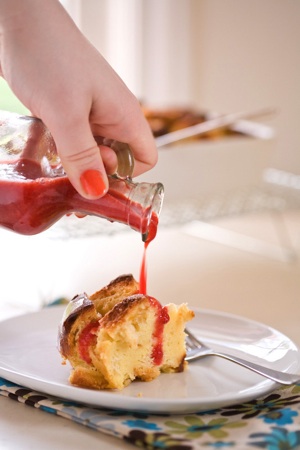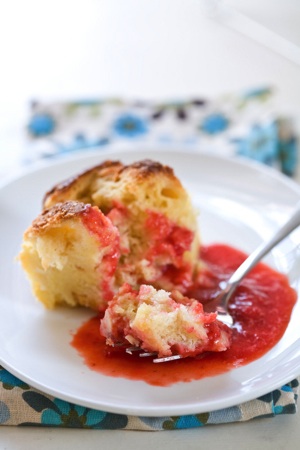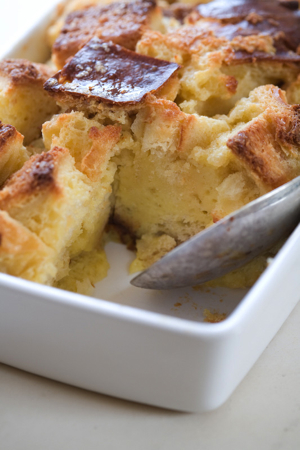 Sweet Bay Bread Pudding
Adapted from Food & Wine's
Berry-Brioche Bread Pudding Recipe
Serves 8
Some bread pudding recipes call for removing the bread crust. You can do that with this recipe too, but I personally like the crusts included… it gives even more variety of color and texture to the finished dish.
Unsalted butter, for greasing the dish
1/3 cup raw sugar
2 cups heavy cream
2 cups whole milk
5-6 fresh bay leaves
2/3 cup granulated sugar
1 teaspoon kosher salt
4 large eggs
4 large egg yolks
1 1/2 teaspoons pure vanilla extract
One 1-pound loaf of brioche, cut into 1/2-inch dice
Fresh berries or berry syrup for drizzling
Preheat the oven to 350°. Butter an 8-by-11-inch baking dish and sprinkle with the about half of the raw sugar, shaking it to spread the sugar crystals evenly.
In a large saucepan, bring the cream, milk, bay leaves, 2/3 cup of the granulated sugar and the salt to a simmer over moderately high heat, then remove from the heat. Strain out the bay leaves.
In a bowl, whisk the whole eggs, egg yolks and vanilla. Gradually whisk in the hot cream until blended. Strain the custard through a fine strainer into a large bowl.
Add the brioche to the custard, and gently stir to coat, trying not to break up the bread cubes. Transfer the pudding to the prepared baking dish and sprinkle the top with the remaining raw sugar. Cover with foil and bake for 45 minutes, until set in the center. Remove the foil and bake in the top third of the oven for 20 minutes longer, until lightly golden.
Preheat the broiler. Broil the pudding for 1 minute, until the top is a gorgeous golden brown. Transfer to a rack and let stand for 30 minutes, until cooled slightly. Cut the bread pudding into squares and serve with fresh berries or a fruit syrup.