Skip to content
Last week, I got the range of my dreams. I've been pining away for a commercialesque gas range now for about as long as I can remember. Some people dream about their wedding dress or owning a fancy car. I dream about cooking with gas. I have pretty much always made do with a simple electric range… there was that one span in college when the apartment came with a old, white enamel gas stove from the 50s which put out about as much heat as a few votive candles huddled together for warmth. I've managed to cook up some pretty amazing stuff with the electrics too. But always there was a longing for something industrial and packed with BTUs. In April, we had natural gas run to the house. We were just doing the furnace (which like many older Seattle homes was still running on oil). The stove would have to wait. Then, work picked up, and suddenly Cam and I decided, hey… let's just bite the bullet and get the stove. At long last, my stove was coming home.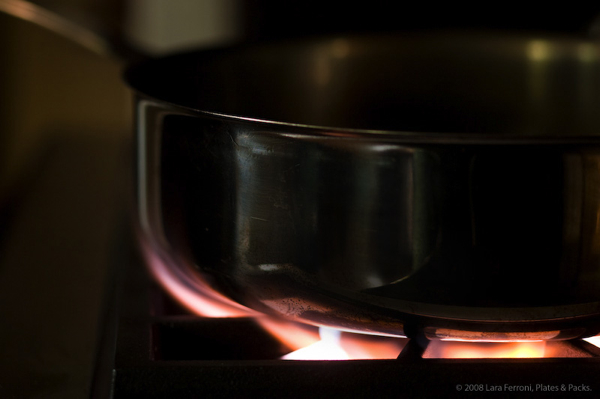 Of course, nothing is all that simple. To begin with, I had to figure out what stove I wanted. It became pretty clear to me pretty quickly that the Viking I had been envisioning was not a great choice. Although fit and finishwise, they are gorgeous machines, even a little bit of digging and you'll soon see that they tend to be ultra prone with problems. That research lead me to Wolf and DCS, which subsequently lead me to a company called Bluestar. Although not available (at least at the moment) in the dual-fuel version I was hoping for, everyone who had a Bluestar was in love. To start with, they are one of the least expensive high-end ranges you can get, and have the most powerful cooktop, with a blazing 22,000 BTUs. I was pretty sold, until I went and looked at one that is. Cool and industrial, definitely… but the fit and finish started to scare me. The oven didn't feel like it closed quite tightly enough and had some sharp edges. The open burners intimidated me as I thought of my panache for boiling over. While in the store, we stumbled across the American Ranges. These ranges have a similar price point to the Bluestars, but have closed burners with an easy to clean stainless top, and the oven is the largest in its class… easily able to fit full sized commercial baking pans. The edges were smooth all around, and while the burners weren't quite the same as the Bluestars', 17,000 BTU seemed like plenty for me (and about the same as the Wolf, DCS and Vikings). We went home to do more research, happily finding that American Range owners are nearly as religious about their stoves as the Bluestar owners. We were sold.
To get the stove in with the necessary duct work required some semi-serious kitchen demolition that included very large holes in the ceiling, cabinets, and eventually brick work. Amazingly, thanks mostly to Cam, it all came together, and after just over a week with chaotic kitchen construction, I ended up with one kick-ass stove and some killer ventilation to boot. Of course, before I got a chance to use it, we left town.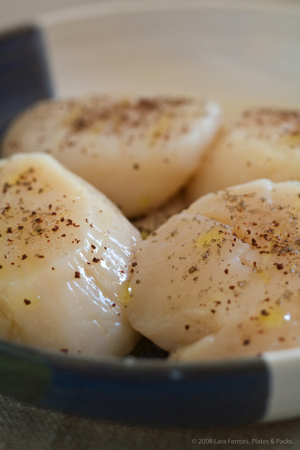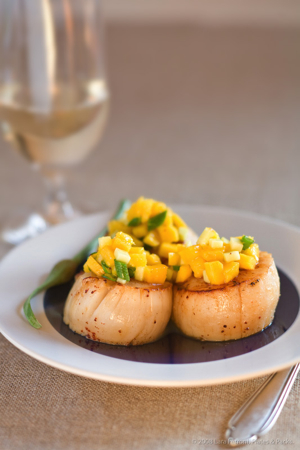 But, finally, I've fired up the gas and started searing away. While my first meal on it wasn't so much a great test (pasta and sauce on top with a zucchini gratin baking in the oven), tonight's dinner was made for this stove. At the Pike Place market, I picked up four enormous sea scallops to sear. Just a little smoked sea salt, aleppo pepper and olive oil, one really hot frying pan and enough patience to let each side sear before touching them (this is always the hardest part). Topped with a little mango and green garlic salsa… yum.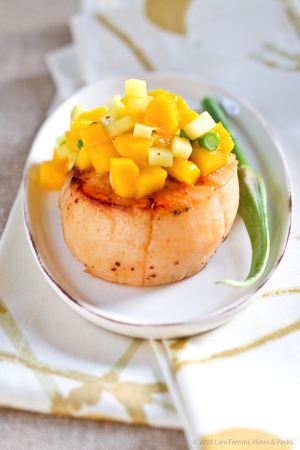 Seared Scallops with Mango and Green Garlic Salsa
The Salsa
1 mango, 1/4 inch dice
1/2 cucumber, seeds removed, 1/4 dice
3 garlic spears, roughly chopped
1 lime
olive oil
aleppo pepper
salt
Mix the mango, cucumber and chopped garlic together. Squeeze the lime juice on top, add a splash of olive oil and stir to coat. Add a pinch of aleppo pepper and salt to taste. Cover and refrigerate for least 5 minutes.
The Scallops
4 large sea scallops
smoked sea salt
aleppo pepper
olive oil
Rinse the scallops and pat dry. Sprinkle with the salt and aleppo pepper and drizzle with olive oil.
Heat a heavy-bottom skillet over medium heat for about 2-minutes. Add enough oil to lightly coat the bottom of the pan and heat. Add the scallops to the pan leaving plenty of room between each one. Cook on one side for 2 to 3 minutes without moving them. Then, flip them over, and cook on the other side until browned. Remove the scallops from the pan and let them rest for a few minutes before serving.
Top each scallop with a healthy spoonful of the salsa.