Do you ever feel just stupidly lucky? I do. All. The. Time. I'm not really sure what I've done to deserve all the amazing good fortune I've had. So, when my friend Nathan called me up a month or so and asked if I'd be interested in doing a bit of photography work in trade for a weekend at The Inn at Langley, I got to experience yet another one of those moments, and sent a big Thank You to the powers of the universe. The Inn at Langley is very high up there on one of my favorite places in the Northwest. The town of Langley, on Whidbey Island, manages to hit all the quaint buttons without actually turning sickeningly sweet. There's a good coffee shop packed with as many locals as tourists, a natural food store that you can poke around in for hours, two weekly farmers markets within a stones throw, and a thrift store perfect for cheap-os like me who aren't into paying antique store prices. But when I think of Langley, I think of The Inn.
It was just over two years ago that I first experienced one of Matt Costello's seasonal dinners. Matt is the General Manager of The Inn, but most people know more about his kitchen prowess. The Inn does 3 (sometimes 4) single seating, prix fixe dinners a week. Everyone sits down and eats the same thing (dietary restrictions of course are respected) at the same time. Matt starts each dinner with a brief introduction about the area, the producers, and which seasonal ingredients went into the nights courses… sometimes including things he's foraged himself or that are brought in from the herb garden.
Then, the work begins. The open kitchen gives all the diners a chance to see all the action while dinner is prepared.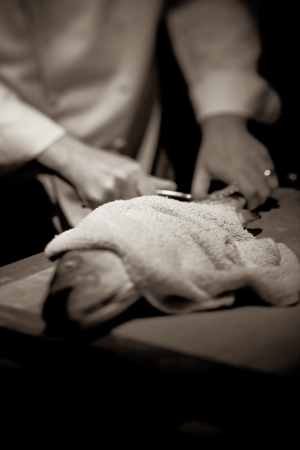 There's never a pause in the work, but somehow the atmosphere remains calm. And, well, it's easy to get distracted away from the busyness as the plates arrive at the table. Each dish starts as a visual treat, which quickly turns to so much more. Your spoon brings a translucent corn broth or an icy fresh strawberry sorbet to your mouth, and the flavors unravel. Words simply can't do it justice… so here are a few more shots to help you see what I mean.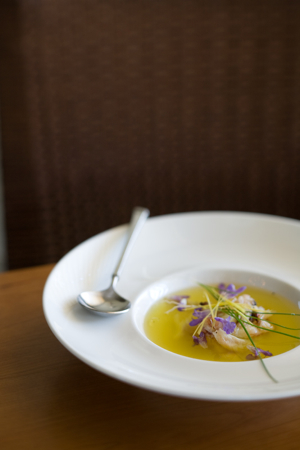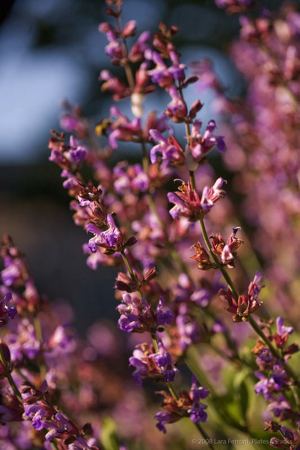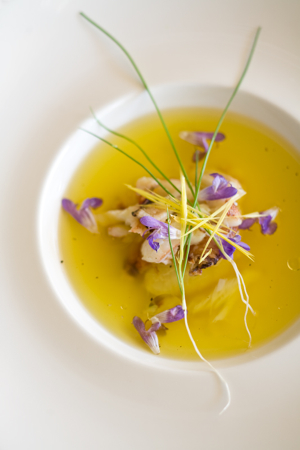 Could anything be more stunning than that crystal clear corn broth with fresh Dungeness crab and sage blossoms? Well, maybe these:
The meal is reason enough to visit The Inn, but then, so are the tranquil waterfront and forest views.
So, a big thank you to Nathan and Matt for such an enjoyable visit, and the universe for bringing such good fortune my way. Hope you all enjoy the photos as much as I enjoyed my weekend!