Some time ago, Cam switched from being a mostly scotch drinker to a mostly rum drinker. I'm not talking Captian Morgan's here. Aged rums, particularly those from the Caribbean and even more particularly those from Martinique, are fine sipping rums that, at least in our opinion, rival high-end whiskeys. The only problem is that they are very hard to get, particularly in Washington state. So, for Cam's Christmas present last year, I decided it would be fun to take a trip down to Martinique to visit some of his favorite distilleries. Back in October, we finally made it on the trip. I can't quite believe that it has taken me this long to get to the photos so I could share them here. But, I suppose that if it took us 9 months to actually fit the trip into our schedule, a month or so to polish up the photos isn't bad.
It's not exactly high season on these islands at the end of October. The beaches were quiet, restaurants had seating (if they were open… unfortunately a big if for some places), and the weather has started to mellow (still warm but fewer chances of hurricanes). It's a great time to visit if you aren't looking for a big party. On Martinique, we were the only guests in the gorgeous plantation Inn, Le Domaine St Aubin with only a few more guests in the quaint and lovely Le Diwalli on Guadeloupe. We spent our time lazing around on the beaches under palm trees, driving around the islands to see some of the local culture, and mostly, eating and sampling the local rum (we made it to Clemant, JM Rhum, Neisson, St. James, and Damoiseau).
I have so many photos to share, but I think 200 would be a few too many for this post!
We arrive in Guadeloupe, after about 16 hours of travel overnight. Seattle to Miami, Miami to Haiti, Haiti to Guadeloupe. After a bit of a confusion trying to figure our way out of the airport, we arrive at the hotel and take a short wander down the beach to grab some lunch… crepes & sandwich, with of course, two Carib.
The botanical gardens on Guadeloupe are definitely not to be missed. Particularly, if you don't mind being covered with birds.
After the gardens, we tried to have dinner in Deshales, but it had been fairly badly hit in the hurricane that came through the week before. Most of the restaurants were under repair or just closed for the down season. So, we grabbed a quick bite at the small convenience store, and sat and watched the sunset.
One of my favorite things about Guadeloupe is that there are cows, everywhere. In fact, immediately after leaving the airport, one of the first things I saw (even before we made it to the rental car place) was a cow grazing on the median of the highway. Everyone seems to have a cow. Or rather a steer or a bull. I didn't see any girl-cows the entire time we were on the island.
The tasting room and shop at Damoiseau was very friendly, and let us have a "ti" (little) sip of whatever we'd like. In addition to sipping rums, they make a selection of flavored rums. We found that our favorite was "Shrub" which is an orange scented rum similar to Grand Marnier. Perfect over ice cream, if you find yourself with a bottle.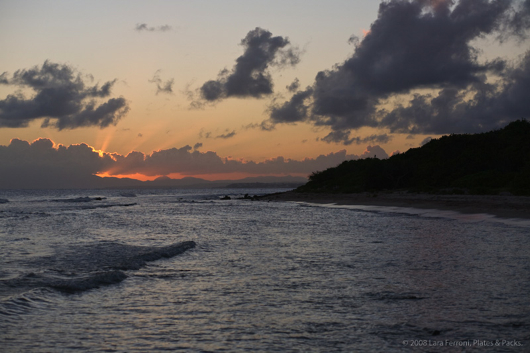 Quiet beaches were everywhere in Guadeloupe in October.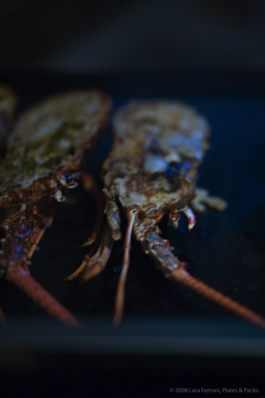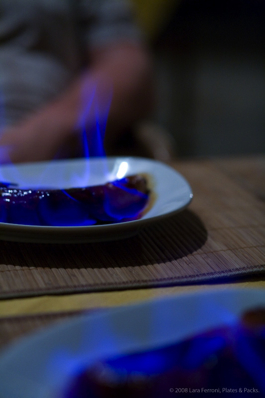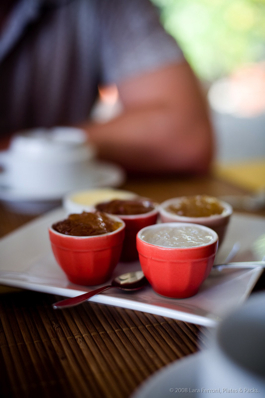 Dinner and then breakfast at Le Diwalli.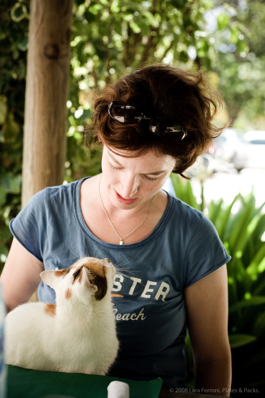 I thought the cats were perhaps after my salad niciose at this beachside cafe, but they really just wanted attention.
One last sunset for us on Guadeloupe… then we are off to Martinique.
Sugar cane fields back to banana plantations all over Martinique.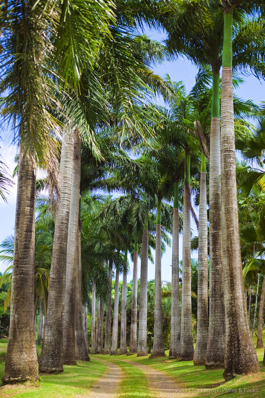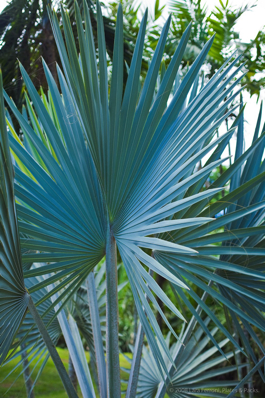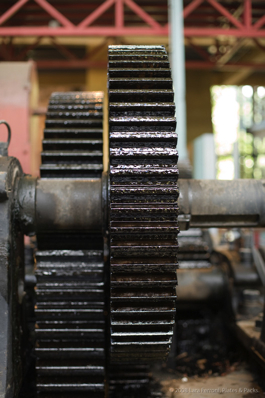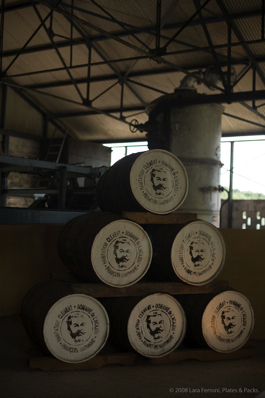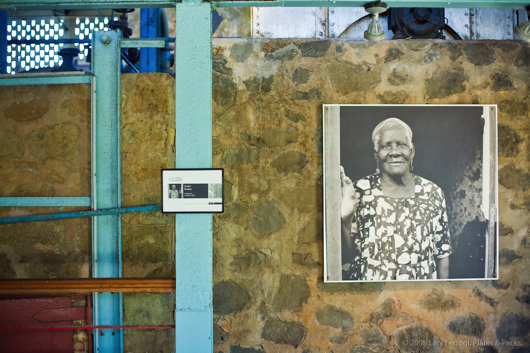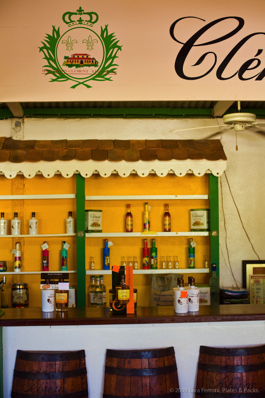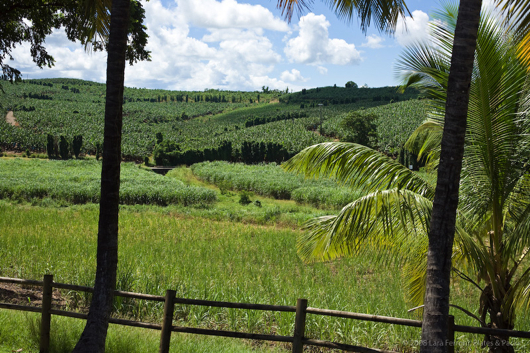 The Clemant Distillary has a fantastic botanical gardens and museum that shows how rum is made. Definitely one of the nicest exhibits we saw.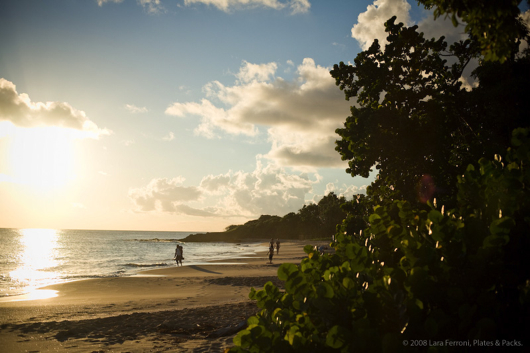 The afternoon at Anse des Salines.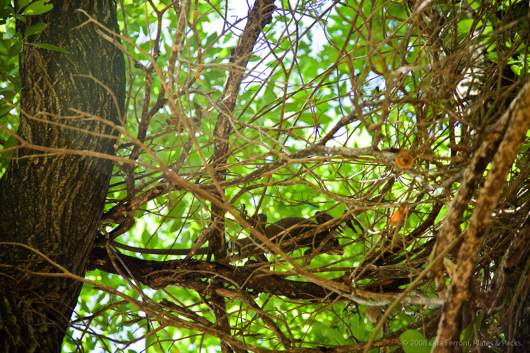 We took a full day tour of some of the islands off the coast of Martinique, including a stop at "iguana island" where the trees are hiding some huge lizards which are only found on this one island. They warn you to be careful as sometimes they drop down on you. Eek. Other stops included some hanging out in Josephine's Baths and doing a bit of snorkling.
Lunch at Le Ghetto, one of our favorite meals of the trip… ti punch (which is ironically named, since it's really a huge punch to your head) which was self-service here with tasty Clement rhum, acras (salted cod fritters) and a whole, creole style poisson. Yum.
A stop into JM Rhum which was much smaller than the Clemant tour but just as tasty in the sampling room.
The porch, right outside our hotel room on Martinique. We had quite the view as we sipped our
punch plantuer
and
punch coco.
The next day, we were going to take a drive over to the other side of the island through the mountains. After quite a ways of driving, we learned what "route est barrée" meant. Yes, that is the road behind that puddle. No wonder there were no cars going the other way.
We managed to find another route and took a quick stop into the Neisson distillary where we found yet another yummy rhum concotion… this one is a cacao rhum, which as it turns out, is fantastic when also mixed with the Shrub. We also stopped in for a meal in Fort de France (more
acras
!) and a bit of shopping. The next day, it was time to start our trip home.
Once we were back home, I remembered a piece I shot for Seattle magazine on bacalhau the Spanish salted cod, which is available at The Spanish Table in town. I picked up a little package this week to make my own acras and bring back a little of our trip, complete with a little ti punch.

There are tons of variations for making acras… some separate and beat the eggs for a lighter batter, some add baking powder. The recipe I went with did neither, but still made nice, light fritters. However, as soon as they cooled, they got a bit chewy… so the search is on to find a recipe that stays crisp longer (text time around, I'm going to try
this one
.). In the meantime though, if you are looking for an easy, tasty appetizer that's a little different, give these a shot.

Acras

5 oz. sifted flour
Salt and pepper
2 t creole spice
2 eggs
6 T (100 ml) cooled scalded milk or equal parts water and milk
7 oz salted cod fillet
1 bay leaf
1 sprig of thyme
1 chile, of the heat-level of your choice, minced
oil for deep frying
In a medium sized bowl, mix together the flour, salt, pepper and creole spice. Make a small well in the center, and mix in the eggs, one at a time. Then, add the milk and mix until smooth. Cover the batter and let it rest on the counter for 1 hour.
While the batter is resting, rinsing the cod well. You may wish to let it sit in water, refrigerated, overnight to help remove more of the salt. Then, place the fillet in a pot, cover with water and add the bay leaf and thyme sprig. Poach for about 10 minutes. Remove from the heat and rinse. Take a fork and start to shred the fish into little, hair like pieces, removing any bones or skin as necessary. You want the cod to be quite thinly shredded (but don't use a blender… you don't want paste).
Start to prepare your oil for frying. I used my deep fryer, but you can also use a deep pot with about 1 to 2 inches of oil.
Once the oil is hot, stir the shredded fish and minced chile into the batter. Take one teaspoon of the batter and drop it into the oil. Do this a few more times, but don't overfill your pan or the oil will cool down too much. Let each fritter cook on one side for about a minute, and then flip it over to brown on the other side. When it is golden brown, remove it from the oil and place on a paper towel to drain.
Serve immediately. I like them with some chipotle mayonaise or a little tomatillo salsa and a squeeze of lime or lemon.