I mentioned last week that this week I was participating in the United Way Hunger Challenge, and this morning it officially began. The goal of this challenge isn't to go hungry… it's to raise awareness of low income families and the struggles they face when trying to feed themselves and their families. Low income families can qualify for up to $7 per day in food stamps for a single person (more on a graduated scale for families). This is intended not to cover all food purchases, merely to supplement them. In reality, however, it often does come down to a trade off between food and other necessities, leaving just the food stamps to cover breakfast, lunch and dinner.
As I started this challenge, I had high hopes of planning out each meal and meticulously documenting each step of the way. Well, it's now Monday evening, and I'm afraid I've already blown that part. Although I have a rough idea of what I'll be eating the rest of the week, I certainly don't have what you'd call a plan. Not like many of the other participants. But, I do feel like I'm well on track for eating basically like I normally eat within the budget.
The day started out with my normal West Coast macchiato. I know, it's a luxury, but it's one that I can actually fit in the budget. Because I roast my own beans, my espresso only comes to about 20 cents and I only use about 2 tablespoons of milk. Don't worry… I'm not fooling myself. I can only afford to make coffee that inexpensively because I have a crazy number of home appliances. I do have a nice espresso machine, burr grinder and even a coffee roaster that I would be very unlikely to have if I had been living below the poverty line for a significant period of time. Rules-wise within the challenge, using any home appliances is ok, although Cam and I have had several discussions about whether that's truly living up to the spirit of the week. Finally, we agreed it was my one luxury item and called it good at that.
The other thing I should point out is that one of the rules was to not use any food you already had in your house. To me, this rule made no sense because one of the things that you'd have to do to make a budget like $7 per day work is to buy things like bags of flour and decent sized bottles of oil and vinegar (or bags of green coffee beans). Things that would be hard to go through entirely during the week of the challenge. I posted a comment to the UW hunger challenge blog asking if it was ok to use things that were already in your house if you accounted for them appropriately. The good news that came back was yes, it was fine to do that as long as you assigned everything a fair value. So, unlike some of the other participants, I'm not going to be showing a big pile of groceries that I bought for my $35. Instead, I'll account for everything dish by dish in the portions used. Of course, I'll also say that for me, I have a whole arsenal of bulk products that could make for a very diverse week of food… I'll try to stick to the basics to keep within the spirit.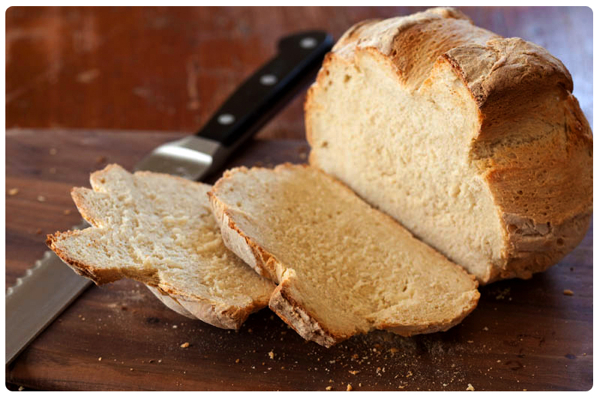 For breakfast, besides the macchiato I also baked up a 1lb loaf of bread and ate a couple of slices. Plain, no butter or jam. Just the bread… and you know what? It was awesome. I had picked up the "Artisan Bread in Five Minutes a Day" cookbook the other day and I have to say, despite my first cynical inclination to poo-poo it (it's not really 5 minutes a day), I am now a huge fan. Although I do actually like to knead my bread, I also love the idea of always having bread dough at the ready in the fridge, building flavor, and ready to go at a minutes hours notice. Yes, it's true. You do need at least an hour to go from the refrigerated dough to the lovely, crisp crust and custard center… but really, that's not asking for much. The bread is really good and I still have dough for somewhere between 4 and 5 loaves humming away nicely that can wait up to about 14 days. The thing I really like about the bread (which is basically the same as the no knead bread recipe that has been around the net for forever now) is it is something that anyone can do. It doesn't take much fancy equipment (a pizza stone of a cast iron pot is nice, but not a requirement) or special ingredients or even very much active time (most of the time is spent just waiting around for the dough to do it's thing). The author's have a blog so you can get even more insights to their recipes.
One thing I'll say as I was baking up the bread… bread baking can be a tricky thing. And, on a budget, that can be rather intimidating. What if something went wrong and the bread was just a big hard lump? I don't get to just "do over" without giving up something else. Living on a tight budget means being careful of risks, something that I realized I have a luxury of whenever I cook. If the dough doesn't rise or the veggies get burned or the dog eats the chicken… well, I just start over.
OK. On to lunch. (really, you are still reading! Thanks!!!) I don't normally eat lunch (or breakfast beyond my coffee for that matter) but instead just nibble away at things as I pass in and out of the kitchen. A bag of nuts on the counter. A piece of fruit or cheese. A leaf or two of arugula as I pass it in the garden.
Today, I decided to stick with the rules of the challenge and make a simple salad. I had a head of butter lettuce from my CSA (btw – anyone need anything from a CSA this week? Because I can't eat most of it within budget… tweet me and let me know) and used about 1/2 of it, along with some shredded carrot and a simple vinaigrette of shallot, lemon juice, salt, pepper and grapeseed oil. Another slice of bread rounded it out, and I enjoyed it all while sitting in the sun on this beautiful day in Seattle. Yum! Maybe I'll have to try this whole eating lunch thing more often. I got so excited about the whole sitting down and eating lunch thing, I decided to make a dessert of lunch as well… simple caramelized apples.
Simply cut an apple in half, scoop out the seeds and dust it lightly with sugar. Normally, I'd use a bit of cinnamon too, but that starts to make the budget math even harder so I left it out this time. Heat up about 1 teaspoon of butter in a small frying pan and place the apple cut side down and place it in a preheated 350F oven. Cook for about 10 minutes in the oven, and then move it to the stove top. Cook on medium high until the cut side is a lovely and caramelized. I left it off this time, but I like these with a little squeeze of lemon juice.
Of course, I still have dinner ahead of me. I'll post about that (along with total $ of everything from Day 1) tomorrow. It's also not too late to join in! Even if you can't do the whole week, trying for a day or two to help raise awareness is great.