It's an odd time to do a post about preserving. Even odder to be posting about pumpkins. And yet, that is what I find myself up to today. In April! Stirring up some raspberry pumpkin butter. What is going on here?
What's going on is a freezer that is still somehow full of frozen berries, and a spring that will soon be turning to summer bringing a whole new crop. The berries have held up really well, but we also just ran out of jam, and well, those berries really do need to be used.
To start with, I made a batch of blackberry orange scones to help my friend Lorna with her upcoming cookbook. Yum! Anything that Lorna touches is delicious. I'm lucky enough to get to photograph her for Seattle Magazine every month or two and get a sneak peak to her upcoming recipes (like this farro soup), and I'm quite jealous of her photographer, Kathyrn Barnard, for her cookbook! (Kathyrn's work is absolutely stunning)
Anyway, back to that jam. The other thing I've had in a cool spot in my kitchen for no particularly good reason is a lovely kabocha and a plump acorn squash. I had a friend visit the other day and she remarked "hey, you always seem to have squash!" It's true. I buy them, usually with the intent to photograph them. Sometimes it happens. Sometimes they just sit there. Today, along with my freezer cleaning, I decided to do something with that squash.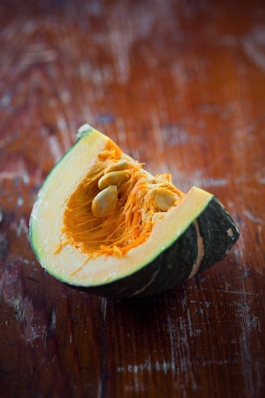 Luckily I knew just the thing. Late last summer, Cam came home from a trip raving about this raspberry pumpkin butter our friend's mother had made. Now winter squash and raspberries sounded like a pretty odd combination to me, but I was willing to give it a try when for Cam's birthday, our friend made him two jars, also included the recipe which she translated from German. The jam, which was actually translated into "marmalade" in the recipe, but which I have since dubbed "butter", gets a rich creamy, and, well, buttery, sumptuousness from the squash and a lovely sweet-tart from the raspberries (and a touch of lemon). We pretty quickly ate our way through those two jars, and we've been pining for it since.
So today, the procrastination ended, and I finally got around to making my own batch.
This jam comes together amazingly quickly, thanks to the thickness of the pumpkin. You can use any sweet winter squash (I wouldn't make it entirely with acorn since it isn't all that sweet… but it was quite nice blended along with the kabocha). The recipe directs you to peel the squash first. But I really hate peeling squash. So, instead, I cut them into quarter slices, scrapped out the seeds and steamed them for about 15 minutes until they were soft. Then, it's super easy to simply scoop out the flesh.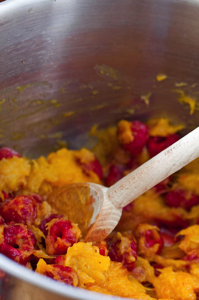 Beyond that, there isn't much to this recipe. Put everything (bits of pumpkin, raspberries, lemon juice) in a pot and let it stew. Add a bit of water if it seems to dry. Until when? oh, til it's done. That's about as specific as the original recipe gets! I cooked mine until the squash and raspberries just barely had a shape. Then whir it all up with a hand-blender until it's nice and smooth (you don't want any squashy stringy bits), and then add sugar to taste. I also added just a little bit of vanilla extract. Stick it back on the stove, stirring, until it is the desired thickness (it probably will only be about 5 minutes).
Then, jar it up! Or, if you are like me, just start spreading the warm gooey stuff right on a piece of handily waiting toast.
Now that the jamming is out of the way, I'm starting to plan my meals for next week. I don't usually plan that far ahead, but The United Way of King County is challenging us to think about hunger locally by participating in Hunger Action Week by spending 5 days eating on $7 per day, the amount a single person can receive on basic food subsidies (food stamps). As someone who is surrounded by food almost all the time, it's going to be an interesting challenge for me (esp since food you already have in the house is not to be included… no jam for me!), but one that I'm committed to doing.
You can find out more about the challenge on the United Way site.