I know celebrating Cinco de Mayo has become a much bigger thing here in the US, but hey, any chance to have a party is good enough for me and there's not much of a better way to celebrate it than with margaritas.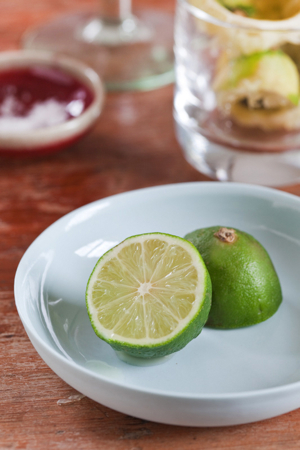 Except, maybe with margarita doughnuts!
Imagine for a second. Fresh, warm cake doughnuts with the lightest, tenderest crumb and a just enough crispness to the crust scented with just a hint of lime, and then glazed with a tangy zippy Tequila Lime glaze and sprinkled with Fleur de Sel. Or, perhaps, filled with the most wonderful lime curd. Sounded good to me!
I can't really take credit for this wonderful marriage of cocktail and pastry though. I was completely inspired by T's post a few weeks ago for Margarita cupcakes. I was one of the lucky recipients of that leftover lime curd she made, and while I didn't actually try one of the cupcakes, I've been dreaming of them ever since.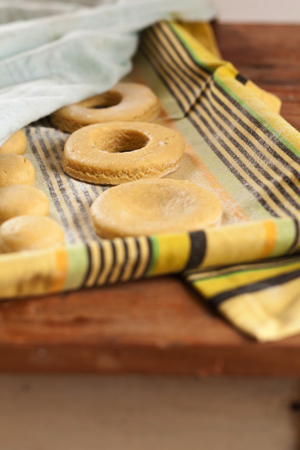 But instead of making cupcakes, I decided on doughnuts. If you are wondering why, I'll let you in on a little secret. I'm working on a new cookbook for Sasquatch Books. This time, I'm not just photographing it, I'm writing it as well. And the subject? Yep, you guessed it: Doughnuts! The whole cookbook will be about doughnuts. There will be raised dough and cake dough, gluten free dough (with help from Shauna) and vegan dough, fried and baked, and even if it kills me, there will be a honey cruller recipe to rival Tim Hortons. So, you can expect to see a few doughnut recipes around here over the next several months.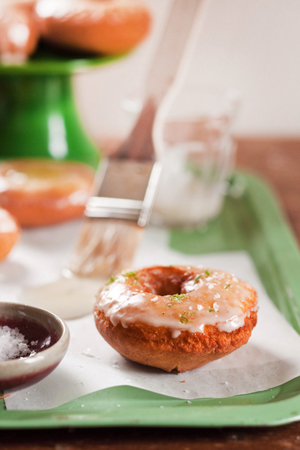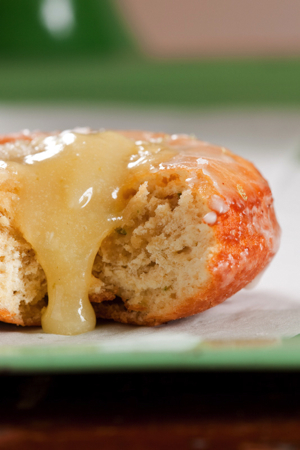 If you've never made doughnuts at home before, I think you'll find it's far easier than you think. You don't need a fancy doughnut making machine, a deep fryer or even a special cutter (although it is always nice to have an excuse to buy new kitchen toys). I've spent the past couple of weeks making batch after batch of doughnuts with nothing more than a biscuit cutter, rolling pin, a large pastry tip (turned upside down to punch out the hole), a big pot on the stove and a good thermometer*.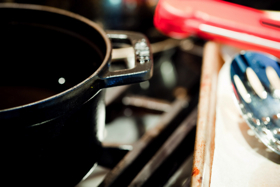 Oh, my Kitchen Aid mixer with the dough hook comes in handy too, but it's mostly a nice to have, not a necessity. Particularly not for these easy cake doughnuts.
This doughnut dough recipe is based on a recipe from a little book by Dorian Parker, Doughnuts: Over 3 Dozen Crullers, Fritters and Other Treats, that I found while doing research. There are very few cookbooks out there with doughnut recipes, and almost none that are exclusively doughnuts. Although it was copyrighted in 1994, this book looks more like it came from 1449. It is adorable with cute little illustrations (which are sometimes repeated) throughout and quaint, old-fashioned recipes. Ms. Parker postulates that this recipe is very similar to that of the original Dunkin' Donuts recipe. For the margarita doughnuts, I left out the nutmeg, replacing it with lime zest. The doughnuts themselves cook up a lovely golden brown with a nice crumb. They are a little heavier than I imagined, but they stand up well to the strong flavors of the glaze.
It's best to make doughnuts in very small batches, because they are really best eaten the day (and the hour) they are made.
Margarita Doughnuts
Makes about 8 doughnuts and their holes

Doughnuts
2 cups pastry flour
1/4 cup rice flour (or, all-purpose if you don't have rice flour)
2 t baking powder
2 eggs
1/3 c sugar
1 T unsalted butter, softened
a pinch of salt
1 T lime zest
1/3 c milk
canola oil, if frying
Tequila Lime Glaze
1 cup icing sugar
juice from 1 lime
a drizzle of good tequila

Optional Garnish
Lime curd
Lime zest
Fleur de Sel
If you want to make these with the lime curd filling, pop on over to Eating Suburbia for the lemon curd recipe and simply replace the lemons in the recipe with limes.
Sift the flours and baking powder together. Set aside. In a separate bowl, whisk together the eggs, sugar and butter. Add about 1/2 of the flour mixture to the egg mixture, along with the lime zest and salt. Then, add the milk and stir with a wooden spoon until the flour is absorbed. Add the remaining flour and continue to stir until you have a soft dough. Add a little more flour if the dough is too sticky. Shape into a ball, and cover with plastic wrap (or seal the dough in a ziplock bag) and refrigerate for 1 hour.
Place a fine-weave (not terry) towel on a baking sheet and dust lightly with flour (You can also use parchment, but I've found cloth works slightly better). When the dough is done resting, turn it out onto a lightly floured surface and roll to 1/2 inch thick, or about the width of one of my fingers (I don't know what size hands you have!) Cut out the doughnuts with a lightly floured cutter. You can use a biscuit cutter or even a glass, but they should be about 3 inches in diameter. If you are making regularly shaped doughnuts, use a smaller cutter (1 inch) or the back-side of a large pastry tip to punch out the hole. If you are going to fill the doughnut with the lime curd, just press down the center until it is as thin as you can make it without actually breaking through (it's going to rise up a lot when you cook it). Set each doughnut and its hole on the floured towel, and cover. Once you are done cutting them all out, let them rest for about 15 minutes.
Now is a good time to make the glaze. Sift the icing sugar to break up any big chunks, and then add the lime juice. Stir a little to moisten, and then add the tequila a teany-tiny bit at a time, stirring until you get the right consistency for the glaze. It should be fairly thick, but just pourable.
Start to heat your oil to 375F (or your oven to 375F**). You need about 2 inches of oil in the pot. I like to use a small dutch oven… while I can only fry one (two at the most) doughnuts at a time, it uses less oil and is easier to clean up. And, since I'm only making a few doughnuts in a batch, a few extra minutes to do batches isn't really a problem. When the oil is hot enough, carefully drop in a doughnut and let it cook about 1 minute on each side. The dough should turn a light golden brown… if it is dark, your oil is probably too hot. Flip the doughnut over and cook for another minute. (Doughnut holes may take a little less time, but follow the same procedure) Use a slotted spoon to lift the doughnut from the pot, let it drain off the oil, and then place on a paper towel to absorb any remaining oil. Repeat. Let the doughnuts cool for about 5 minutes.
To glaze, you can either dip the tops or use a pastry brush to lightly coat the tops. If you are using the lemon curd, fill the little indentation that you made. Then, add the lime zest and Fleur de Sel as desired. These are best if served immediately.
*A good thermometer is critical to get the best results for any deep frying. You need one that is fast, and you need one that is very accurate. You may have a candy thermometer on hand already. If you do, it's a good idea to do a quick check to make sure it is reading correctly. After a few batches of doughnuts that were browning far to quickly, I realized that mine was off badly… somewhere in the neighborhood of 100F. To test your thermometer, bring a pot of water to a boil and see what reading you get. It's a good idea to go from very cold (a glass of ice water, for example) to the boiling water as well, as that will give you a good sense how long it will take your thermometer to read. I quickly came to the realization that I needed a new one, and after a little research broke down and spent the $90 on a Thermapen. I can't tell you how happy I am that I did that. It may seem crazy when you can buy a new Taylor candy thermometer for about $15, but the one I was using that was 100F off? It is less than 1 month old. If you are doing any temperature sensitive cooking, it is well worth it to invest in a great thermometer. That said, if you don't have one, you can get a good guess at the temperature by dropping in a small piece of bread… you want it to sizzle and brown in about a minute. Be sure to pull the bread out of the oil though before adding your doughnuts or it will burn and give your oil an off-taste.

**These doughnuts can be baked for about 15 minutes at 375F, but you'll want to keep an eye on them as it is very easy to over cook them and then they aren't particularly good. The crust won't be quite as nice baked as fried (I'm still working on a way to remedy that problem) and the bottoms are flat, but once you glaze them you'll hardly notice.