Skip to content
Make them filled, or just regular old doughnut shape, and you won't regret it. Let me tempt you with some photos of today's batch: rhubarb compote filled and milk chocolate filled (and a few rings for good measure).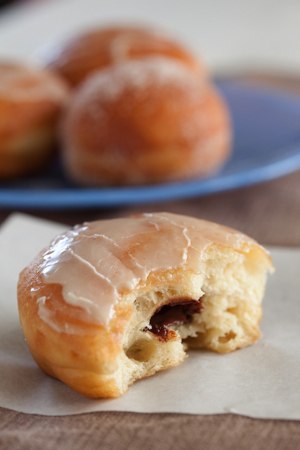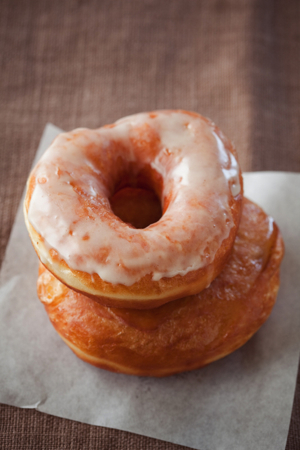 PS: On the whole doughnut/donut debate… they are both correct! So feel free to use either one. Donut definitely works better on twitter!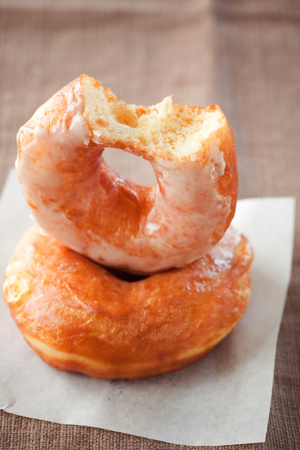 Filled (or not) Yeasty Doughnuts
This recipe is adapted from these luscious looking doughnuts on Australlian Gourmet Traveller. I didn't have buttermilk, so I substituted whole + a bit of vinegar (champagne citrus for just a hint of lemon). After playing around with a lot of raised doughnut doughs, I've also found that they work better with a touch more yeast and a bit less flour, so I've adjusted those quantities here.

I fry my doughnuts on the stovetop with canola oil in a Le Creuset Soup Pot. Any cast iron pot will work, but ones lined with enamel will help keep your oil longer. I haven't yet tried baking this dough, but if you want to try it, roll in another 1/4 cup of butter to the dough as you might if you were making puff pastry after the first rise, and let rest again before rolling out to cut them. You'll also want to brush them well with a milk/egg wash to help them brown up.

Makes 16-18 doughnuts
10 gm (~1.5 T) dried yeast
250 ml (1 cup) whole milk, at room temperature (plus 1 t for brushing)
1 t vinegar (citrus vinegar if you have it)
55 gm (¼ cup) caster sugar
650 gm (~ 4 cups) plain flour
100 gm unsalted butter, melted
3 eggs
chocolate or a pie filling of your choice
vegetable oil for frying
Stir together the yeast, milk, vinegar, sugar and ¼ cup warm water (105F) in the bowl of an electric mixer and stand for 10 minutes or until foamy.
Add 1/2 of the flour and stir with a wooden spoon until there are no more dry clumps. Then, stir in the butter, eggs and a pinch of salt and mix with a dough hook until smooth. Start adding the remaining flour about 1/4 cup at a time allowing it to completely incorporate before adding more. When the dough starts pulling away from the sides of the bowl, do a quick touch test… the dough will be very soft and moist, but it shouldn't come off on your fingers. Keep adding flour a little at a time, completely integrating it before adding more, until this happens. You may not use all the flour at this point. Let the mixer knead the dough for about 5 minutes. Test the stickiness again, adding more flour if needed. Then turn out on a lightly floured surface and knead by hand for one or two turns. Place in a bowl, cover with plastic, and let rise in a warm spot for about 1 hour. It should double in size.
Turn out the dough onto a lightly floured surface, and roll to a little thinner than 1/2 inch (if making filled doughnuts) or 1/2 inch if making rings. Turn the dough 1/4 of a turn after each roll. Cover the dough with a towel and let it rest for about 3 minutes. Then, cut out the doughnuts with a doughnut cutter, a biscuit cutter or an downturned glass that has been lightly dusted with flour.
If you are filling the doughnuts, lightly brush a round with milk, and place about 1 T of your filling in the center. Top with another round and gently roll out turning 1/4 of a turn with each roll. Turn the round over, and using the same cutter you used before recut the round (this should trim off a small amount and seal the doughnut shut).
Place on a lightly floured, non-terry dish towel and repeat with the remaining dough leaving at least 1 inch between the doughnuts. You may reform and roll any left over dough, but let it rest for about 3 minutes before rolling it out again. Cover with plastic and let rest in a warm place for 30 minutes.
Heat the oil to 350F. Place one or two doughnuts in your pot at a time (depending on the size of your pot) and let cook for about 1 minute on each side. You'll know when to flip them when the frantic bubbling dies down. Remove from the oil with a slotted spoon and drain briefly on a paper towel before cooling on a rack. Roll them in sugar while they are still warm, or allow them to cool some and drizzle or brush on a simple glaze (8 oz confectioner sugar + 2 T milk + 1 t vanilla is a good one).