Well, either people just don't like pasta as much as Nutella, or last month's challenge to remake Chris Chen's table top shot was quite intimidating to many of you. That's ok. It was a tricky challenge… I'm really impressed with the photos that were submitted. There were some lovely variations and some beautiful photos.
This month, we'll go a bit more macro again, with one of my shots. This is a variation of a shot that I took for a client for a cookbook proposal. In some ways it may seem less intimidating because it's a much tighter shot… you'll have to work with ice cream which can be quite a trial of it's own right.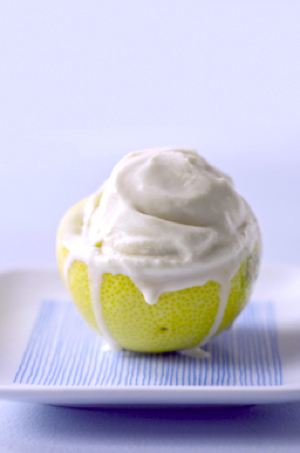 Although she didn't choose this particular variation, and it's really far from a perfect shot, it was probably one of my favorite from the whole shoot and it would be a good fit for my stock library. I just loved playing around with the ice cream in the emptied out lemon peel, and letting it start to slowly drip down.
Don't feel like you need to stick with the lemon peel for your remake, but there should be some combination of fruit & ice cream (and ideally, as in this shot, the fruit will communicate the flavor of the ice cream as well).
If you are new to the monthly photo challenges, head over to the Flickr group for the rules and to introduce yourself.
This challenge will run through the end of June.