Skip to content
2009 International Conference on Food Styling & Photography Wrap-up
I'm just back in town after the 2009 International Conference on Food Styling & Photography at Boston University, and my head is still so full, I'm not sure exactly how to begin to share a little of the weekend with you all.
First, I'll start with, if you have any interest in food styling and photography, whether you are professional or not, and you get a chance to attend this conference in the future, go. For a conference of it's scope, it is incredibly affordable (I'm looking at a 1 day photography workshop later this summer that is $1200! Compared to the entire conference plus two additional workshops for only $950) and there are just no other events that I can think of that you can meet so many talented people in this industry, see their work, pick their brains and share a lobster with. OK. Enough of my cheerleading… now onto what happened this year.
Although turnout was a little lower than the previous conference in 2007, the speakers were fantastic. Photographers included Christopher Hirsheimer, Francine Zaslow, Deborah Jones, Steve Adams, Beatrice Peltre (yea Bea!), Lou Manna, Jim Scherer, Teri Campbell, Mette Nielsen, Pornchai Mittongtare, Greg Bertolini, Stef Culberson, and James Tse. Stylists included Clare Ferguson, Melissa Hamilton, Lisa Golden Schroeder, John Carafoli, Marcela Sorondo, Delores Custer, Francine Malalon-Degni, Peggy Chase Jordao, Lorna Rhodes, Laura Shapiro, Alice Hart and Catrine Kelty. We were given a glimpse inside of Maxine Kaplan's amazing NYC prop rental house. Harold McGee gave the key note!
Frankly, as soon as I saw that Christopher Hirsheimer was talking, I knew I'd be attending. It was quite a way for me to kick off the conference too, as the first talk I attended was with Christopher & stylist Melissa Hamilton. There seems to be an unwritten rule in my world that if I pick up a book and instantly fall in love with the photos, 9 times out of 10 they will be Christopher's. In addition to loving her work, I love her story. She started as a caterer for Metropolitan Home, and was asked to fill in for the food stylist one day. That led to a full time food styling gig, even though she really didn't know a thing about food styling. She just made the food look the way she wanted it to look… messy crumbs and all… which led to a whole new way of styling food for editorial publications. Step forward a few years, and she stepped into food photography in a similar way as she became the primary photographer for the newly formed Saveur. Melissa's story has a similar windy path… a love of food led her into the restaurant business (Hamilton's Grill Room) with her family doing thing much differently than other restaurants in the area, with amazing success. A chance opportunity with a friend led her to her first food styling job, and an entirely new and beautiful career working with publications like Martha Stewart Living and Cooks Illustrated before eventually working with Christopher.

[Photos by Christopher Hirsheimer]
The two of them together now run a studio in New Jersey, and have begun publishing their own cookbook series (in addition to other cookbook and commercial work) called
Canal House Cooking
. This talk, like many over the conference, was more about inspiration than technical how-tos and as such, it's hard to communicate the sparks it started in my own head, which certainly would be different for each attendee. But their key message was to take chances, follow your passion, and don't worry so much about the rules. On a food shoot, plans tend to go out the window when you are really paying attention to the food and what it is asking for. Christopher said, "Each shoot has a language of it's own" and when you can listen to that, you will be successful. I could have sat and listened to Christopher & Melissa talk, and look at their gorgeous images all day… but all too soon it was time for the next talk.
I'm going to go quickly over a few of the next talks, or I'd be writing for days, and you'd get bored. In the next talk, Pushing the Limits between Advertising & Editorial Photography, we learned how the advertorial, or shooting an ad like it was part of the magazine complete with a bit of branded content, was born and successful. Advertisers are definitely watching what happens in the more loose world of editorial and bringing those ideas onto their work, and presenters Mel Mooney (who works for Saveur) and John Carafoli see the trend continuing. Next up was Clare Ferguson & Marcela Sorondo talking about trends in styling outside of the US, including some of their own work over the years. Like in the US, trends are going toward the natural and "unstyled style" of food that looks doable rather than perfect. Clare touched on a few other trends that I've seen here as well… empty dishes (or half empty) communicate life going on in the image, that the food was so good it didn't even last long enough for the photo, that most food photos are now more budget conscious than five years ago (as the downturned economy continues to play a role), and homage to regional traditions and culture but with a younger more fashionable twist. Clare is someone you could spend days and days listening to and never get bored… you just might want a little break because your stomach will probably be cramping up from laughing so much. Buy her books, they are lovely.
The next talk is critical for those in the commercial styling industry: sustainable styling. If you are a home blogger or work for small or medium sized business the ideas probably apply less or maybe not at all. But on large commercial shoots, the amount of waste that can be generated is huge. Boxes and boxes of product are shipped all over the country, mostly to be thrown away. Many stylists these days donate their unused product to shelters which is a great benefit to everyone. However, it's still better not to truck all that product around in the first place. Just a few ideas from presenters Mette Nielsen and Stef Culberson include talking with clients about using less product in the first place, getting the product locally if possible, using seasonal garnishes and composting leftovers of opened products. Other ideas include buying & growing your own potted herbs instead of those in the little plastic clam shells which will usually be cheaper and give you better photos. Stef has started offering a Green Styled Food Seminar for stylists and photographers on her farm in Wisconsin and includes how to more sustainably source your ingredients and shooting with available light. The next one is in early July.
At that point, we were all pretty cooked for the day. But, I was lucky enough to have been able to meet Aran of Cannelle et Vanille and we went for dinner together and talked about blogging, photography, kids and life. Aran's work is truly stunning, and I'm sure you are already reading her blog… but if not, do start! Her pastries are exquisite and she has an amazing eye for both styling & photography, not unlike one of my other favorite people, Beatrice Peltre. Which leads me to the next morning…
The first talk on Sunday was about business, and featured panelists who looked at the industry from different perspectives. First was Eugene Mopsik from ASMP. If you are a professional photographer (or on your way to becoming one) and shoot for the media, this is a good organization to join. Eugene shared many thoughts on how the downturned ecomony and greater emphasis on web advertising may impact photographers in the future. The biggest issue he sees has to do with copyright laws, and like the last conference, he reminded us all that if your images aren't registered and they are used without permission there is no financial recourse you can take. Register your images! The ASMP site has very good information on how to do this along with other very useful info like a licensing guide, release forms, and terms & conditions forms. Ilise Benun was up next to talk about how to market yourself (get a LinkedIn account and use it for research, make personal connections, follow up!). Tim Foley of Full Contact advertising studio gave this piece of advise for photographers and stylists: understand what the client is looking for. If you are asked to give a bid on a job, make sure you communicate that you get the vision of the client and not just your own vision.

[Photos by Beatrice Peltre]

Finally, my good friend Beatrice Peltre talked about entering the industry from the blogger's point of view and what it takes to run a successful food blog these days. Bea's advice is simple but invaluable:
be honest and authentic. If you can tell your story in an interesting way and become a part of the community, people will notice.
And of course, we got to see lots of Bea's beautiful work (including some from her book which will be out next year!)
The rest of the sessions were more on the inspirational side, looking at photo after photo of beautiful food, props and locations while the stylists and photographers echoed much of the previous sentiment… listen to the client, but don't be afraid to take chances. Shoot what you need, but then take the time to try alternative shots. Work deliberately and thoughtfully on your shots to really capture the essence of the form, color and textures. I truly enjoyed each of the presentations, but I'd have to say my favorite of the day was by Pornchai Mittongtare.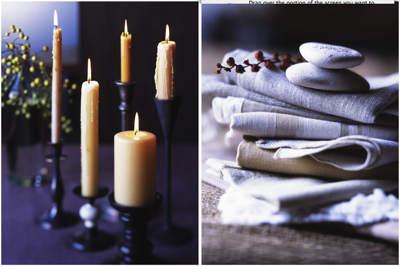 [Photos by Pornchai Mittongtare]

Pornchai is from Thailand, but has been in the US shooting food for many years. He started as a product photographer, but after sending his work to Bon Appetit, he moved into shooting food and has been with it ever since. His work is lovely in general, but I particularly his photos from a trip back to Thailand where he shot many of the fruits that are local to the area. This work isn't on his portfolio unfortunately, as I'd really love to share it with you.
It was an amazing two days, but the best was still to come.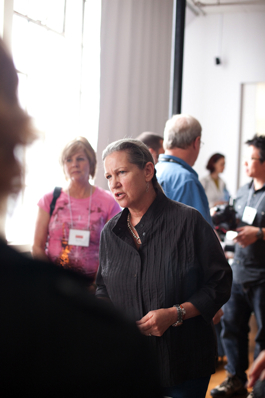 On Monday, I attended the optional hands-on workshop at Francine Zaslow's studio with Francine & Deborah Jones. As great as the rest of the weekend was, if I had only been able to attend this class, it would have made the whole trip worthwhile. There is so much to share from this day though, it really deserves a post (or 50) of it's own. So, I'll continue with that tomorrow.