Skip to content
I'm not particularly religious when it comes to bacon, but these little bites were just about enough to convert me last night when a friend brought a big bowl of them to a potluck. I simply could not stop eating them. So much so, I knew I'd be making my own version today with Lorna. Needless to say, there were none left by the end of the day.
I think I'm just going to be quiet now and let you ponder the thought (and hopefully inspire you to go make your own):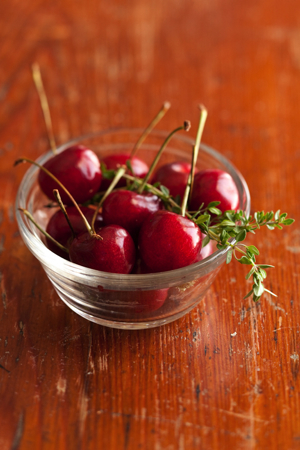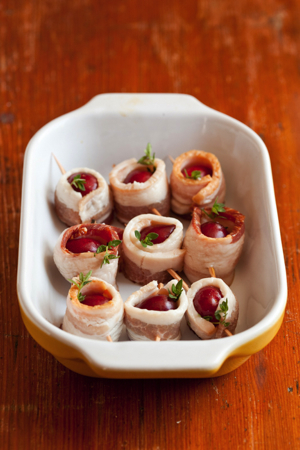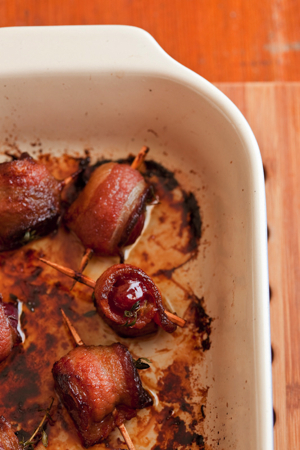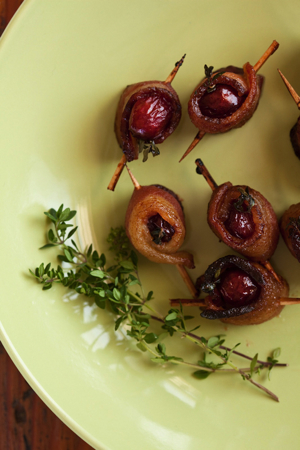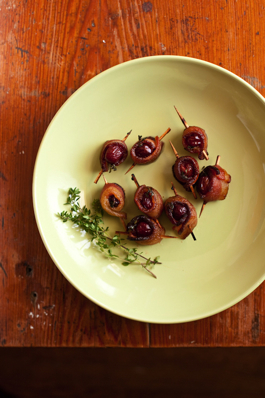 Bacon Wrapped Cherries & Thyme
16 cherries, pitted
8 pieces of bacon
16 small sprigs of thyme
picks
Preheat your oven to 350F.
Cut each piece of bacon in half and trim down the width to the about the height of a cherry if necessary (I found that one half needed it, the other was fine). Wrap each cherry in the bacon, placing the hole left by pitting towards the surface of the bacon so it doesn't show. Secure with a pick, and then tuck in the sprig of thyme (or, you can just put the thyme in with the cherry as you are rolling.)
Place in a baking dish, with the bacon standing vertically and the thyme sprig on top. Don't overcrowd the dish, or the bacon won't crisp well.
Roast for about 25 minutes, or until the bacon is nice and crisp. Once cooked, place them on a paper towel to absorb a bit of the grease, and then serve immediately.