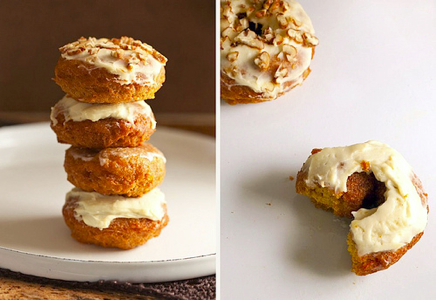 How I ended up writing a doughnut cookbook is still a bit of a magically happy mishap for me. Late in the fall of 2008, I came across writing service UK and I started thinking about cookbooks that would be fun to photograph. Having already shot two single-subject books… Popcorn and Tacos: Authentic, Festive & Flavorful… I was enjoying the challenge of taking such a narrow subject and seeing how many different ways I could photograph them. My mind turned to doughnuts.
Soon, I started pestering a few of my writerly friends… "Hey, you should write a doughnut cookbook so I can photograph it." I got no takers. So, when Sasquatch Books asked me if I'd be interested in writing a cookbook of my own, I knew exactly what it would be.
The only problem was that although I've certainly eaten my fair share of doughnuts, I'd never actually made them beyond simply cracking open a can of Pillsbury biscuits, cutting out a hole and frying them. Suddenly, here I was with a book deal based on the idea that anyone can make doughnuts at home, and I was a doughnut newbie.
There was nothing to do but get started. In April, I developed my list of rough ideas about what I like in doughnuts and then the research and doughnut making began in earnest. As for research, you'd think that there would be at least a dozen or so doughnut cookbooks available that I could learn from. Surprise! There is really only one true doughnut cookbook that I could find, and it's a tiny little thing filled with quaint (but good) historical recipes. There are quite a few great books on the business of doughnuts or the history of the doughnut, with a few recipes, again mostly historic, tossed in for good measure. But nothing like what exists around the world of cupcakes. Nothing that pairs great doughnut basics with interesting new flavors. No doughnut book that starts to address the specialized needs of today's home cooks… things like gluten free, vegan, or baked instead of fried.
After six months and more doughnuts than I care to mention, I've ended up with over 70 recipes that I think will tempt and excite. They are as easy as they are delicious, without the need for fancy equipment. There are doughs for those who are gluten free or vegan and those who aren't fond of deep fried anything. There are doughs for ex-pat Canadians who are hundreds of kilometers away from the nearest Tim Horton's Honey Crullers. There are doughs that would make a Dunkin' Donuts or Krispy Kreme lover happy. There are flavors for adults (Margarita, Creme Brullee), those for kids (Candy-stuffed Chocolate Drops). There are traditional doughnuts from outside the US (Malasadas, Picarones, Zeppole). And finally, in the rare case where you find yourself with leftover doughnuts, there are a handful of recipes to breathe new life into them.
All this from someone who six months ago had never cooked a doughnut. So, trust me on this one… if I can do it, you can too.
Now, hopefully you are saying… gimme, gimme, gimme! I'm afraid a little patience is going to be called for. The book is still in the works, and won't be available until fall of 2010. Right now, I'm just putting the finishing touches on the recipes, and making sure that they all work, flawlessly, when I'm not the one cooking them. For that, I'm looking for recipe testers. Are you interested? Then find out more here.
I'll be posting doughnut odds and ends here over the next year when the book is released, and then expect to see even more doughnut adventures… recipes that didn't quite fit into the book, doughnut shops that I love, new and fun doughnut gadgets, doughnut tours and what not. I'd love to hear from you… about your favorite doughnut shops or recipes or stories!
-L
(BTW – If you don't know who I am, you can find out more about me here.)