Skip to content
I got kind of used to watching three episodes of Bones everyday, curled up with my laptop, polishing up my manuscript (due Sunday!), catching up on everyone's blogs, and trying to keep up with Twitter (impossible, even when couch bound). A few recent jobs have helped me gain breakaway speed, including a great trip to Vancouver to shoot at 5 different bars (more on that when the article hits the shelves).
This week, I made it back into the kitchen and started to feel that old rhythm kicking in again. First, a few remaining doughnut tests (Red Velvet Cake, Brandy Eggnog, and playing around with Chia flour for a gluten free variation). And then, yesterday, roasted parsnips.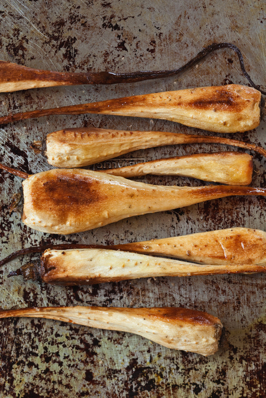 The first time I remember having a parsnip was at some fancy-schmancy restaurant that served probably the best monkfish I've ever had. (This was long ago, in the days before fish-lists or much awareness of what was happening in our waters.) Tucked underneath the fish was this beautifully creamed, what I thought was, potato. In fact it was creamed parsnip, and I nearly spit it across the table. I was not in anyway prepared for that earthy sweetness, and thought it was the most horrible thing I had ever had. Perhaps it was just the misplaced expectation or perhaps it wasn't well prepared (I seem to recall, it was kind of grainy). But I swore off parsnips then and there.
What a huge mistake. Somewhere along the way, a parsnip sneaked its way onto my plate at a friend's house and it was a revelation. This wasn't some mealy, sickly sweet babyfood. It was caramel and banana and potato wrapped into one; crisp on the outside, melty on the inside goodness. Now, I can never seem to get enough of them. Yesterday, I roasted up 6 or 7 good sized roots sprinkled with a little vanilla bean salt and a splatter of olive oil, and gobbled them all down for lunch. Today, I'm tempted to do the same.
(PS: Thanks to Stephanie over at Wasabimon for the spotlight! )
Vanilla Roasted Parsnips
I roasted my parsnips whole, which gives a greater ratio of soft to crisp. If you prefer your parsnips caramelized on all sides, you can half or quarter them before roasting.
Preheat oven to 400F.
Line a baking sheet with foil, and place whole, peeled parsnips on top. Splash with a good olive oil, and sprinkle with vanilla salt and a bit of cracked pepper. Cover with more foil, and roast for about 20 minutes. Turn the parsnips over (they should be golden on the bottom by this point). Recover and roast another 15 minutes.
Remove from the oven, and cut off the tops and tails. Slice in half (or quarters if they are particularly large) lengthwise. Drizzle on a bit more olive oil, and salt and pepper to taste.