Skip to content
You most likely don't need another rhubarb recipe at this time of year. There are the most beautiful recipes all over my favorite blogs. Helen's exquisite Poached Rhubarb with Lavender Panna Cotta. Aran's lovely Stewed Rhubarb with Lemon and Buttermilk Sherbet. Jess's tempting Rhubarbsauce. Ashley's yummy Rhubarb Ice Cream. Molly's delightful Roasted Rhubarb. The list goes on and on.
But, I'm giving you one anyway because I am quite smitten with it. I'm giving you Rhubarb Bars. Or, as I keep thinking of them, RhuBars. Sadly, it is true. I am not beyond making a recipe because of a really bad pun.
I think you'll be glad that I did though, because these really are something else. They are really entirely different than the bars you'd find if you do a google search for rhubarb bars. Those bars are more akin to a crumble or a granola bar. When I started dreaming of rhubarb bars, I was thinking of something more along the lines of lemon bars. Velvety curd and tender shortbread.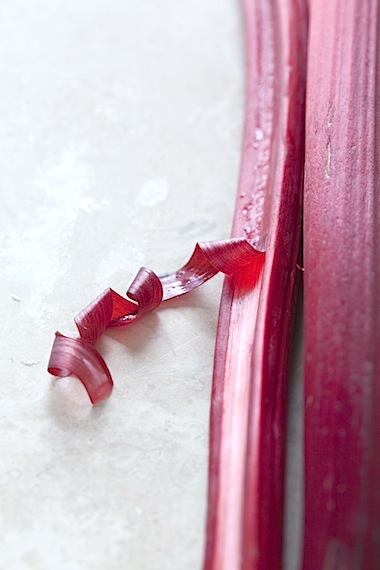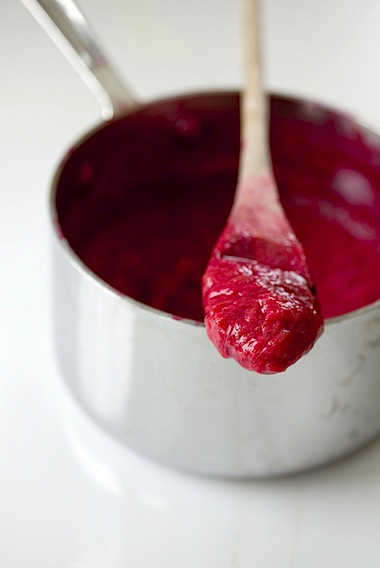 If you make nothing else, you really must make the rhubarb curd. Silky smooth and sweet-tart. I might even dare to call it luscious. It may pale some in color from the simple stewed rhubarb puree, but still holds a charming pale pink and it took just about everything in my power to keep from eating it all straight from the bowl. It's like lemon curd all dressed up for spring. Have you ever seen rhubarb look lovelier?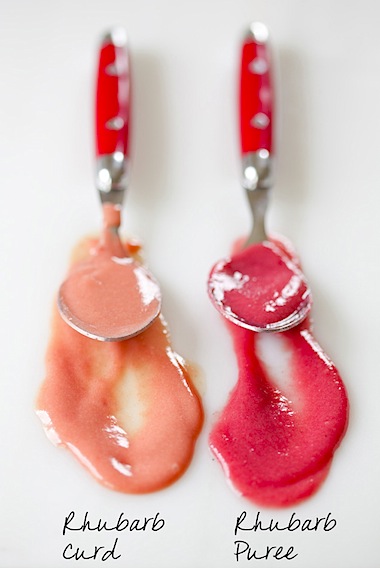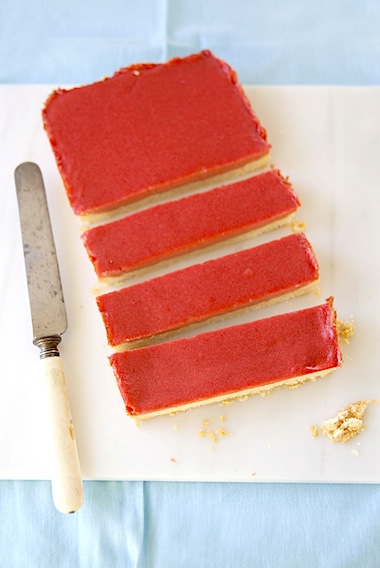 But don't forget the shortbread. Oh, it's nothing fancy. It doesn't need to be. The rhubarb makes everything fancy. The shortbread is buttery and flakey, and the combination of the silky curd and crumbly crust simply melts in your mouth.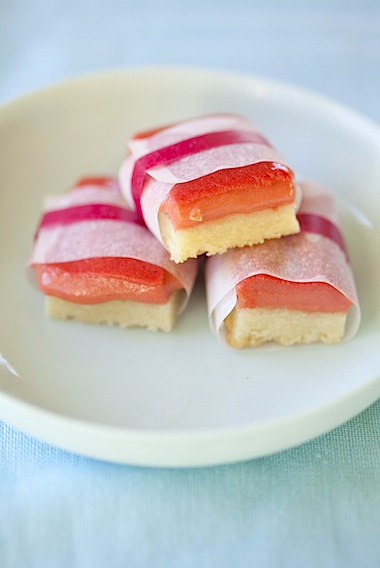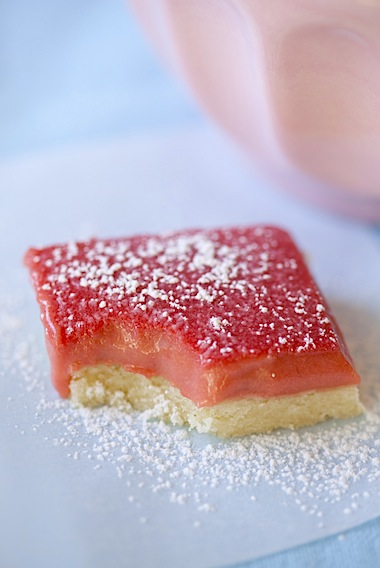 Yum.
Thank goodness I have neighbors, or I would have sat and eaten the whole dozen myself.
PS: Keep your eye out for the May/June issue of Edible Seattle for my article with even more rhubarb recipes, including a simple and addictive rhubarb bruschetta that our editor Jill described as bruschetta in a party dress.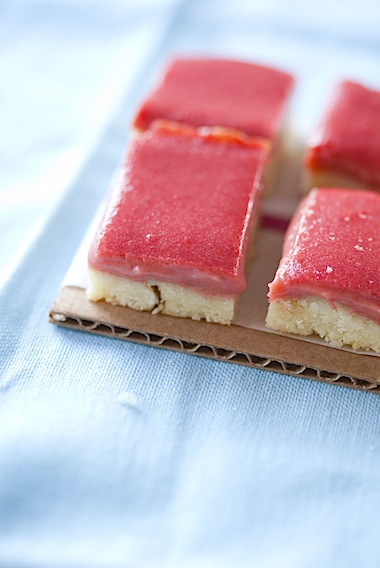 Rhubarb Curd
Adapted from this lovely recipe on Ginger Tablet
400 grams rhubarb (about 10 to 15 stalks)
1/3 cup sugar
6 egg yolks
3/4 cup sugar
a pinch of salt
1 teaspoon lemon zest (optional)
50 grams unsalted butter, cut up into chunks
Wash and chop rhubarb into 1/2 inch chunks. There is no need to peel, but if your stalks are particularly large, you might trim off any tough parts. Stir the rhubarb and 1/4 cup of sugar together and let sit for about 10 minutes. Place in a medium sized pot with about 1/4 cup of water and cook over low heat until you can no longer see whole pieces. Turn off the heat and let cool to room temperature. Blend to a smooth puree if you desire (this will remove any remaining little stringy bits, but it isn't necessary).
If you are making the bars, pause at this point to make and bake the crust.
In a double boiler (or a bowl over boiling water), whisk the egg yolks, remaining sugar and salt. Whisk until well combined and warm. Add about 1 cup of the stewed rhubarb and the lemon zest. Keep stirring until the mixture is warm again. Check for taste and add more of the pureed rhubarb until you get the desired flavor and color. Remove from heat and stir in the butter chunks.
If you are not using the curd immediately, let it cool to room temperature and then store refrigerated for up to a week.
This recipe makes more curd than you'll need for the Rhubarb Bars.

Rhubarb Bars
Adapted from Joe Pastry's Lemon Bars

Makes about a dozen
4 ounces butter, room temperature
1 cup (136 grams) all-purpose flour
1/4 cup sugar
a pinch of salt
about 1/2 of the Rhubarb curd recipe from above
Powdered sugar for dusting (optional)
Preheat the oven to 350.
Place the butter, flour, sugar and salt in the bowl of a mixer. Start on low speed (to keep the flour from flying everywhere), stir until it resembles course crumbs. Then increase speed slightly and continue to mix until a soft dough forms. It's kind of magic.
Take the dough and press it into a 9″ x 5″ baking dish. Let rest at room temperature for about 15 minutes, and then bake until it is lightly golden, about 20 minutes. While the dough is baking, finish preparing the curd.
Pour the enough curd onto the crust to make a layer a little less than 1/4 inch thick, and bake for another 10 minutes, until the curd has set. Cool to room temperature. Refrigerate if desired (it's easier to slice when chilled, but not necessary). Dust with powdered sugar before slicing if you'd like.